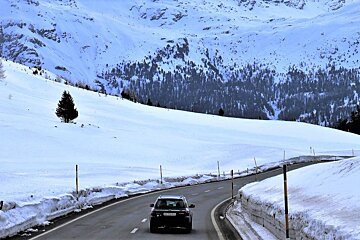 Driving to Alpe d'Huez
Discover the top Alpe d'Huez driving routes
Taking your car with you on holiday gives you absolute freedom to go where you want, when you want. While road tripping is undoubtedly one of the best ways to see a country, ensuring your car is up to the trip, planning your route in advance and familiarising yourself with the road rules and regulations of the country you are visiting, will all help make the drive itself is as much a part of your holiday as your final destination.
That's where we come in. Read on for the best advice on driving to Alpe d'Huez, including times, routes, prices, rules and some insider's top tips.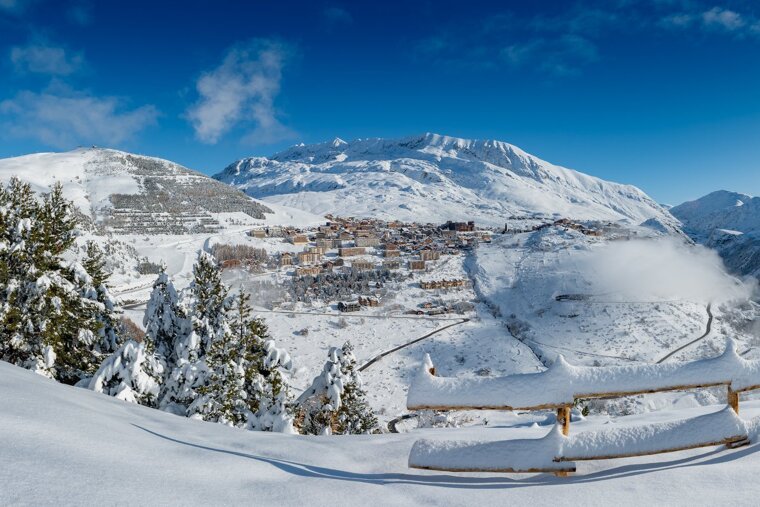 Self-driving holidays to Alpe d'Huez
The Alps, the highest mountain range in Western Europe, is justly hailed as the best mountain playground in this corner of the world and is more or less in the heart of the continent, not more than one or two days drive from most Western European cities. Seeing it so close, it's very tempting to just load up the car and drive. But, with the advent of cheap flights and environmentally friendly cross-country trains, is it actually worth driving to Alpe d'Huez? Here are our thoughts.
Is it a good idea to self-drive to Alpe d'Huez?
As with most complex choices, it depends. There are multiple factors to take into account here, from the time of year to the number of people coming together, as well as what you want to do during your ski holiday.
Pros of self-driving to Alpe d'Huez:
Space: Ski gear and clothes take up a lot of space. It's all incredibly bulky and not easy to pack. Have you ever tried to fit two ski helmets in a suitcase? It's almost impossible. Bringing your car to Alpe d'Huez means that you get a whole boot worth of storage. You may actually have enough space to carry some PG Tips or Cadbury's chocolate with you and, even better, bring back delicious French treats – just remember to ask them to vacuum seal the stinky Reblochon and any other extra ripe local cheese selections.
Freedom: Bringing your car with you to Alpe d'Huez allows you to move around once in resort. You'll be able to come and go from the pistes whenever you please and visit neighbouring towns and ski areas. Self-catering is also easier when you have your own vehicle, as you can travel to the local supermarkets.
Price: Driving to Alpe d'Huez can be quite pricey once you add up tolls, petrol, ferry or tunnel tickets and other car-related fees. However, when splitting the costs up among a group of people, the price per person drops considerably. Therefore, a self-driving ski trip to Alpe d'Huez can be quite an inexpensive option for families and groups of friends when compared to other means of transportation like flying or coming by train.
Carbon footprint (vs. flying): Cars are bad for the environment and this is something everyone should take into account when planning a trip to Alpe d'Huez. However, you might be surprised to know that, when there's more than one person inside the car, the carbon footprint per person is lower than that of planes. Studies have shown that domestic flights emit around 133gr of CO2 per kilometre and per person, while in a car with four passengers that figure drops to 43gr. However, if the environment is first and foremost in your mind, you should consider coming to Alpe d'Huez by train or coach.
Cons of self-driving to Alpe d'Huez:
Time: It can take quite long to come to Alpe d'Huez by car, depending on where you're departing from. But this can be a blessing in disguise as you'll get the chance to relax and enjoy the ever-changing scenery – from medieval towns to the lush French countryside and the majestic Alps, it never gets boring!
Carbon footprint (vs. trains and coaches): Cars may be more environmentally friendly than planes but their carbon footprint is way higher than trains and coaches. The more passengers a vehicle can transport, the cleaner they tend to be. According to EcoPassenger, Eurostar is the cleanest of them all with only 6gr of CO2 per person and kilometre, while vehicle coaches emit around 27gr, a portion of the carbon footprint of cars. However, you'll probably have to make a few changes when coming to Alpe d'Huez by train or coach, and adapt to their timetables – the freedom granted by driving is second to none, and that's something to take into consideration as well.
Parking: Once you've arrived in Alpe d'Huez you'll need to find a parking spot, which isn't always an easy task. Alpe d'Huez offers large car parks to visitors so our recommendation is that you book your spot in advance, that way you won't have to drive around resort to find that elusive free space. Parking at the bottom of the lifts can also be tricky so leave your car in the car park and use the excellent bus shuttles that run along Alpe d'Huez and the neighbouring resorts, which you can use for free with your lift pass. Always pay attention to signs placed around parking areas that may indicate a market or snow clearing taking place the following day, and make sure you park in legal parking spaces. Read our Parking guide for more information.
Driving on snow: Finally, you shouldn't underestimate the challenges that come with driving on winding, narrow mountain roads in the winter. Although snow clearers operate every day in winter, conditions may change suddenly and make driving more challenging. Read below for our top tips for driving on snow.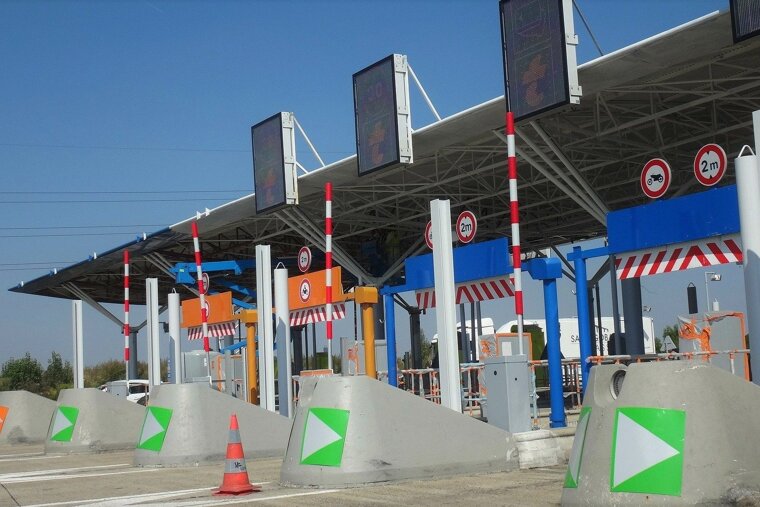 Cost of driving to Alpe d'Huez
The total cost of coming to Alpe d'Huez by car depends on where you're driving from, the number of people in your group, your vehicle and even the time of year. You'll have to at least add up tolls and petrol, although there are other costs you may want to take into consideration such as insurance or equipment.
Tolls to Alpe d'Huez
There's a different toll system in France and in Switzerland, so tolls depend on which country you're driving in.
Tolls in France
In France, motorists pay tolls for the sections of the motorway ('autoroute') that they use, usually collecting a ticket from an automatic dispenser when they enter a section and settling up at one of the many toll booths or 'péages' at the other end. The amount you pay depends on the type of vehicle you are driving and how far you've travelled within the toll zone but you will see the prices clearly marked as you approach the booths.
Tolls can be paid either in cash or by credit card or you can subscribe to an automatic payment system that allows you to pass through the 'télépéage' lane (indicated by an orange letter T). The 'télépéage' works with a small bar-coded gadget fixed to the inside of your windscreen which is then automatically scanned as you approach the toll barrier. The toll amounts are then debited from your credit card on a monthly basis for which you'll receive a regular bill. If you're planning on spending some time in France, then these 'péage' badges are well worth investing in (especially if you're in a right-hand-drive car!). All you need to do is apply for a 'Liber-t' toll tag through SANEF and register your details, including a credit card, on the site.
Is there a way to avoid tolls from Calais to Alpe d'Huez? Yes. You can avoid tolls when driving from Calais to Alpe d'Huez by steering clear of motorways but it will add up around five hours to your trip. There are single carriageway roads that follow more or less the path of the motorways, you just need to stick to them. Even if tolls are definitely a cost worth bearing in mind when planning your trip, in return, you'll appreciate the highly-maintained roads (generally better than the UK), with fewer road works, fewer cars and smoother driving all the way. We recommend you use the toll roads, it's much more efficient.
Taking the scenic route is a good option if time is not of the essence or if you'd like to see a bit of the countryside en route. Although what you save in motorway tolls you will lose in time, driving the backroads can be very rewarding in terms of all the beautiful places and viewpoints you'll discover. One thing to consider if you are planning a more scenic route, especially during winter, is to check whether any of the mountain passes or 'cols' you intend to cross are closed due to snow. If you're relying on a satellite navigation system, then the chances are it won't know which roads are habitually closed during winter – a good site for the latest info on this is Bison Futé. Many of the most beautiful mountain roads that attract big crowds during summer, Col d'Iseran, Petit St Bernard, etc., are closed entirely from early November until June due to snow.
Tolls in Switzerland
In Switzerland, tolls are paid through the 'vignette' system. Vignettes are compulsory in Switzerland on all motorways. They are a sticker that is placed in your front windscreen to prove that you have paid the applicable road tax, and they're compulsory for all sorts of vehicles. You can purchase your vignette from any of the border points, in fact, they will stop you entering Switzerland unless you buy one, or in any service station and convenience store close to the border areas. The 'vignette' is valid from 1st December of the preceding year until 31st January of the following year, and its colour and features change every year. The price does not include driving through the Grand St. Bernard Tunnel and Munt la Schera tunnels, a special toll must be paid here.
Is there a way to avoid tolls from Geneva to Alpe d'Huez? Again, yes. You can avoid having to buy a 'vignette' when self-driving from Geneva to Alpe d'Huez by crossing through Geneva centre (beware that traffic can be quite dense in the city). You'll have to cross the border at Gaillards, following signs for Le Lac via Pont du Mont-Blanc. Once in France, there's a road that takes you to Alpe d'Huez via Bonneville, Cluses and Passy. You'll have to add at least 30 minutes to your trip time, taking it up to one hour and 45 minutes. Again, we recommend you use the toll roads.
Petrol to Alpe d'Huez
Petrol prices in France are similar to neighbouring European countries. It can be slightly more expensive than in Spain or Germany but it's usually cheaper than in Northern Europe, Italy and the UK, especially diesel. Pretty much all petrol stations sell both unleaded (95 and 98 'sans plomb' octane) and diesel ('gazole') fuel but you are unlikely to be able to find leaded petrol. If your car runs on leaded, then look for 'supercarburant', a lead replacement petrol.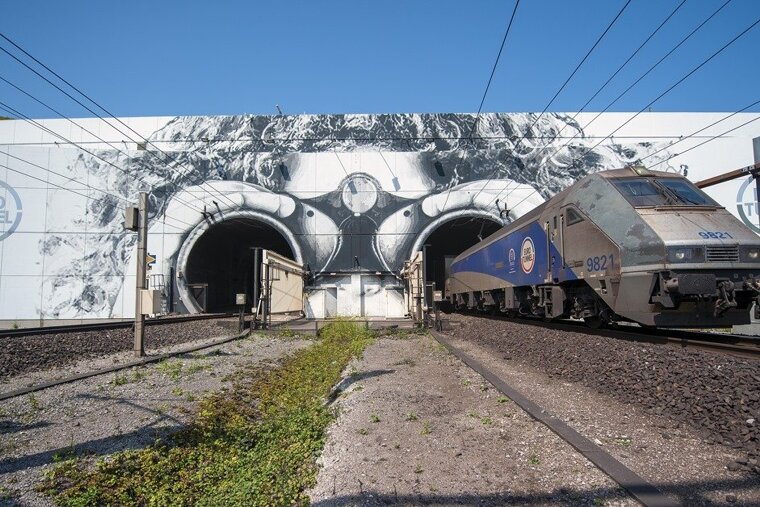 Driving from the UK to Alpe d'Huez
Thanks to the construction of the Eurotunnel and the regular ferries that connect the British Isles and the continent, it's possible to drive from the UK to Alpe d'Huez. Even though it's not a short trip, it can be completed in one or two days, depending on where you leave from.
What's the best route to self-drive from the UK to Alpe d'Huez?
That depends on where you're departing from.
From the South of England
If you're leaving from the south of England, then your best bet is to cross the English Channel from Dover to Calais, the closest French town. There are two ways of doing this: by ferry or by the Eurotunnel. The tunnel is quicker, taking only 35 minutes to cross between Folkestone and Calais compared to the average 90 minutes on a ferry. Ferries are normally cheaper, and both Eurotunnel tickets and ferry tickets (operated by DFDS Seaways and P&O Ferries) can be booked online in advance for a lower fare.
From the North of England and Scotland
Calais is also a good option for those travelling from the north although you'll probably have to stay a night on the road. You can take a late ferry or tunnel and stay in Calais, drive for three hours and book a room in Reims, or even go a little further and get a cheap hotel in Dijon. You'll be in Alpe d'Huez before the evening on the next day. The ferry from Hull to Zeebrugge, in Belgium, is another good option. Operated by P&O, this overnight route takes about 12 hours and tickets include cabin accommodation aboard a ship that boasts a restaurant, a Duty-Free shop, bars, cinema rooms and a casino. From Zeebrugge, you'll be in Alpe d'Huez in around 10 hours.
How long does it take to drive from Calais to Alpe d'Huez? It takes around just over nine hours to drive from Calais to Alpe d'Huez for a distance of just under 930km. Most of the trip takes place on wide motorways or 'autoroutes'.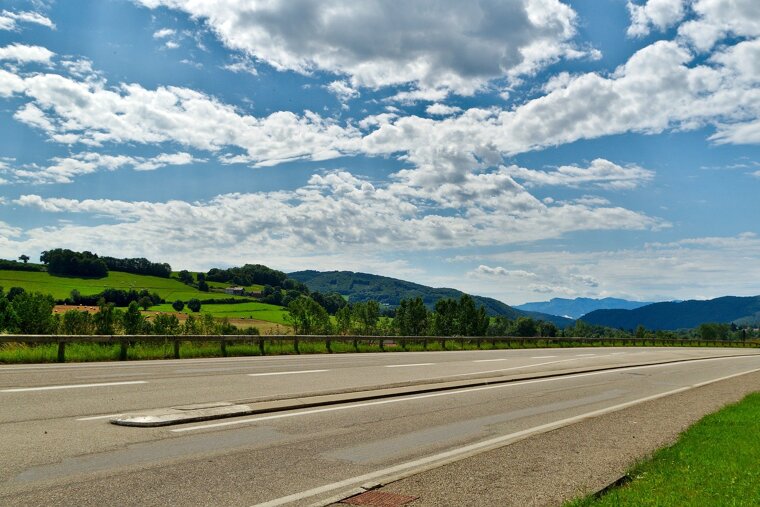 Driving through France
No matter where you leave from, you'll have to drive through France to reach Alpe d'Huez. Here's our take on what you should do once you're on French soil.
What's the best route to self-drive through France?
The easiest and quickest way to reach Alpe d'Huez once in France, is to use the 'autoroutes', a network of toll-paying motorways that span the length and breadth of the country. There are a number of different companies that manage these motorways from one region to the next, a full list of which can be found here, along with links to their individual websites.
These motorways are dotted with high-quality service areas ('aire de service') alongside petrol stations, as well as independent rest areas ('aire de repos'). Both offer clean toilets, drinking water and picnic areas. Baby changing stations and play areas can also sometimes be found. Those travelling with dogs will be glad to know that many have nice patches of grass where you can walk your furry friends. At the 'aires de service', you'll also find shops, cafés and restaurants with a range of food and drinks on offer – beware of the sandwiches if you come from the UK, the choice isn't as varied in France.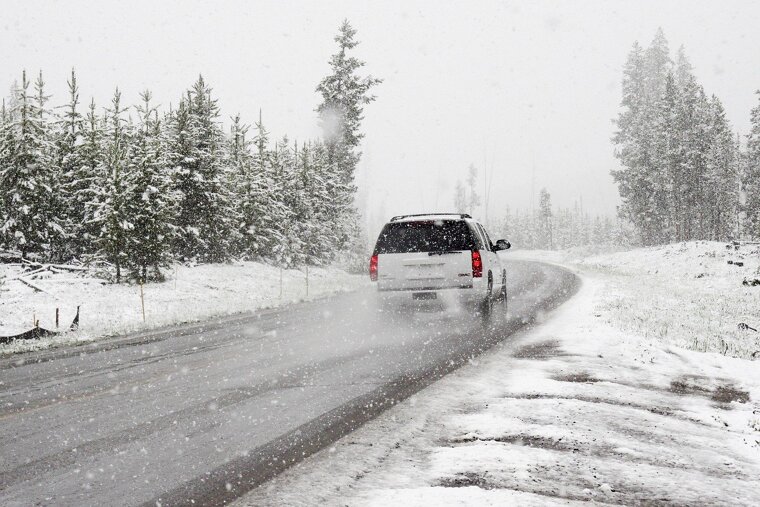 Top tips for driving on snow
Local municipalities are generally very good at keeping the roads clear and you'll hear the snow ploughs out long before dawn, ensuring that the roads are snow-free for people to get about resort. However, driving on snowy, icy roads is a hazardous affair and requires extra care and attention. Here are some things to consider:
Carry snow chains: It is now a legal requirement in France to carry snow chains in your vehicle, (if you don't have snow tyres) and police will be able to fine you on the spot if your car is not appropriately equipped, so you should definitely carry a pair of snow chains with you when coming to Alpe d'Huez. Practise fitting them before you actually need them as you can guarantee that, when you do, it will be at night, in a blizzard and in the middle of nowhere! Keep a pair of old gloves with them as your hands will get very cold, very quickly.
Fit snow tyres: It was made a legal requirement in France (from 1st November 2021) to fit snow tyres or carry snow chains in your vehicle (from November to March). They have a deeper tread than normal tyres and hundreds of tiny slits that grip the snow as the wheel turns. They considerably improve the handling and performance of your car in snowy conditions.
Keep topped up with fuel: Unexpected road closures, due to snow or avalanches, can result in lengthy diversions. You don't want to end up stranded at the side of the road, and petrol stations are sometimes few and far between on French motorways.
Slow down: The first thing you should do on encountering snow on the road is reduce your speed. By keeping your speed low and using your gears to slow down, you can hopefully avoid having to brake sharply and cause your car to skid.
Use high gears: Try to drive in as high a gear as possible to avoid wheel spin. The same principle applies when pulling away from a standstill – try to do so in second gear, accelerating gently.
Keep moving: When driving up an incline on snow, do everything you possibly can to keep moving forward. Hill starting on a snowy road is difficult and may result in you slithering into other vehicles around you. Always try to keep your momentum going, however slowly, so that you don't lose traction.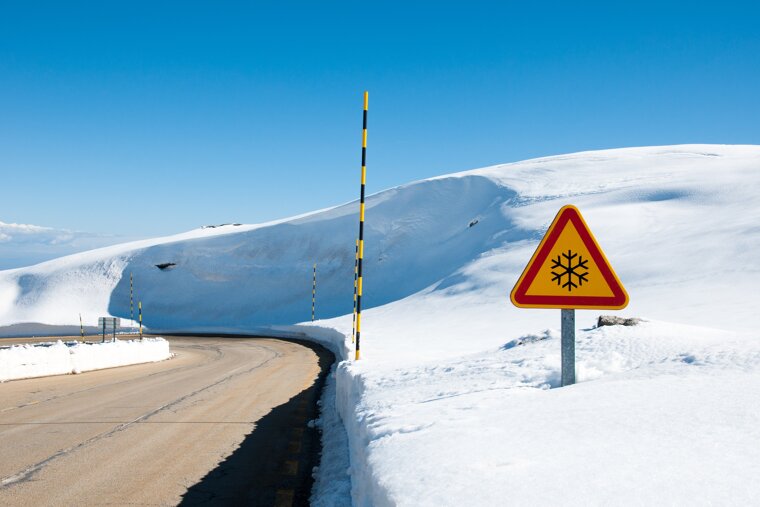 Road rules & regulations in France
When driving in a different country, it is important that you are aware of any road laws and restrictions that may differ from home.
Road rules
These are the main general rules when driving in France. For more detailed information, please, take a look at the dedicated page created by the French Ministry of Foreign Affairs.
Right-hand traffic: The French drive on the right, as do the Swiss.
Right of way: French drivers give way to the right. Sometimes this will mean that a car turning onto a road from a junction will have right of way of the car already on the road. On roads in built-up areas and when approaching roundabouts, you also generally give way to traffic coming from the right. If you see a sign saying "Vous n'avez pas la priorité" or "Cédez le passage", traffic on the roundabout has priority.
Traffic lights: French traffic lights go straight from red to green with no amber stage.
Documents: Driving licence and vehicle registration documents must be carried at all times when driving. Read more about which documents you need to carry with you below.
Insurance: Third party insurance is the compulsory minimum.
Mobile phones: Mobile phones may not be used while driving unless with a hands-free kit. Earphones and headphones are also prohibited while driving.
Horn: It is forbidden to use your horn in residential areas unless in immediate danger.
Speed Limits
The speed limits on the roads for passenger cars and motorcycles can vary slightly depending on the weather, lowered in poor weather conditions. They are as follows:
Motorways: Motorways have a maximum speed of 130km/h, reduced to 110km/h in poor weather conditions and during the winter in mountain areas.
Urban motorways and dual carriageway roads separated by a central reservation: These roads have a speed limit of 110km/h, lowered to 100km/h in poor weather conditions.
Built-up areas: In built-up areas, stick to 50km/h. In town centres, speed may be limited to 30km/h or 20km/h.
Single carriageways: On single carriageways and any other roads, the speed limit is 90km/h.
Visibility of less than 50m: When there's thick fog and the visibility is less than 50m, the speed limit is reduced to 50km/h on all roads.
Drink Driving
If the level of alcohol in the bloodstream exceeds 0.5 mg/l (or 0.25 mg/l on a breathalyser), then severe penalties including fines, imprisonment and/or loss of licence will ensue. This means that just one pint of beer can take you up to the limit. The police also use saliva drug tests to detect people under the influence of drugs while behind the wheel.
Fines
If you are caught speeding by the French police, on-the-spot fines are expensive and will have to be paid there and then. If you don't have sufficient money on you, then you can expect to be escorted to the nearest cash point (complete with flashing lights in our experience!) so you can withdraw the necessary funds. The official is then obliged to issue you with a receipt as confirmation of payment. If you are caught exceeding the speed limit by more than 50km/h, you are at risk of having your licence confiscated and your car impounded on the spot. The use of radar detectors is also absolutely forbidden in France and failure to comply involves a fine of up to €1,500 and the vehicle may be confiscated.
Seat Belts
If you have passengers in your car, then the wearing of seat belts is compulsory for both front and back seat passengers. Children under the age of 10 are not permitted to travel in the front seat unless there are no rear seats, they are already occupied by other under 10s or they don't have seat belts fitted. In this case, they must be strapped into an EU-approved child seat or restraint, appropriate for their size. It is the driver's responsibility to ensure that all passengers are appropriately restrained.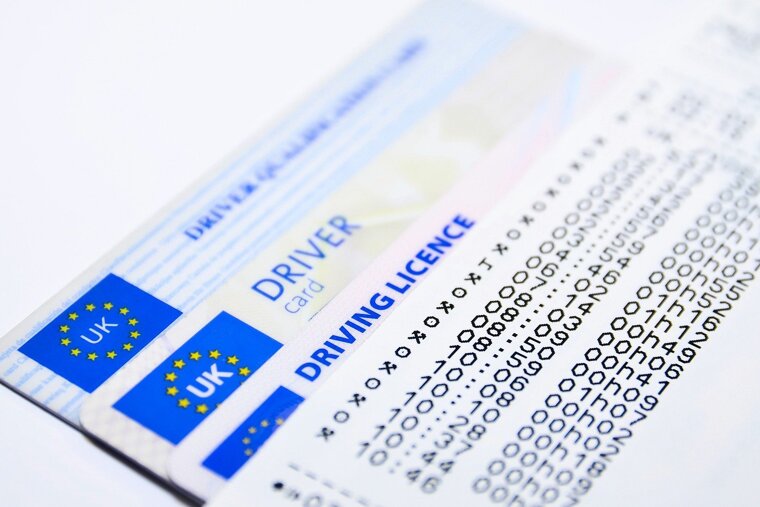 Legal documents & paperwork in France
An important thing to remember when driving your car in France is that you're expected to have all of your vehicle registration documents ready for inspection on demand. If you don't, you could face a fine or even confiscation of your vehicle.
What documents do you need to carry when driving in France?
In order to avoid sticky situations with the law, always have the following documentation in your car with you:
Full valid driving licence (not provisional) with any paper documentation you are required to keep.
Original vehicle registration document – your logbook.
Motor insurance certificate and/or Green Card.
Your passport.
Crit'Air Vignettes or car stickers that have been introduced to try and help cut down air pollution in major French cities, including Grenoble, Lyon, Annecy and Paris. All vehicles need to display one including cars, motorbikes, coaches and lorries when driving in these areas – the stickers are graded from one to six, with six being the oldest and most polluting, therefore the vehicles most likely to be banned from entering the cities on high pollution days. Non-French motorists can order a Crit'Air sticker online and it will arrive in five working days.
Motor Insurance
At least a month before taking your vehicle on your holiday, you should contact your car insurance company to ensure that you are adequately covered and in possession of the necessary documentation. Many insurance companies will only insure a vehicle in foreign countries for a maximum of 90 days at a time, so if you are planning on an extended stay, you may have to make additional cover arrangements. Bear in mind that since Brexit, UK motorists are required to carry a Green Card.
You should also ask your insurance company to provide you with a 'constat amiable'. This is the form you must complete in the event of an accident involving another vehicle. It is a duplicate document upon which both drivers agree on the events that led up to the incident, sign and then keep a copy each.
Breakdown Cover
Whilst checking out your insurance policy you should also ensure that you have Breakdown Cover just in case of an accident or mechanical failure. This can be part of your motor insurance or a separate company who deal in breakdown cover.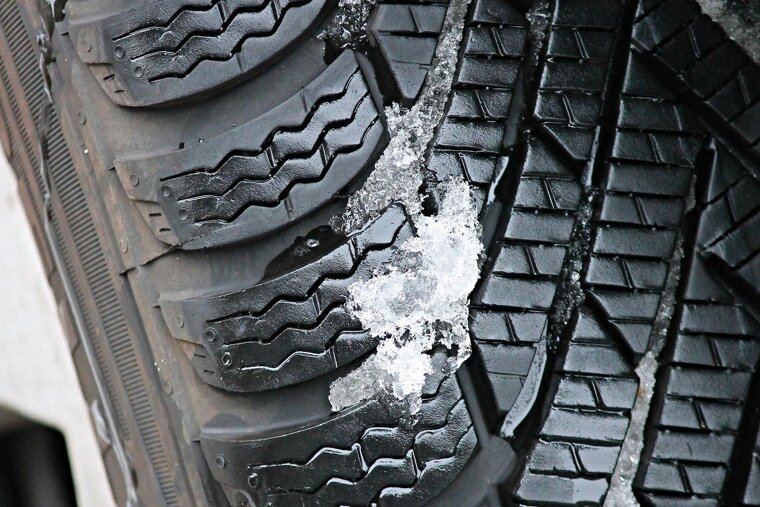 Equipment checklist for driving to Alpe d'Huez
Before embarking on a journey of several hundred kilometres, you want to be sure that your vehicle is mechanically up to the job. Breakdowns and repairs in France can be costly affairs so reduce your chances of conking out on the 'autoroute' by servicing your car well in advance of your trip. There are also a few items that you must carry with you to comply with French law.
Equipment to carry in France
There are several things you need to carry with you when self-driving in France. These include:
Warning triangle
High-visibility vest - this must be accessible without you needing to leave the car, so don't keep it in the boot.
One unused, certified breathalyser
Country sticker unless your car has Euro plates
Spare bulbs
Headlight converters
Check your car
If you're planning a ski trip, then ask your garage to perform a winter service on your car and they will adjust the engine fluids accordingly to cope with the colder temperatures in the Alps. There are also a few simple checks you can do yourself to prepare your vehicle for a winter trip:
Battery: A battery rarely lasts longer than five years and winter driving, often in the dark with lights, heaters and windscreen wipers going and in very cold temperatures, puts a lot of additional strain on it. Consider replacing it before you go if it is approaching the end of its life.
Fluids: Check the oil and water levels and ensure they are topped up correctly. Pay particular attention to the antifreeze and windscreen wash – use a proper additive at the right concentration so that it doesn't freeze up when you're in the cold.
Lights: Check that all lights are working, clean and correctly aimed. For driving on the continent, you must fit headlight converters to adjust your beams so that you don't dazzle oncoming vehicles when driving on the right. Converter kits are widely available but don't leave it until the last minute as certain makes of vehicle may require a dealer to make the adjustment.
Windscreen wipers: Check front and rear wiper blades for wear or splitting and replace if necessary.
Number plates: Your number plates should be clean and legible as it is possible to be fined if they cannot be read. Most European number plates now come with a dual country and Euro badge so the need for a conventional country sticker when travelling within the EU is not necessary. However, if you are in an older car that does not have this, then make sure you place a country sticker on the back.
Tyres: Check all tyres for condition, pressure and tread depth. For winter motoring, at least 3mm of tread is recommended and certainly no less than 2mm.
Snow tyres
Winter tyres, or carrying snow chains/socks, became officially compulsory from 1st November, 2021, in 34 of France's 96 departments. The new regulations were brought in to improve safety and traffic conditions during the winter period - 1st November until 31st March. Alpe d'Huez is at high altitude and the road is likely to be snow-covered, so you should consider investing in a set of winter tyres – bear in mind that, to be recognised by the police as snow tyres, they must carry the sign M+S, and from 1st November 2024 tyres must also be marked with the "3PMSF" symbol (3 Peak Mountain Snow Flake) to be tolerated. These tyres make a huge difference to the vehicle's traction and your overall control. You can also choose from metal chains and textile chains aka snow socks. At least two are needed to equip the car sufficiently and there are pros and cons of both, with metal chains ideal for regular use in heavy snow and snow socks more for occasional use in light snow. Make sure these removable devices are suitable for your wheels and that you know how to fit them.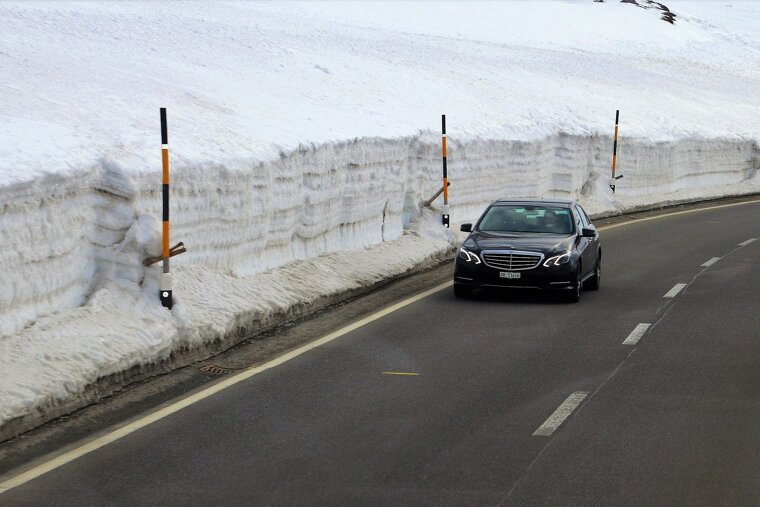 Breakdown procedure in France
The breakdown procedure on French 'autoroutes' is set out by the French motorway companies and can be found on their website. The call-out and tow fees are, however, set by the French government, and can be found here.
Breakdown procedure in France – A step by step guide
If you do breakdown on a French motorway, follow these six simple steps:
Pull into the hard shoulder and turn on your emergency warning lights.
Put on your high-vis safety vest.
Exit the vehicle from the right-hand side (the side away from passing traffic) and place the warning triangle at least 30m from your car.
Make sure yourself and your passengers are behind the safety barrier and walk to the nearest emergency phone (do not cross the motorway to get to a phone on the opposite side).
Use the phone to alert the emergency services, this call is free and will make them aware of your exact location. If you can't get to one of these orange phones, call emergency services on 112.
Return to your vehicle and await rescue. All occupants should remain behind the safety barrier and NOT inside the vehicle.
Their main concern is to get your vehicle off the motorway. If your car can be fixed on the spot, then they will do that, but they may need to tow you to remove your vehicle from the motorway. Once you and your car have been removed from the 'autoroute', then it is time to call your insurer and they can arrange for a local garage to come to you and to start the process of getting you back on the road.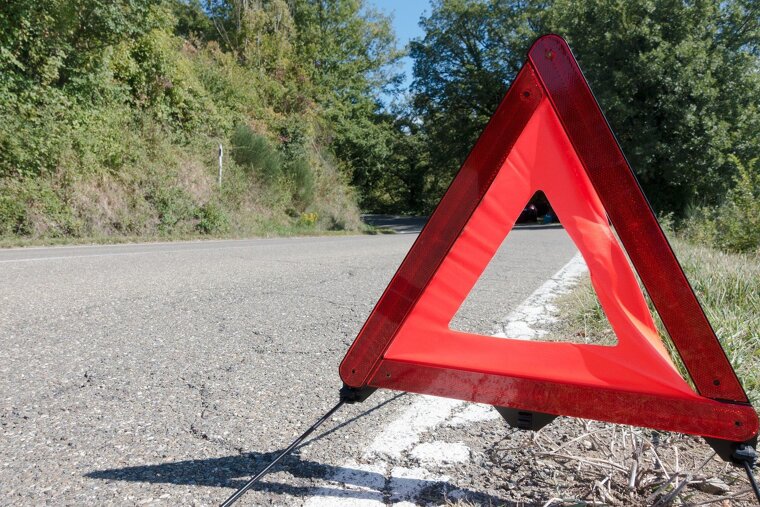 Road accidents in France & What to do
If you are unlucky enough to end up in an accident whilst driving in France, then there are certain procedures that you must follow.
Minor accidents
If it is a minor accident where nobody is injured, follow these steps:
Move to a safe place and alert oncoming traffic by placing your red warning triangle 30 metres down the road. Remember to put on your high-vis vest before leaving your vehicle.
If two cars are involved, complete a 'constat amiable' detailing the events that lead up to the incident. It's important to fill this out as soon as possible so that events are noted accurately (there are written and diagrammatic sections of the report to complete).
Try to establish who was responsible for the accident and, if there were any impartial witnesses, note down their contact details on the form too.
Take pictures of the aftermath if you have a camera handy.
Both parties should then sign the form and take a copy each. If a driver refuses to sign the form, then take a note of their registration number. You have 5 days to send it to your insurance company for the claim to be settled.
If the drivers cannot agree on liability for the accident, then the insurance companies will look at the evidence and assign responsibility as they see fit. It may mean that each driver finds that he/she is 50% liable.
It is possible for drivers to agree to pay independently for the damage caused in order to protect their "no claims bonus". Even if this is the case, it is still best to complete a 'constat' at the scene so you have it as a backup.
Major accidents
If you are involved in a serious accident resulting in casualties, then contact the police as soon as you can, having moved yourself (and your vehicle if possible) to a secure spot. Still, complete the 'constat' or have a passenger/witness do it if you are injured, and gather the contact, registration and insurance details of all parties involved. If you are hospitalised, then the authorities will deal with the paperwork on your behalf; if not, then you should still obtain a medical certificate stating your injuries and enclose this with your claim form.
More inspiration...
Those without their own set of wheels, or who'd rather leave their vehicle at home, can always opt to hire a car. If you rent it in the area or in Geneva airport, chances are your ride will be equipped with snow tyres and/or chains but you should ask when booking. It's also worth checking whether you can cross borders into other countries with your rental car.