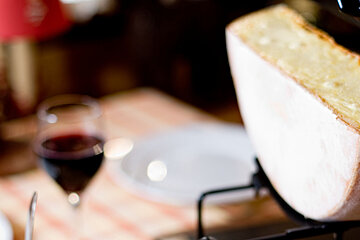 Local cuisine in Alpe d'Huez
Discover the top Alpe d'Huez local cuisine
Food is a great part of life in the French Alps, and with all those outdoor pursuits to try you can rest assured it is all very hearty! Local specialities are often cheese or cream based (sometimes both…) featuring local meats, potatoes and with a token green salad.
The food in the Alps is often accused of being unadventurous and 'lardy', but there are plenty of delicious regional dishes besides the good old fondue.
The emphasis is very much on fresh local produce and therefore cured and seasoned meats will have come from cattle grazed on Alpine pastures, the local cheeses of Abondance and Beaufort will be prevalent and, although there isn't a coastline in sight, there is still a regional fish dish! The féra is caught in nearby Lake Geneva and is a popular dish served in many restaurants, alongside other lake fish such as Omble Chevalier (char), truite (trout), brochet (pike) and perche (perch).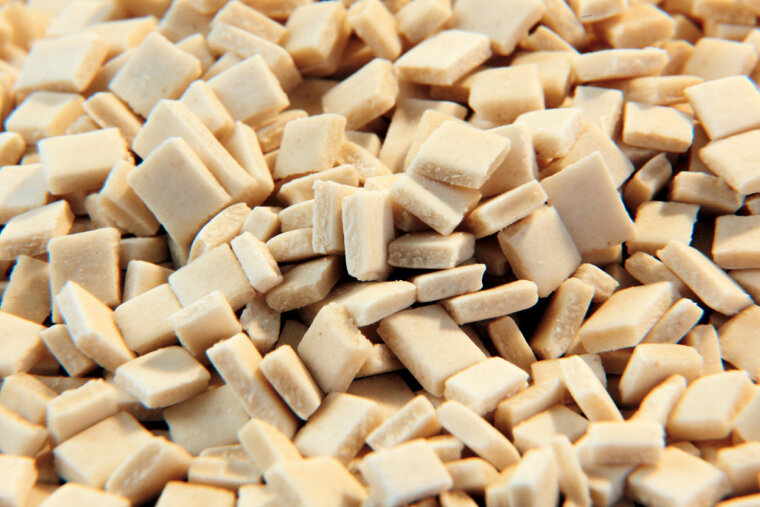 Crozets - Buckwheat pasta typical from the Savoy region
The crozets are small pieces of pasta, usually flat and square, made with buckwheat or wheat, or even a combination of both. They are normally used to prepare two delicious regional dishes, the 'croziflette' and crozets with diots.
Traditional from the Savoy and Tarentaise regions, crozets date back to the 14th century and are derived from Italian 'crozetos', which reached the French area in the 17th century.
They can be served just cooked and mixed with cheese, especially local varieties such as Tomme or Beaufort, or with locally picked mushrooms like chanterelles. They are also a common side dish to diots in white wine, and the main ingredient in the 'croziflette', a deviation of the traditional tartiflette in which potatoes are substituted by crozets cooked with cream, cheese and bacon.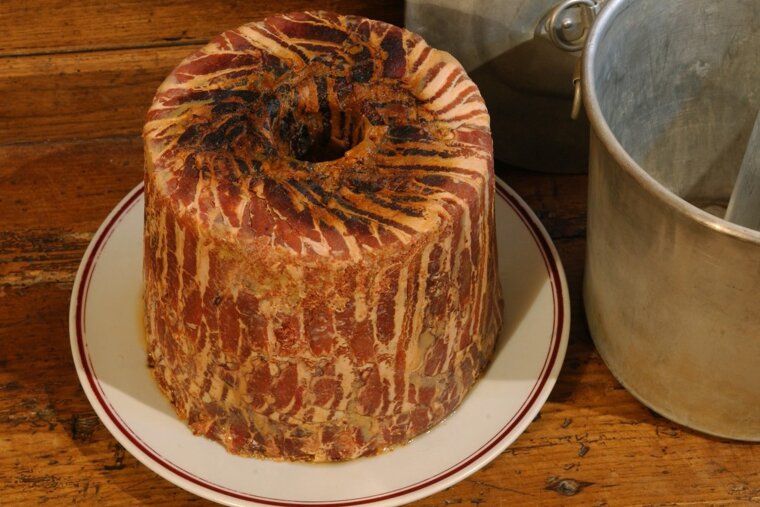 Farcement - A very traditional Savoyard family recipe
Farcement is a very unusual dish that combines sweet and savoury ingredients such as bacon, onions, prunes, raisins, potatoes and cream.
All the ingredients except for the bacon are combined; a mould shaped like a small beach bucket is lined with the bacon and then filled with the mixture. The covered mould is then placed in a pan of boiling water for around three to four hours so that, when it is tipped out, the mixture has cooked and set almost like a cake.
Farcement is typically served for Sunday lunch as it can be left to cook while the family are at church.
This is not a particularly common dish in many restaurants, you're most likely to find it in old family-run places that serve very traditional mountain cuisine - definitely an authentic experience if you can find it!
Fondue - The most iconic of all Alpine dishes
Possibly the most well-known of Alpine dishes is the fondue, a sturdy pot full of melted cheese into which you dip chunks of crusty bread.
A favourite dish in Alpe d'Huez mountain restaurants, the exact recipe will vary according their own personal touches. A typical cheese fondue is a concoction of a variety of local cheeses (often reblochon, gruyère, comté, beaufort or emmental), a little garlic and seasoning, a glug of alcohol (kirsch, white wine, or some local liqueur) and a bit of flour for thickening. You can then get variations that may contain nuts, mushrooms, tomatoes, chillies, and other flavours.
There is also a meat fondue (fondue bourguignonne), which is a pot of hot oil into which you dip chunks of raw seasoned meat until they are cooked to your liking and then enjoy with different sauces and, sometimes, salad or pickled gherkins.
Dessert fondues are becoming increasingly popular - melted chocolate into which you dip fruit, marshmallows and other treats.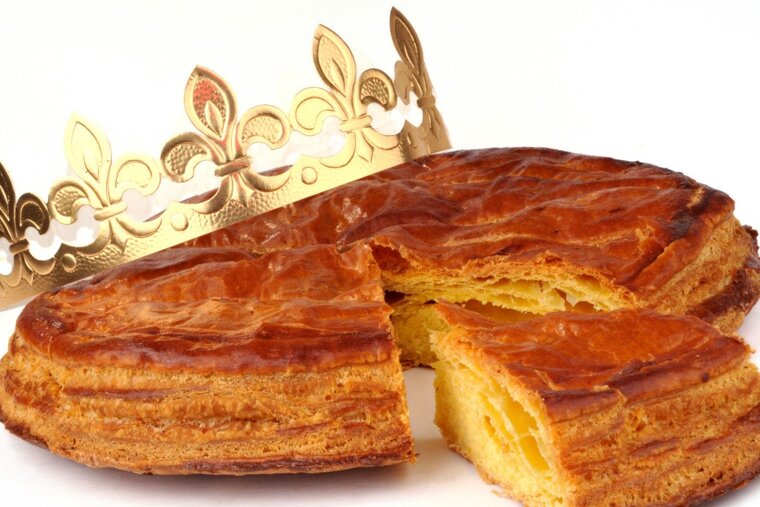 Galette des Rois - The Cake of Kings!
January - a time for cake and celebrations... If you pass your local Alpe d'Huez bakery in early January you will no doubt find a selection of glazed pastry cakes with golden paper crowns sitting on top of them... or even a selection of small charms to purchase at the counter.
This wonderful tradition dates back to the 14th century and is likely in some ways to be related to the Roman tradition dedicated to the god Saturn and celebrating the longer days after the winter solstice.
Across France during the 'Epiphany', the celebration of the Magi (or Kings) visiting the new baby Jesus, which takes place on 6th January, cakes are eaten which are known as 'Galette des Rois' or Cake of Kings. Traditionally the cakes are made from a brioche and covered with candied fruit and sugar although this is not always the case. They do however all contain a bean or a charm of some kind and whoever eats the piece with the bean or charm will be crowned the next king! This is not always a privilege as it can mean that you have to buy the next cake!!
Whatever your thoughts and traditions, each region and family will no doubt have their own take on the celebrations. But with one thing in common, this is a time to celebrate with friends and family and eat some cake, I won't be complaining about that. I will be sampling as many as I can find in the hopes that I can receive a charm and my crown.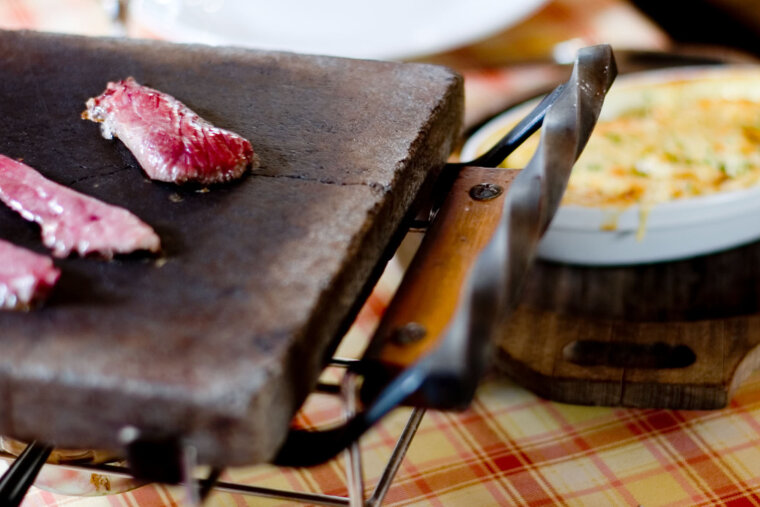 Pierre-Chaud & Braserade - Two ways of grilling meat at your table
Pierre-Chaud, or pierrade, and braserade are strictly for committed carnivores - if you like your meat to come with a side of meat then this is your kind of meal.
"Pierre-Chaud" literally translates as "hot rock" - a red hot slate on which you sizzle a selection of raw meats. The braserade is along the same lines but is more similar to a table-top BBQ.
The meats come with a choice of seasonings and you can can cook them exactly to your liking. Both dishes usually come with a selection of sauces and potatoes or fries.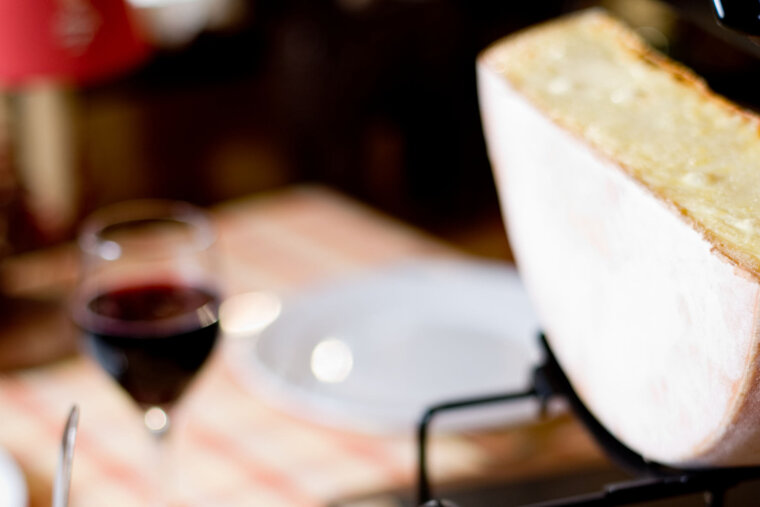 Raclette - Grilled cheese cooked at your table
A typical Alpine dish is the raclette: melted cheese spooned over your plate of potatoes, meats, salad and pickles.
There are two methods of serving raclette. The French way is to mount a half moon of cheese on to a small table-top grill and let it drip over your food, scraping up the excess cheese with a little wooden spatula.
Swiss raclette is a bit more orderly (unsurprisingly) - slices of cheese are placed in small individual pans and held underneath a grill until they are melted enough to pour over your food.
Either way, you can generally find both types in both countries, it just depends on the preference of the restaurant!
Rosti - Traditional farmer's dish from the Swiss region of Valais
Kind of like a fancy hash brown, rosti is a pan-fried potato cake, often topped with cheese or a fried egg.
Originating from the Valais region of Switzerland, rosti is made from finely grated potatoes and fried until golden and crispy.
Traditionally eaten by farmers for breakfast you can now find it on the menu of many restaurants, in Switzerland and also sometimes in France.
The classic recipe is the Rosti Valaisanne, a hearty dish topped with bacon, fried egg and cheese, often served with pickled gherkins and baby onions.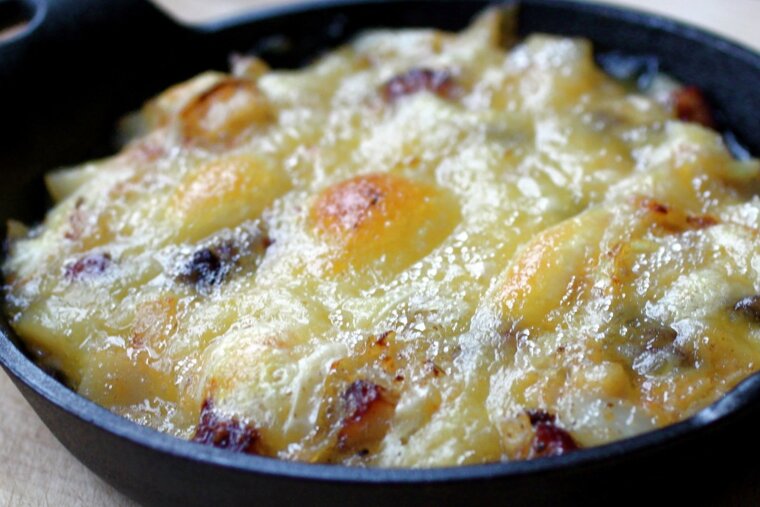 Tartiflette - A favourite in ski resorts and mountain restaurants
If you need warming up from a long day on the ski slopes there is nothing more comforting than a dish of tartiflette.
A substantial meal of potatoes layered with cheese, cream and pieces of bacon, this is an ever popular dish in Alpe d'Huez mountain restaurants. Individual portions will usually be cooked and served in an earthenware dish, but you may also see it being cooked in enormous skillets (usually in self-service mountain restaurants) and dished up with a green side salad.
It is perfect skiing food due to it being hot, tasty and extremely filling – although it may put an end to further activity for a few hours.
More inspiration...
Surely there can only be one place to head for more inspiration after reading this page.... check out our local Restaurants suggestions!