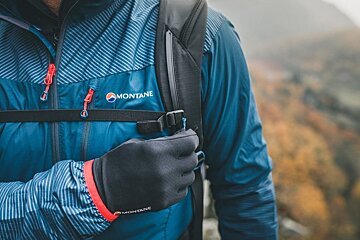 Hiking gear guide
The gear you'll need for hiking in the mountains
As spring arrives our appetite for being in the mountains switches from skiing to hiking.
Clothing for summer adventures in the mountains should be lightweight and adaptable, as conditions vary widely at this time of year, especially in the Alps. It can feel like summer in the valley, but still be more like winter up in the mountains, especially when the weather turns.
Here are a few items of clothing that we think are essential kit for those spring and summer mountain adventures.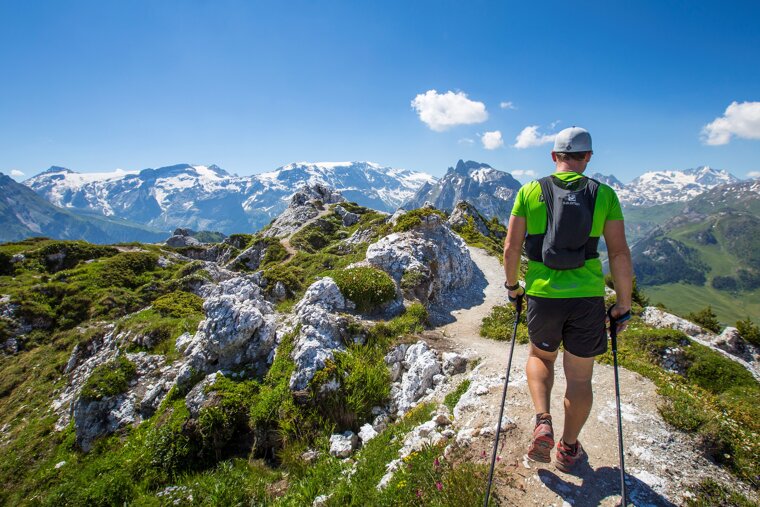 Footwear
One of the most important parts of your gear is what you're wearing on your feet. The footwear trend is moving away from bulky boots towards hiking shoes or trail running shoes, which will usually be fine for most hikers around the mountains in spring and summer.
Hiking boots: Can be heavy and will need breaking in, but on the plus side are very durable, offering maximum protection with a long life.
Hiking shoes: Comfortable and durable, less flexible than a trail running shoe, whilst being good value.
Trail running shoes: Good for those looking for comfort and performance, they are lightweight and springy but do offer less protection than the other choices.
The most important thing is that your footwear should protect your feet. And whilst it's still the most popular thing people look for, waterproofing is not as important as you may think. When hiking in hot or dry climates, shoes that have breathable uppers may let in water but they also dry quickly, and feet that are dry are less prone to blisters. Look at most people on the mountain trails these days and they're almost all wearing breathable shoes.
Brands to look out for would be Salomon, Hoka, Scarpa, Merrell, La Sportiva. For trail running shoes especially you can also look at Saucony, Brooks, Topo and Nike, and this list isn't by any means exhaustive, there are numerous footwear brands out there.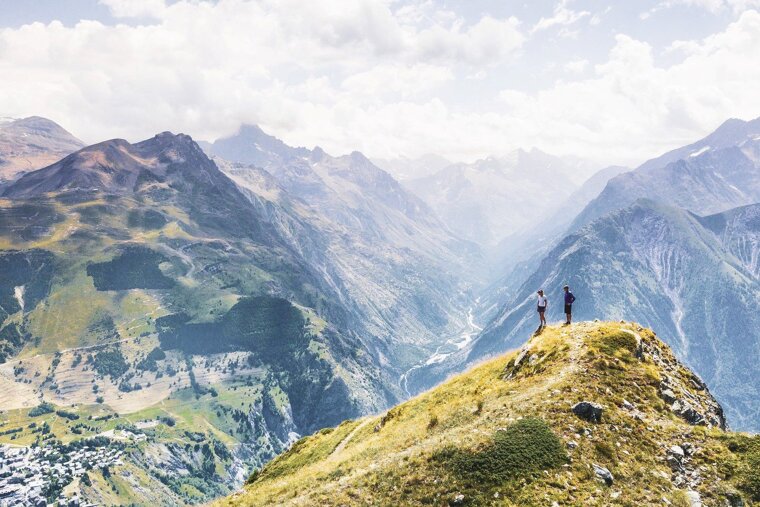 What to wear
So that's your shoes sorted, but when it comes to what clothing to wear hiking, you can look at it like you would when going into the mountains in winter. Think layers. Three-layers of tech if possible. Layered clothing enables you to add or shed layers according to the conditions like changes in temperature, precipitation, wind and your activity level.
First/Base layer: The most important of all your layers because it's in direct contact with your skin. Avoid cotton as it absorbs moisture and holds onto it keeping it next to your skin, so go for a technical fabric that's breathable and 'wicks' away moisture. The fit is usually quite snug to ensure the right amount of heat is retained. Most are made of synthetic materials or Merino wool, which is a great fabric for a base layer because it will keep you cool when it's hot, and warm when it's cold. It has unbeatable wicking properties, and being naturally antimicrobial it doesn't get smelly like man-made fabrics. On days when temperatures are moderate to cool, we'd recommend Merino base layers, but for short hikes in hot temperatures you might be better off with a lightweight polyester base layer. And on hot summer days a base layer on its own is likely all you'll need to wick away any moisture keeping you cool. Brands to look for would be SmartWool, Patagonia, Helly Hansen, Black Diamond, Rab.
Second layer: The importance of a mid-layer cannot be overstated and throughout summer a small fleece or light down jacket will likely be all you need, depending on where you go. Look for a good level of breathability, something quick drying and not too bulky. The material should have a good level of stretch and in some conditions a gilet is a better option than a long-sleeve. Like with base layers the materials can be both synthetic and/or natural. Brands to look for would be Arc'teryx, Peak Performance, Patagonia, Black Diamond, Salewa, Rab.
Third layer: This is your shell and shields you from wind and rain, and in many ways is your most functional (and likely expensive) piece because it needs to be waterproof and breathable, which often means paying for tech like Gore-Tex. They are important when the weather suddenly changes because if wind and water penetrate to the inner layers you will get seriously cold. Look for taped seams and weatherproof zips to ensure the rain stays out. Depending on the weather, the outer layer doesn't necessarily need to be waterproof, and some soft shell jackets provide good wind resistance and can be more breathable than waterproof hard shells. Brands to look for would be the same as those mentioned above.
Trousers or shorts: For your bottom half, if you're unsure how the day's weather will pan out, think light hiking trousers (some come with zip-off bottoms), and pack some lightweight shorts in case of warm weather. Like the layers on your top half, hiking trousers should fit comfortably and feature quick-drying tech.
Socks: When hiking, a pair of quality Merino wool socks is your first line of defence against blisters and tired, sweaty feet. Read any hiking socks reviews and Merino wool is the standard-bearer, and whilst they can be pricey they are tough enough for any trails and are built to last. They are extremely comfortable, wick moisture well, breathe, regulate temperature and importantly take a while to get stinky, meaning they're great for an extra day of wear. Something worth noting is that even Merino wool hiking socks aren't ever 100% Merino - you'll generally find them around 30-80%. Density varies, which is important for shape and durability. Generally sold as lightweight, midweight and heavyweight, for summer you'll be fine with lightweight, the only downside being they are thinner and offer significantly less padding and blister protection. In terms of sock height, crew height is the most popular which extends about 6-8 inches above your ankle. Quarter height is over the heel and ankle but not up the leg, which is good if you're wearing hiking shoes/trail running shoes. Many companies sell both men's and women's specific socks, but in most cases there are no major performance differences between the two. To keep your socks looking fresh year after year, wash in cold water and line dry.
Depending on how long you're hiking for you may wish to pack a spare pair of socks and a spare base layer for when you want to freshen up.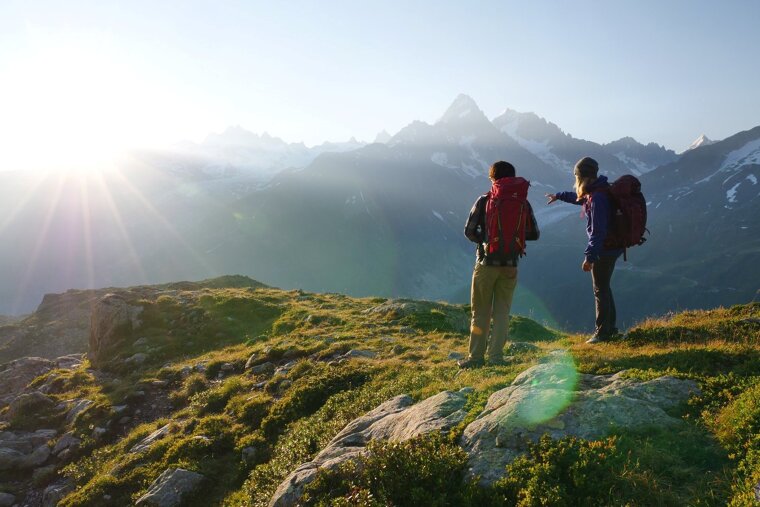 Backpacks
Whether it's a morning hike, a full-day out or a couple of days up in the mountains, hiking can be demanding of a good-quality hiking backpack. Trends today lean towards minimalism and clever design features. Consider its purpose, because it needs to have enough storage for all your essentials, not add too much weight and fit your body properly.
Focus on size - all backpacks are differentiated by size. A 30 litre daypack is more than adequate for a short day hike, whereas longer trips would be served better by a 60-70 litre backpack to ensure there's room for a sleeping bag, food, water and any other essentials.
Back panel - usually contoured and padded. Foam channels improve comfort and breathability, some have suspended mesh systems for warm weather.
Hip belt - this needs to fit, and the bigger the pack the beefier the padding. It should come round the hip bones to ensure the weight is distributed evenly, try a couple on to see what feels most comfortable for you.
Shoulder straps - changes with the size of the pack, again try before you buy if possible.
Sternum strap - improves the stability of the pack and keeps the shoulder straps in place.
Extras that are nice to have would be multiple compartments inside, hip-belt pockets, durable zippers, and waterproof construction.
Brands to look at would include Osprey, Jack Wolfskin, Arc'teryx, Black Diamond, Patagonia, The North Face.
Bum bags or lumbar packs as they are also known are becoming a popular item when hiking. Allowing you to keep your hands free without having to rummage around in a backpack, they can be a convenient add-on or simply used solo if you're just going up for a short hike in stable weather conditions. They're ideal to carry just the essentials like water, sunscreen, your phone and a snack. They also don't give you a sweaty back and shoulders, and avoid chafing from shoulder straps.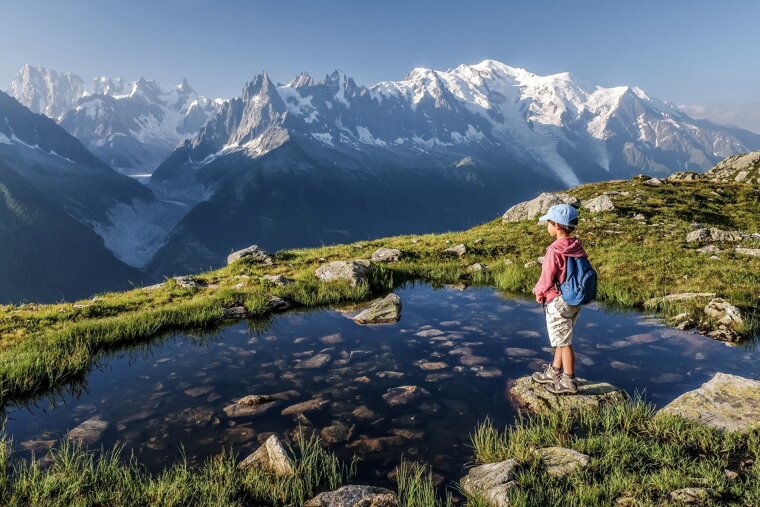 Accessories
Again, depending on how long you plan on hiking for you may or may not need to consider these additional items.
Hat: Hiking hats need to work hard, they need to keep you comfortable in a range of conditions - shielding you from downpours, protecting you from the sun, even keeping bugs at bay. The best are breathable and protective, and should have SPF50+, meaning they block 98% of UVA and UVB rays. Some come with a neck cape, which can help with extra protection on exposed terrain. Rain hats need to be 100% waterproof. It should be durable, packable and easy to clean. A beanie is also a good thing to pack for if things get a little chilly, especially if you're camping out over night or staying at a hut. Also pack a neck warmer and gloves, because sometimes the weather can change at the drop of a hat...ahem!
Head torch: As essential as your boots and a waterproof jacket, especially if you're planning a night out in a tent or mountain hut. Even if you're only heading out for a day's walk, if your route takes longer than expected a head torch is your insurance policy for seeing your way home. Make sure you keep the batteries well charged and carry a spare set just in case.
Water bottle: Staying hydrated on your hike is crucial and there are so many options, from the bladder styles that attach in your backpack with a drinking hose and nozzle, to the ultralight collapsible designs and insulated aluminium bottles that keep liquids cool or warm. They range in size and most importantly should be lightweight. On longer hikes where you need to purify water from streams/lakes you can buy backpacking water filters.
Medic kit: Depending on the nature of your hike, what you take with you for emergencies will vary. If nothing else, you should be able to treat minor blisters, burns and cuts, which are all inevitable when hiking. You can buy pre-made first aid kits from most pharmacies or local outdoor stores.
The items we'd recommend for your medic kit would include pain relief (ibuprofen, paracetamol, aspirin), anti-histamine, insect bite treatment, anti-diarrheal tablets, antacids, bandages and plasters (bring an assortment of sizes), safety pins, roll of gauze, medical tape, disposable surgical gloves, antiseptic wipes, antiseptic cream, hand sanitiser, tweezers, scissors, sunscreen, small roll of duct tape, and if you have room an emergency blanket (lightweight and will keep you/your patient warm if stuck in the cold).
Sunglasses: Guarantee comfortable vision and protect your eyes. Make sure yours are 100% anti-UV glasses with polycarbonate lenses which are lightweight. Polarised lenses are nice to have, whilst they don't offer more sun protection, they better distinguish landscapes, perspective, outdoor elements and colour contrasts. Whatever you have should fit your face well and not fall off easily.
Sunscreen: Part of your first aid kit, but also worth having a small bottle in an easily accessible pocket along with a lip salve, both SPF50+. Make sure you top up your coverage regularly, especially on sweaty days over exposed areas.
Poles: These are great to have for more stability and less pain on the trails. Even on the easiest of trails they are useful for setting a rhythm and significantly reduce load and impact on hips, knees and ankles when going downhill. Sturdy designs are for high-mountain adventures, with ultralight carbon fibre and folding models for more everyday hikes.
Swimsuit and microfibre towel: Super lightweight, so if you have room pack them for that cooling down session in a mountain river or lake.
Smart watch: A nice-to-have item that makes keeping track of your location easy, since most smart watches are equipped with GPS and maps. Great for real-time navigation, can also help record distances and track routes you may have taken previously.
Other items to include in your pack (depending on the length of your hike), would be a spare phone battery/battery pack, swiss army knife, whistle, loo roll, tissues, and a rubbish bag to ensure you leave no trace.
More inspiration...
Now if that's not enough inspiration for getting up into the mountains whilst you're here, take a read of our hiking guide for more info on the local trails. Read more.