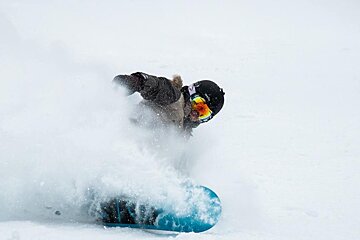 Snowboard guide
Get the right set up to suit your plans and style
A new board is a great place to start when planning new snow adventures.
Every year a raft of new boards with new technologies hit the market and sometimes it's difficult to work out exactly what to look for. Whether you're buying for the first time or your set up has seen better days, read our guide before you buy.
Buying in store
When it's time to hit the shops, here are some tips to take with you:
consider how often you snowboard and what type of snowboarding you do the most (park, bumps, powder, hardpack), your skill level and the kind of rider you are - enjoy fast carving on groomers, all terrain, or just want to feel secure in any conditions (be honest with yourself, this is a big investment)
all snowboard companies on the whole make great snowboards, so don't immediately go for that year's 'hot model', it doesn't make it the best fit for your needs/abilities, and take the time to demo as much as is possible
choosing the right model will depend on your budget and the performance you're looking for. I
if you're a beginner, you may not wish to blow the budget on a sport you may not stick with, but luckily beginner snowboards tend to be cheaper partly because the softer flex boards are cheaper to make and they also happen to be what beginner snowboarders need
don't buy a board to 'grow into', a snowboard that is not for beginners will be very hard to learn on, and you will end up picking up terrible habits just to survive the experience
as an intermediate level rider and above, your style and the type of riding you do will play a bigger part and two main things to consider are camber and flex (more about that below)
bindings are important because they drive all the energy and power into the board, so don't leave them as an afterthought or simply buy the ones that match
most brands use a 4x4 or 2x4 binding mounting plate to fit predrilled holes baked into the board, but Burton also has a 3D and Channel mounting system
most boards will work with most bindings, but it's worth checking compatibility before purchasing
gender is important also because men's boards tend to be wider to allow for bigger feet, they tend to be stiffer as men are usually heavier and ride the board harder, and they tend to be longer because men tend to be taller and again, heavier.
when you go into a shop it's usually pretty obvious which are the boards designed for men or women from the graphics, although to be fair they are a lot more toned down than they used to be when strip bars and beer cans appeared as part of many men's board designs
Burton does make some unisex boards, and there is no reason why a man and woman of the same height and weight cannot ride the same board, so perhaps things will change
go prepared to ask questions, and if an on-snow demo is possible definitely try before you buy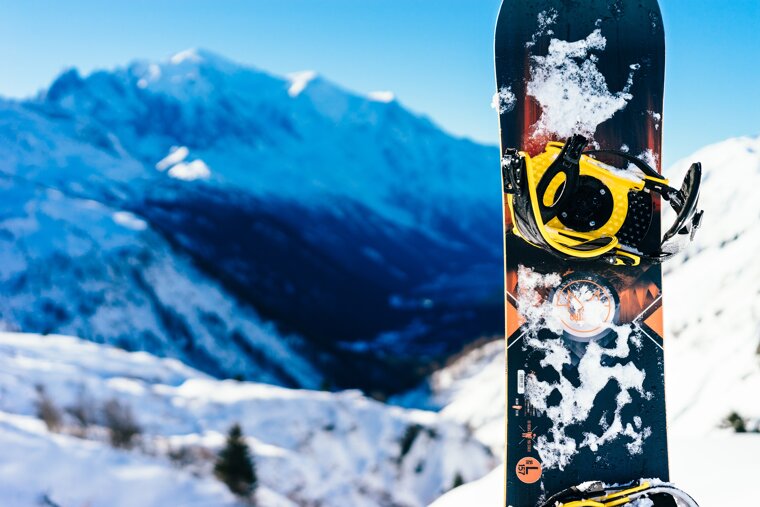 Buying online
Our advice for shopping online for snowboards is kind of like shopping instore, but there is a lot more self-assessment involved. Therefore, honesty is even more important, so don't shop for a snowboard designed for the rider you dream of being. Focus on your level and style, this will narrow down your options and then you can focus on category (more of that below).
For online purchasing things to consider are:
availability - don't do tonnes of research and get all excited about a board that is sold out everywhere in your size
price - definitely something to consider whether you're buying second hand or new, it's all too easy for your budget limit to keep on rising
bindings - as there are a couple of styles of fitting, ensure that the bindings you have for the board will fit it when it arrives
colour and graphics - you may be on this board for a few seasons to come, so you need to like the look of it
be patient - you may not land on the right board for you as quickly as in-store with help from a shop assistant, but there's so much info online, so do your research and you'll feel more empowered
read reviews and buyers' guides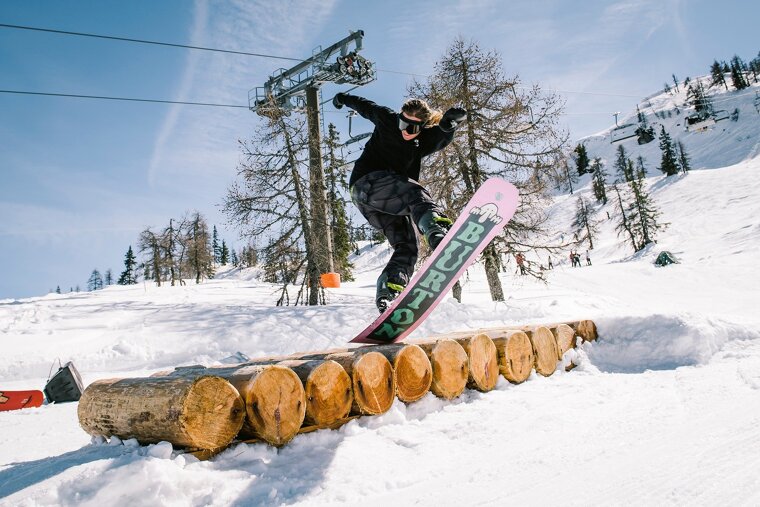 Range of snowboards available
With so many snowboarding styles out there, it's easier to break it down into categories. Whilst your ability and where you like to ride will be big determining factors on the board you buy, what each type of board means is worth knowing so you immediately know what category you fit into.
All Mountain
As the name suggests, these boards are for riding the entire mountain and this is by far the most popular type of board. Designed to handle anything and everything you can throw at them, including powder, ice, groomers, steeps, heavy snow and everything in between, they are a jack of all trades, master of none board. If you're only going to own one board, this is what you want. The key to them is to know where you'll use them the most, as the category splits down into All Mountain (mainly off-piste) and All Mountain (mainly on-piste). Beginners and intermediates love an all-mountain board as they are easy to learn to ride.
Freestyle
You spend a lot of time in the park, you like jumps and jibs, on piste you enjoy buttering around and always seek out little side hits on the edges, rarely venturing into the off-piste. Less versatile than an all-mountain board, a freestyle board isn't for speed and carving. This is a board to add to your quiver, rather than to have as your one-board-fits-all.
Freeride
For someone who loves to ride powder and off-piste, and when rarely riding on-piste is less concerned with speed and stability and more with manoeuvrability. As part of a quiver this board is for powder days and tree riding.
Splitboards
This is a snowboard specifically designed for riding the backcountry, and is split lengthwise down the middle into two halves allowing you to add climbing skins for travelling uphill. You use special bindings for uphill and downhill. Once you've climbed to the top you put the two halves together to make one snowboard, and adjust your bindings for you to ride down.
Shape
The shape of your snowboard will have an influence on how easy it is to ride. You will see terms such as twin tip, directional twin, directional, tapered and asymmetric. Here's a quick breakdown of the meanings:
Twin Tip: Perfectly symmetrical, the board nose and tail are of the same dimensions and board rides the same forwards and backwards. This shape is common in freestyle and jib boards and are best suited to park, kickers and rails.
Directional Twin: The shape is symmetrical but other aspects are not. It may be the binding inserts are set back, or the flex pattern and profile are for riding forward. This board will work for you in the park, but also as an all-mountain board.
Directional: As the name suggests, it's for riding forwards. The binding position is set back with a longer nose than tail, allowing for better floatation in powder and more power on-piste. Commonly found on all-mountain and freeride boards.
Tapered: This board narrows towards the tail and is particularly found in freeride boards giving greater buoyancy because of the nose's surface area.
Asymmetric: For easy carving, these boards are not symmetrical and this shape can be found in freestyle, all-mountain, jib and freeride boards.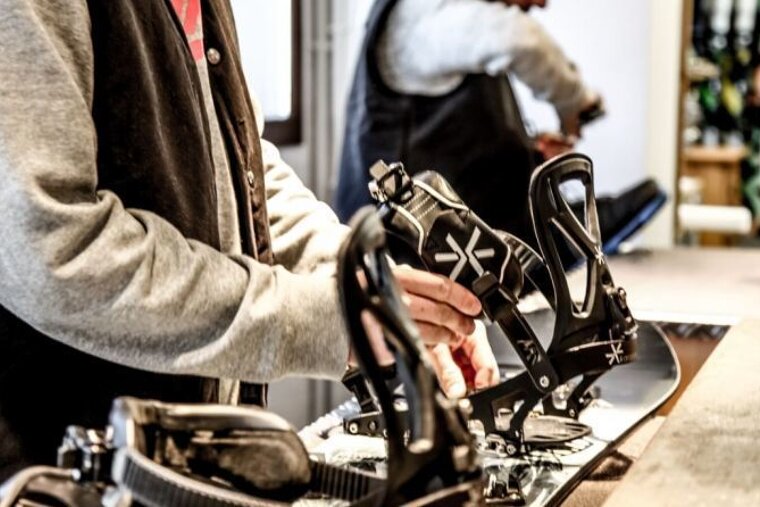 Technologies to know about
When buying a snowboard you must consider all of the above and its profile. Technology has moved on in great strides, and the profile of your board helps improve your riding based on the terrain and style of riding you have, so it's important to understand. There are two main types: camber and rocker, but there are a couple of others worth mentioning as you may come across them in your board buying process.
Camber
This is the traditional profile for skis and snowboards and is the slight upward curve in the middle of the board when it's laid flat. There are many different types of profiles, depending on the style of rider you are will depend on the camber you would want and prefer. Camber offers precision on groomed terrain with harder snow, so that as you unweight the board those with camber rebound to the natural profile, providing springiness and good edge control while carving or turning. Skilled riders often prefer camber to deliver more 'pop'. If you ride mostly in resort you'll probably want a board with camber for optimum grip and stability on hard snow.
Rocker
Also known as reverse camber, it is camber turned upside down, with the curved rise of the tail and tip on your board which helps lift it out of the powder. If you have less rocker it's more of a challenge to turn in soft snow versus an increase in playfulness and manoeuvrability and the board's performance in deep snow. It also allows for less edge catching and faster turning. This profile doesn't perform well in icy conditions and on harder snow, but if you spend lots of time in deep, untracked snow then rocker is a great choice.
Flat or Zero
When a board that is flat is laid on a table, you won't see any air. This is a common shape for snowboards as it helps with manoeuvrability more than camber.
Magne Traction
There are all kinds of terms and technologies that fly around the snowboarding world, and some trends come and go, whilst others stick around. Magne traction is one such technology, and it refers to the wavy pattern found on the edges of some brands of snowboards. Created by Lib Tech in 2003, it has won numerous awards and is now licensed to a number of snowboarding companies including GNU, Roxy, Rossignol, Jones, Niche and Smokin' Snowboards. Essentially, it provides more contact points with the snow, giving the snowboard more grip on the hard-packed snow or in icy conditions. Magne traction boards have seven points of contact with the snow instead of the usual two. The bigger 'teeth' are placed between the bindings, where the least amount of pressure is exerted through the board, ensuring greater contact with the snow. At the nose and tail the bumps are smaller. Other brands have created their own versions, so depending on the board you're looking at, you may see reference to Frostbite Edges by Burton, Equalizer by Salomon, Griptech by Arbor, Quick Rip by Rome, and Vario Power Grip by Never Summer.
Burton Channel
This is a binding mounting system that contains two channels in the board, one for each foot, that run parallel to the edges of the board. Traditionally bindings are mounted with either two or four prefixed screw holes per binding that already positioned on the board. So once your bindings are screwed down that's your stance, and any shifting around of position you may want to do can be lengthy and tricky, especially if you're already on the hill. With only two screws, one per foot, The Channel allows for infinite fine-tuning of stance, width, centring, and angle. Also, it focuses power through one central point into the board, effectively allowing greater control and access to the board's internal tech, and by removing the plastic inserts it allows the foot to be more in contact with the board. Burton EST or Reflex bindings have an EVA foam pad instead of a plastic plate, allowing for natural flex of the board beneath the rider's feet by eliminating dead spots traditional base plates create. The Channel system is also compatible with bindings from Forum, Drake, Union, Flow, Flux, Ride and K2. If you're buying a Burton snowboard then double-check the bindings you have, or plan to buy, are compatible.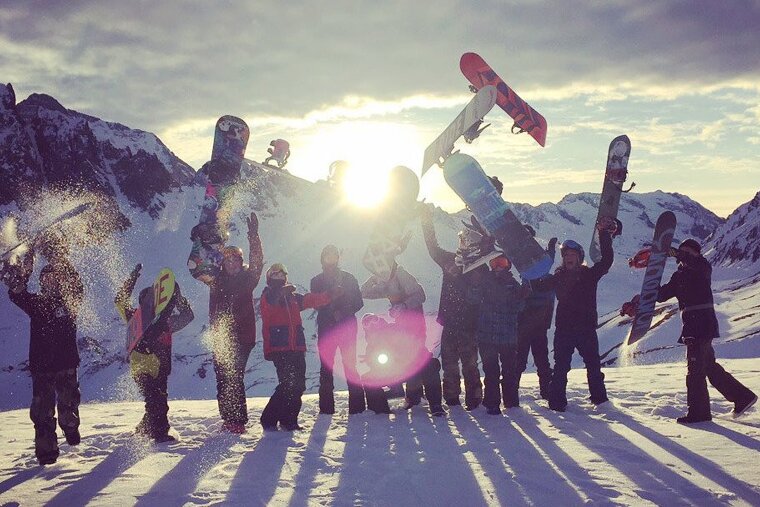 Jargon Buster
Swallowtail
A swallowtail board features a cut away section in the tail that reduces the surface area to the rear of the board. This helps the tail to sink and the nose to float in deep snow. Generally found in powder boards.
Taper
Taper refers to how much the board's nose is wider than its tail. More taper means a relatively wider nose and narrower tail. It works in a similar way to the swallowtail, helping to pop the nose out of the powder when riding deep snow. A little taper also helps the rider initiate a turn.
Sintered or Extruded Base
These are the two main types of base. Boards with extruded bases tend to be cheaper, are easier and cheaper to maintain and repair. Sintered bases hold wax better and are faster, but they also absorb more wax and they are more expensive to buy and to repair.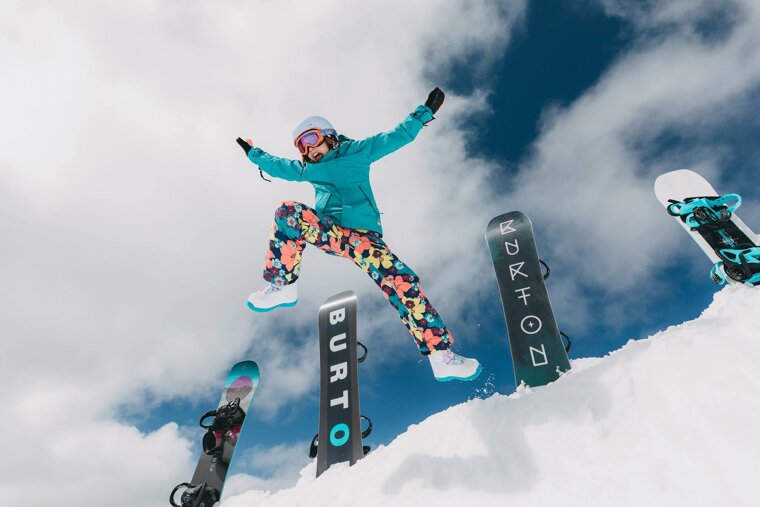 So what brands should you look for?
Whilst there are a number of brands out there making snowboards, these are the ones that have stood the test of time, kept up with the latest technologies and trends, and therefore stand out as worth looking at:
BURTON
All and any list of snowboard brands would include these guys. This industry behemoth is probably the best known snowboarding brand in the world, and was founded by Jake Burton Carpenter in 1977, in Vermont. They produce snowboards and all snowboard related apparel including bindings, boots and clothing, and are marketed in over 4,300 stores worldwide. If you're looking for a brand you can trust, then you would not go wrong buying anything from these guys. In 2007, they launched a channel-mounting system for bindings called The Channel, pushing the boundaries of technology yet again, allowing infinite customisable stance width and angle adjustments. BURTON website
NITRO
Founded in 1990 in Seattle, Washington, USA, their product range is small, but they are well regarded within the industry. Still privately owned, their prices can vary widely, but you'll find high-end products accessible at all price ranges. NITRO website
CAPITA
Winner of Energy Globe Award (Nature's Nobel Prize), their main manufacturing facility in Austria is known as the Mothership, and is the most advanced in the world, being powered by clean energy only and nearly 100% of all materials are locally sourced. Created in 2000, in Seattle, Washington, by two former pro-riders, their models have won numerous awards over the years, becoming bestsellers. Every year they release boards with more innovation and technological advances. CAPITA website
ARBOR
A pioneering skateboard brand with roots back to nineties Venice Beach, California, where their headquarters remain to this day. Their snowboards are known for pioneering the use of bamboo, bio-plastic and other reclaimed materials, and their all-wood-core collection features a range of boards with something for everyone. The environmentally friendly brand has won numerous awards for their groundbreaking technologies, performance standards and sustainable production methods. It'll do no harm to the planet, or your snowboarding, if you go home with an Arbor board under your arm. ARBOR website
JONES SNOWBOARDS
Jeremy Jones is freeride royalty. This snowboarding superstar launched his own brand in 2009, producing 'innovative backcountry snowboard equipment', they are dedicated to environmental protection, sustainability and a respect for nature. The 'Flagship' model is one of the best freeride boards out there, and their output is jam-packed with technology such as magne traction, blunt nose, directional rocker, wood topsheet, bamboo sidewalls, and sustainably sourced ash-wood cores. They also do a sweet range of splitboards for those that enjoy this emerging sport. JONES website
SALOMON
These guys existed long before snowboarding was even a sport. A family owned company, it was founded in 1947 in France and is known to all, especially within the ski boots and bindings market. When they added snowboards to their output, their quality product development and craftmanship flowed into the brand from their years of experience in skis. Their snowboard boots are also some of the best around, especially for those with a narrower foot, with their STR8JKT system giving optimal support throughout. SALOMON website
LIB TECH
Considered by some in the industry to be the best all-round snowboard company, this American brand was founded in the eighties by Mike Olson who built snowboards for the local community in a rented barn. Now under the Mervin Factory umbrella that was bought outright by Quiksilver in 1997, the two technologies Lib Tech is famous for is Magne Traction and Banana Technology. The first is the serrated edge technology that we've already talked about above, the second refers to the reverse camber profile of its 'skate banana' boards, a shape effectively eliminating the dead-zone between your feet. Both technologies won numerous awards from both inside and outside of the industry, and the team are still inspired by the mantra that 'a snowboard is not a ski'. The Lib Tech series is definitely worth checking out. LIB TECH website
GNU
Long before he began Lib Tech, Mike Olson founded Gnu (and Mervin Manufacturing) in the seventies. Still handmade in Washington State, it was Gnu's Banana Technology that revolutionised snowboard shaping. With Gnu board's you'll also find magne traction and wood cores thrown in, so before you know it you're looking at some very tech heavy snowboards. All women's boards feature the same technology as the men's, and they also do a range of splitboards for the backcountry lovers amongst you. All Gnu products come with swirly psychedelic designs, so grab yourself a piece of art. GNU website
ROSSIGNOL
It took 80 years for this ski brand to make its first snowboard, but ever since they have attracted some of the best snowboarders in the business to their team, such as Jeremy Jones and Xavier de La Rue. Its reputation for quality, innovation and performance means that any snowboard from this brand that catches your attention is worth a look. ROSSIGNOL website
ROME SDS
Founded in 2001 in Vermont by two ex-Burton alumni who wanted to do things their way, it's now owned by Nidecker Group, but they are still there making snowboards for all types and levels of snowboarding. Their boards are known for their rocker/camber combinations and tend to have a skate/surf feel when riding them. ROME website
BATALEON
Along with Rome, this brand is part of the Nidecker Group. Originally founded in 2000, by a 44-year-old biophysicist in the Netherlands who studied the riding properties of a snowboard, and came up with 3BT - Triple Base Technology. It makes turn initiation smoother, with fewer edge catches, more stability at high speed, and better float whilst making the board more playful and forgiving. Hand built in Austria at the Mothership along with other Nidecker brands, these boards look just as pretty as they ride. BATALEON website
K2
Established in 1961, K2 offers a range of shapes for all types of riding, from freestyle to freeride. They have a number of trade marked technologies built into their boards, there to make your snowboarding experience easier and better. With a K2 board beneath your feet it'll be like having an experienced companion on the mountain. K2 website
UNION
Best known for their boots and bindings, Union don't actually sell snowboards, but you cannot snowboard without bindings right. Founded in 2005, also from Seattle, Washington, they exploded onto the scene with their bombproof bindings and a powerhouse snowboard team replete with riders such as Travis Rice, Brian Iguchi and Gigi Rüf. It now operates and owns its own production facility in Italy, and its products consistently beat the competition when it comes to performance and price. If you like carving, Union bindings are considered the best around. To this day the company is independent and employee-owned. UNION website