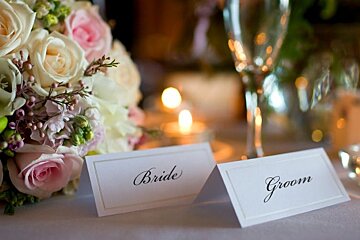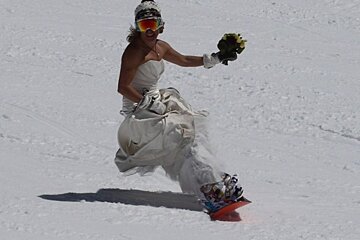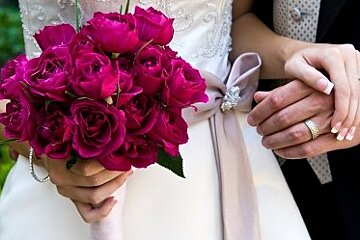 Weddings in Alpe d'Huez
A guide to help you plan your wedding in Alpe d'Huez
Getting married in France is a dream for many people. Whether it be under the stunning Alpine peaks or amongst the vineyards and lavender fields of Provence. However, the logistics of organising a wedding can be stressful enough in your home country, never mind having to negotiate the rules and regulations of a foreign culture!
From picture perfect traditional chapels, outdoor locations with stunning lake and mountain backdrops, to an arrival on skis or by helicopter, there is a wealth of perfect venues for you to exchange your vows in the Alps.
The hotels and venues for a wedding reception in the Alps are exceptional, each of which have unforgettable charms of their own. Whether you want an elegant traditional chalet style venue with heavy wooden beams, gorgeous fabrics, and traditional mountain décor, five-star luxury hotels, or a romantic outdoor country wedding with a marquee and sparkling lights set in an alpine meadow, depends on your personal style and dreams of how you want to live and re-live one of the most important moments of your life.
There are a number of dedicated companies who can help you plan the perfect destination wedding in France. If you live in the Alps and wish to share the country you call home with loved ones, or if you are in love with the Alps and dream of getting married here, then hiring a wedding planner can definitely help!
A destination wedding is an exclusive event for you and your family and friends. People will travel from far and wide to share this moment with you and they will most likely enjoy turning it into a special getaway for themselves as well. The destination you pick is therefore as important to you as it is to your guests.
Planning a wedding
Do I have to be a resident to be legally married in France?
Yes. French law is very strict and in order to get married legally at the 'Mairie' or town hall you need to be a resident of the commune you would like to marry in for at least 40 days.
What's the best time of the year to get married in Alpe d'Huez?
Since the Alps are known for spectacular views and the outdoor activities intertwined with mountain culture most couples choose to have outdoor wedding in order to take advantage of the backdrop. The best weather is usually from the end of June to mid-September. There is a higher chance of having good weather, but this does not mean rain is not possible even in mid-July! A back-up plan is always advisable.
What about a winter wedding? When is the best time?
Winter weddings are becoming more and more popular amongst ski and snowboard enthusiasts. Getting married on skis, sleigh rides, dog-sledding, or snowshoeing are a unique and romantic way to celebrate a wedding in the Alps. The best time for a winter wedding in the Alps is January or March, avoiding the crowds and higher prices of the school holidays, Christmas and New Year.
Can you get married in Alpe d'Huez?
The good news is you can get married in the Catholic or Protestant churches without being a resident of the town. You do need to show proof however that you are already legally married before the priest can perform the religious ceremony. Most couples choose to marry legally in 'secret' in their home countries and save the religious or symbolic ceremonies to share with their family and friends in France.
Religious leaders from home conducting ceremonies
You can have your own priest or pastor celebrate the wedding in a church. The local priest will have to accept the request and there is usually a small fee to hire the church for the ceremony.
Symbolic wedding ceremonies
This is very popular amongst non-religious couples who still wish to have a meaningful wedding ceremony uniting their promises to one another as husband and wife. The legal bit can be done before or after, it doesn't matter.
Unique experiences to incorporate
The possibilities are endless! A few ideas are the bride and groom paragliding to the ceremony, getting married on top of the Mont Blanc with the wedding party arriving via helicopter, exchanging vows on a glacier, incorporating alphorn players and traditional folklore music into the day, reserving a private altitude restaurant high in the mountains then descending on skis by torchlight, a heli-glacier picnic or even having a snow white reception and staying in an igloo hotel…
Wedding planners in Alpe d'Huez
A wedding planner can take away the stress of organising your big day in a different country - where geography, language, and logistics can all get in the way. With their help your dream wedding will run so smoothly, you really will be able to relax and cherish every moment, safe in the knowledge that behind the scenes someone else has taken the stress out of putting together a flawless and memorable event.
Wedding photographers in Alpe d'Huez
Get in touch with local wedding photographers or videographers.