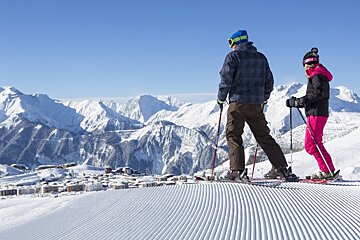 Ski area in Alpe d'Huez
Discover the best of the Alpe d'Huez ski area
Alpe d'Huez might just be the perfect resort. Only an hour from the airport, terrain for all abilities, a huge vertical and the longest run in Europe. Find out more about this incredible winter destination.
Alpe d'Huez at a glance:
Fantastic weather
Alpe d'Huez claims to have 300 days of sunshine a year.
Ski in the summer too
Alpe d'Huez's highest lift takes you to the top of a snowsure glacier at 3,300m.
Easy to get to
Grenoble airport is only an hour away, so transfers to Alpe d'Huez are short.
Terrain for all levels
When you buy a lift pass in Alpe d'Huez, you can access the entire Grand Domaine ski area.
Plenty of places to stay
From studios to luxury 15-bed chalets, there's a huge range of accommodation in Alpe d'Huez.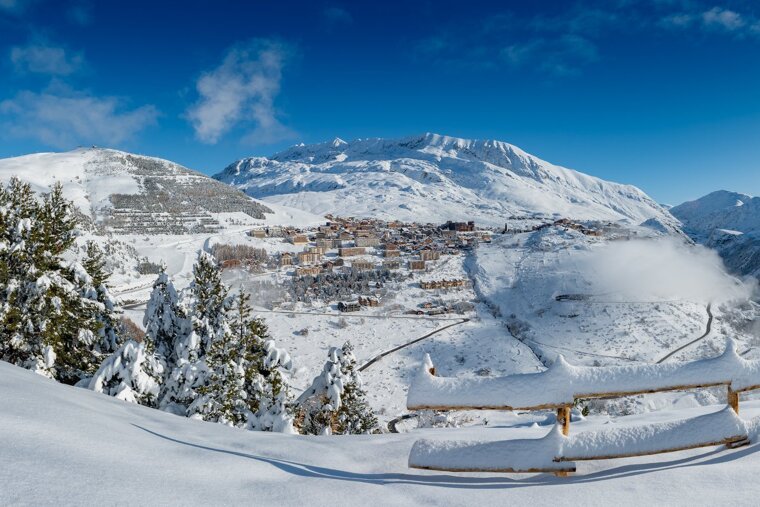 Resort statistics
Alpe d'Huez is a south-facing purpose-built resort in France that has been welcoming skiers since the 1930s. It's part of the department of Isère in the region Auvergne-Rhône-Alpes and one of the world's largest ski resorts.
The highest point is the Pic Blanc glacier at 3,300m. From here, you can enjoy breathtaking panoramas over the Ecrins National Park, La Grave, La Meije, Les Deux Alpes and Mont Blanc before heading down on Europe's longest run - the Sarenne piste.
Alpe d'Huez resort statistics

| | |
| --- | --- |
| Skiable area | 235km2 |
| Resort height | 1,869m |
| Aspect | South |
| Highest lift | 3,300m |
| Vertical drop | 2,175m |
| Pistes | 249km |
| Number of green, blue, red, black pistes | 34 / 31 / 30 / 16 |
| Longest piste | 16km |
| Number of lifts | 84 |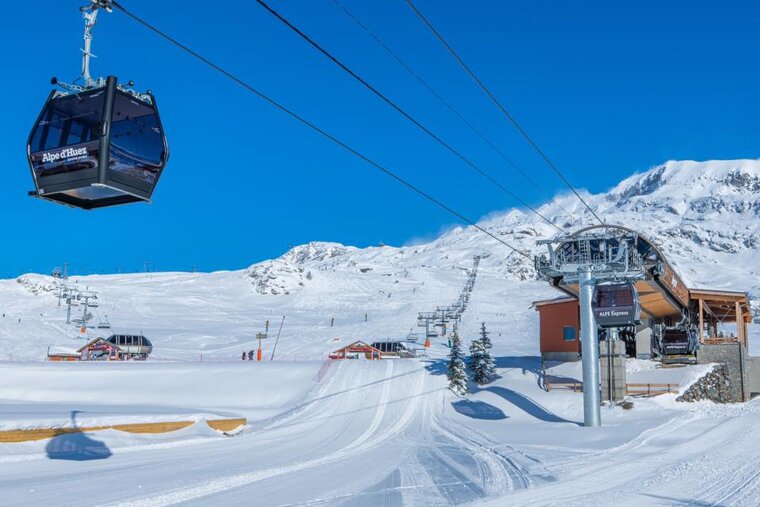 The Alpe d'Huez Grand Domaine ski area
Alpe d'Huez is actually made up of five smaller resorts and two alpine villages:
Alpe d'Huez
Auris-en-Oisans
La Garde
Le Freney d'Oisans
Oz-en-Oisans
Vaujany
Villard-Reculas
Read more about where to stay in Alpe d'Huez.
You can buy ski passes for the villages only, but to get the most out of a trip here we'd recommend you buy an Alpe d'Huez Grand Domaine pass which covers the whole area.
Auris-en-Oisans ski area
Where Auris scores is that even at the height of the season, queues are a rarity. This is true of Alpe d'Huez as a whole, and long waits here are more often due to lift closures in bad weather than volume of skiers.
South-facing resort at 1,600m
Ideal for families
Ski-in, ski-out accommodation available
Good beginners' area
Good intermediate skiing
15 lifts and 22km of runs (see the Alpe d'Huez piste maps)
Expert slopes include La Fuma and Col de Cluy
Although access to Auris is possible via the Sarenne, most skiers go via the Alp Auris Express which sets off close to the Marmotte lift in Les Bergers.
This four-seat high-speed chair appears to go nowhere exciting but its flat start is misleading. Locally known as the 'scare chair', it drops suddenly into the Sarenne Gorge before mounting the other side to the Auris domain.
If you're looking for a superb black, turn left at the top of the chair and continue along the ridge to the Col de Cluy. Turn right and follow the available contours to skiers' left to return to Auris.
Steep blacks and a lumberjack
At the end of the access path a right turn will bring you to the Forêt de Maronne chair and a very attractive tree-lined blue/red piste. Before dropping into Auris proper, black run enthusiasts might like to try La Fuma. However, be warned, it's a typical Alpe d'Huez black (ie steep, steep and steep!).
When in Auris, don't forget to visit Jacques, the lumberjack. This is a magical place with lots of different sections including a logging sledge, a wood stère, an all-purpose saw that's been transformed into a swing, wooden sculptures and a log slalom.
You don't need children for an excuse to visit Jacques, everyone has fun here.
Return to Alpe d'Huez via the Auris Express, or the Chalvet chair from the Sarenne Gorge.
La Garde and Le Freney ski area
A perfect place to locate yourself if you love peace and quiet and an element of an 'untouched' environment just a chairlift ride away.
If you choose to stay in Le Freney, expect a peaceful village atmosphere about 20 minutes away from La Grave and Alpe d'Huez.
Oz-en-Oisans ski area
A holiday village located at 1,350m in the heart of the domaine.
Charming, authentic family resort
Ski-in, ski-out accommodation
Small properties made of wood or stone in a picture-perfect winter setting
To get to Oz from Alpe d'Huez, take the first stage of the DMC (or any of the buttons that run alongside) and then the steep, north-facing Poutran red run.
You'll find large amounts of off-piste on either side of this run. Take care. The left, north-facing side is extremely avalanche prone.
Champclotury - a beautiful blue run
When Poutron splits, the first drop is a steep red, the second a blue run that circumnavigates the red. Continuing down Poutron you'll reach a narrow tree-lined red run, L'Olmet, and a beautiful blue run called Champclotury. At the end, a button lift takes you to the return bubble.
If you continue under the bubble onto the Champclotury run, you'll arrive at the Oz bowl where you'll find the beginner area tows and two travellator lifts.
Keep a look out near the foot of the bowl for a sign to Vaujany and the Alpette lift.
From the top of this lift you can return to Oz via the Alpette run, a good red with spectacular ice falls at the side. In good conditions this run joins the Champclotury where there's a superb black, Roche Noir.
Vaujany (Montfrais) ski area
This mountain village sits at 1,250m on a sunny plateau facing the Grandes Rousses massif. There's a real alpine village feel here and it's perfect for families and beginners.
Great for families - with kids clubs, a nursery and secure areas
Lots of facilities to make this an ideal base for your ski holiday
Aquatic centre with pool, slide and spa
Indoor ice rink and bowling alley
Numerous shops
Easily accessible from Alpe d'Huez
To get here, take the Alpette chair from Oz.
Directions are simple: avoid the tendency to return to Oz and take the only other downhill path available. You'll find yourself skiing down the Rousses/Chalets blue run, a wide saucer-shaped piste that becomes Les Travers and continues on for about 3km to the Montfrais sector.
From here, the Vallonnet four-man chair takes you about as far from Alpe d'Huez as it is possible to get.
The run down (Edelweiss) is very much a blue affair and returns to the base of the four-man without deviation. Part way down, however, is a black off-piste run called Roche Melon (only open when conditions are good) that's never groomed and descends through the trees to eventually join a blue run called the Vaujaniate.
One of the best blue runs in Alpe d'Huez
Slightly out of sight, you can also pick up the Vaujaniate piste from Montfrais by taking the only downhill depart from the area. This is one of the best blue runs you are likely to ski - wide and magnificent.
It descends alongside icicle-clad walls through the trees to a route that follows the valley floor. Eventually you'll get to a point where you can re-access the Vaujany bowl by the Villette-Montfrais télécabine (or return to Vaujany on the Vaujany-Villette télécabine).
Returning to the base of the Vaujany bowl at Montfrais, you will find the second chairlift (Montfrais) whisks you up to a surprising variety of runs that descend back to the base of the bowl. This chairlift also heads back towards Alpe d'Huez.
Turn right at the top and follow the blue Cascade piste to the Clos Giraud chair, signposted 'Oz/Alpe d'Huez'.
Check your watch! If you're returning to Alpe d'Huez by this chair, make sure you don't miss the last lift. If you do, the only way home is a pricey taxi ride from Vaujany.
Returning to Alpe d'Huez
To get back to Alpe d'Huez you can either:
follow the Alpette run from the top of the Clos Giraud chair
take the Alpette-Rousses cable car up to the Dome
From the Dome there's a superb red called Belvedere that takes you past Lac Blanc and the base of the Pic Blanc cable car.
Villard-Reculas ski area
This is a typical mountain village with a small ski area. It's a great south-facing spot with some of the most accessible off-piste ski in Alpe d'Huez.
South-facing resort at 1,500m
Easy blues and accessible off-piste
Peaceful spot with small chalets and quaint alleyways
Good beginners' area
Easily connects with the rest of the Alpe d'Huez Grand Domaine ski area via the Villarais chairlift
To get here from Alpe d'Huez you'll approach from above and head down the fabulous Petit Prince blue run to a double button lift. This takes you to the summit of the Signal and back towards Alpe d'Huez.
If you continue beyond this button, you'll find the deceptively easy blue 'road' ends at a slightly steeper section which is classed red and blue.
When you reach the bottom, you can hop on the high speed four-man chair - Le Villarais - which will also take you back to the top of Signal.
It's possible to continue a little further down beyond the chair over a green run, and if you're staying in Villard this is essential. Late season holiday makers may suffer a lack of snow here, but much work and the provision of snow cannons has greatly reduced this problem.
One of the best un-pisted black runs in Alpe d'Huez
One outstanding feature of the Villards' face is the never-pisted black run Forêt.
There's also a red from the bottom of the Petit Prince drag that defies belief. Not only is it never pisted, but it's one of the steepest reds in Alpe d'Huez.
The face also has a huge amount of easily accessible off-piste which is predominantly north-west facing.
Only at the very bottom of this area will you find the one thing that Alpe d'Huez lacks ... trees. Return to Alpe d'Huez via the Villarais four-man chair and ski down the Signal pistes.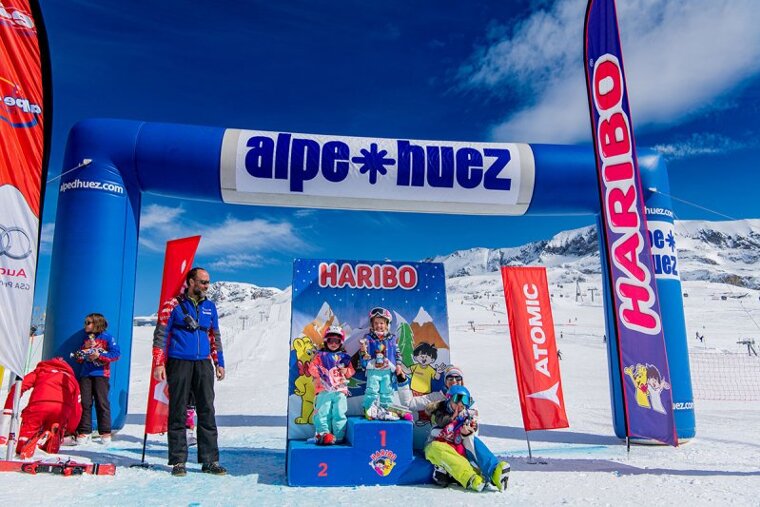 When is the ski area open in Alpe d'Huez?
Snow conditions permitting, the ski season in Alpe d'Huez usually runs from early December until the end of April.
That strong southern sun means the snow can turn from ice to slush pretty quickly if you're here late in the season. But whenever you choose to come, the local pisteurs will make the best of the conditions and groom the pistes to perfection.
If you're coming early or late in the season
It's a good idea to check which lifts are open at Alpe d'Huez. You might want to check the Alpe d'Huez webcams too, for an up-to-the minute view of conditions on the ground.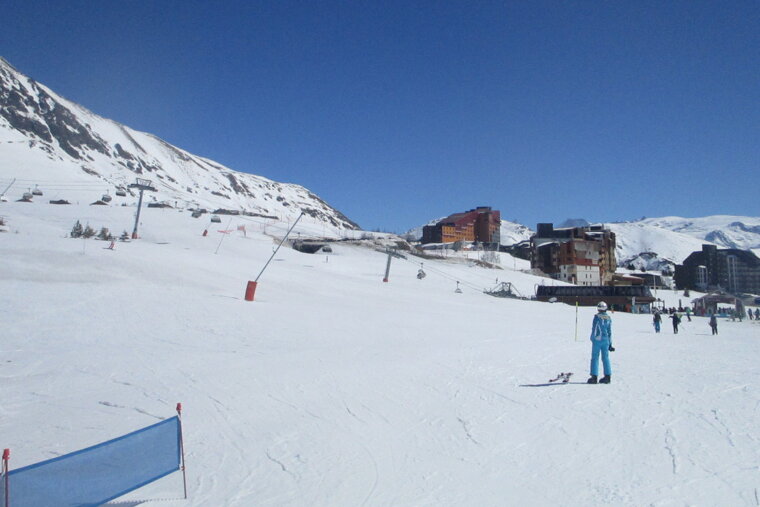 Beginner and family areas in Alpe d'Huez
With more nursery slopes than anywhere else in the Alps, Alpe d'Huez is a great place for beginners.
If you're new to skiing, or haven't been in a while, the gentle slopes on the outskirts of the resort are the perfect beginner terrain for you to build your confidence.
You don't even have to pay for a lift pass at Alpe d'Huez if you're a complete beginner. The Petit Rif Nel and Ecoles 2 drag lifts and the Grenouilles rope tow all are free of charge.
Once you're ready to explore a little further, you can buy a beginners' 'first ski' pass, which allows you on all drag and chairlifts except the Alpauris and Marmottes 1 chairs.
Slopes for beginners in Alpe d'Huez
If you're looking for gently rolling green runs, head to Les Bergers via the Romains chair. This area is a low-speed zone, so you don't need to worry about someone taking you out from behind.
For long, wide green runs, look no further than Les Jeux in the DMC. Located at the end of the famous 'Lobster pot' lift system, there are no less than seven green pistes here, all leading back to the centre of the resort.
If you're after something a little more challenging, try:
Couloir - a busy blue with a long flat-ish section that starts at the top of the DMC lift (Deuxieme Troncon) at 2,700m
Chamois - a red run that returns to the midpoint of the DMC and eventually back to resort
the red Les Rousses run that accesses Vaujany
Slopes for beginners in the Grand Domaine
In addition to Alpe d'Huez, the villages all have good areas for beginners - especially Auris-en-Oisans and Vaujany. In Villard-Reculas, you can choose from seven green runs.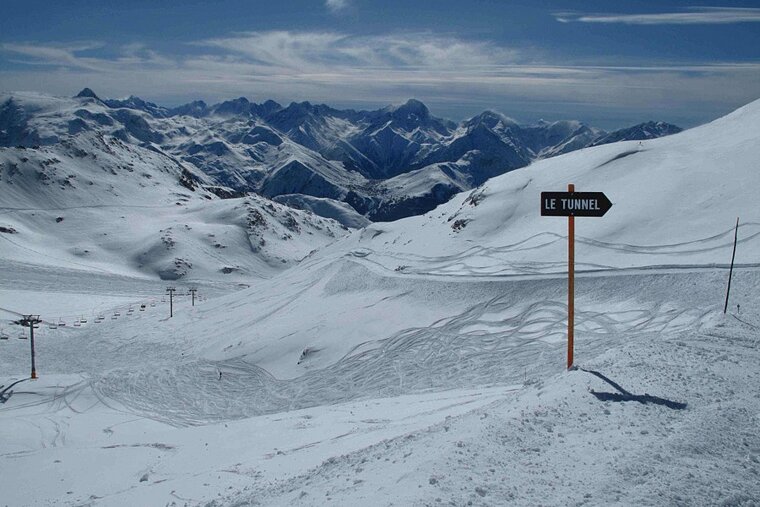 Advanced areas in Alpe d'Huez
Alpe d'Huez has plenty of challenging blacks, so those in search of long, thigh-burning pistes and bumpy mogul fields will not be disappointed.
Download the Alpe d'Huez piste map
Pic Blanc area
The Troisieme Troncon to Pic Blanc begins at 2,700m and ascends to Pic Blanc (3,330m), the highest point of the Alpe d'Huez lift system. From here expect a stunning panorama over an area equal to one fifth of France. The start of the runs from here cannot be seen from town.
Tunnel
Runs beneath the Pic Blanc cable car. This is a standard black run, but it can be very hard and icy in the mornings and then super-mogully and choppy in the afternoons once the afternoon sun hits it. Not for the faint-hearted ...
Sarenne
The perfect thigh-burner. A legendary run of 16km with a stunning descent of around 2km. Made up of two sections: an initially steep series of pitches which can get quite mogully, then a longer flatter section along the valley. You can avoid the super steep section by skiing off from the Marmottes 3 bubble.
Marmotte 2
There are some notable blacks here:
Cloche de Macle - the easiest black in the resort (short and steep but relatively wide)
Les Balcons - never pisted and often closed, its off-piste character can develop into a very steep bumpy run
Combe Charbonnière - again off-piste and very south facing
Also of interest to thrill seekers would be the black runs Fare, Balme, La Fuma and the Col de Cluy.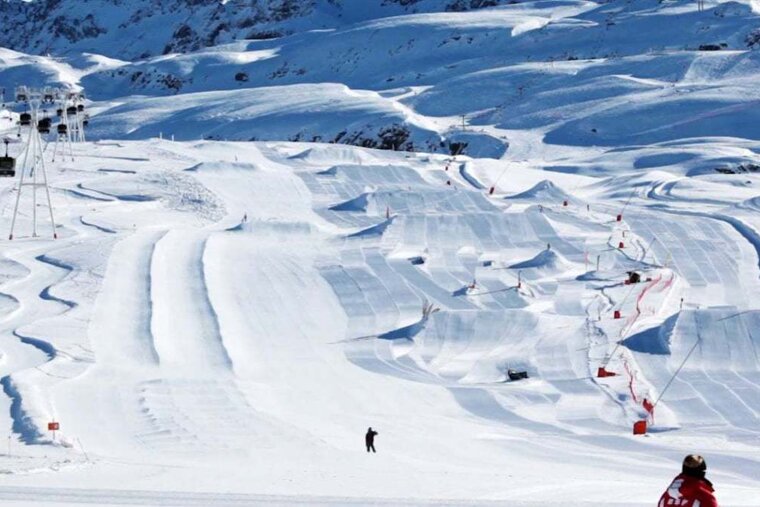 Snowparks in Alpe d'Huez
There are two snowparks in Alpe d'Huez:
a larger one beside the beginner runs above 1800, most easily accessed from the DMC first station
a smaller one in Montfrais - better for beginners
Biggest snowpark in Alpe d'Huez
When you get to the Snowpark des Jeux, you'll see a sign indicating four difficulty levels: beginner (green), easy (blue), intermediate (red) and expert (black).
Each route has three to four boxes or rails and four kickers (jumps). There's also an airbag jump, half-pipe and boardercross course.
After your run you can chill out on the Cool Zone deckchairs at the bottom.
Best snowpark in Alpe d'Huez for beginners
With a couple of kickers and some bumps, the Montfrais snow park is best for beginners.
It's worth heading here if it's your first time at the park and you want to hone your skills without being surrounded by experts stamping down their landings (or their feet whilst they wait for you to get out of their way!).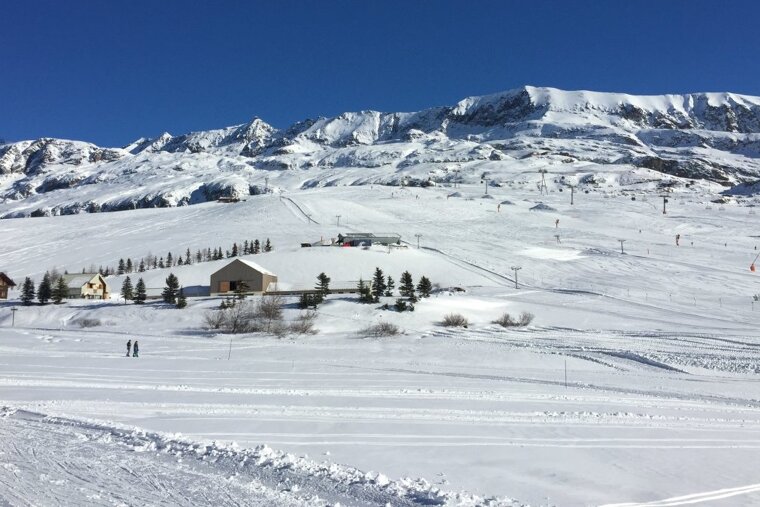 Off-piste areas in Alpe d'Huez
Alpe d'Huez has some epic off-piste skiing.
We've already mentioned areas like the Gorges de Sarenne and Glacier de Sarenne. In total, you'll find more than 20 high-altitude, off-piste trails here, with gullies and tracts of fresh powdered snow.
From Alpe d'Huez, you've also got the possibility of visiting the famous La Grave off-piste area.
Off piste skiing at La Grave
Not everyone staying in Alpe d'Huez will head to La Grave, or even want to, but it's worth a mention because it's a rare thing indeed to find an entirely off-piste resort.
Built in the late 70s, the Télépherique des Glaciers de la Meije takes you up into the high mountains in about 45 minutes. Once up there you'll find yourself in fine company. Freeriders from the world over travel to La Grave to enjoy this special mountain in its natural state.
If you plan to explore the glaciers, we strongly recommend you hire an Alpe d'Huez mountain guide - the risk of falling into a crevasse is real up here.
If you're not into glacier skiing, the classic routes down from the télépherique are a powder hound's dream, beginning on the rocky ridge between the glacier and La Meije. Below you, you'll find open snow fields, bowls, gullies, natural half-pipes, couloirs, forest skiing, steep and mellow terrain. The options are endless.
Beware, La Grave is a special place that demands respect. You shouldn't attempt to ski or ride here unless you have plenty of off-piste / backcountry experience.
Brush up on your avalanche safety
Always make sure you're prepared before you head out. Check out our avalanche safety page for tips on staying safe off-piste.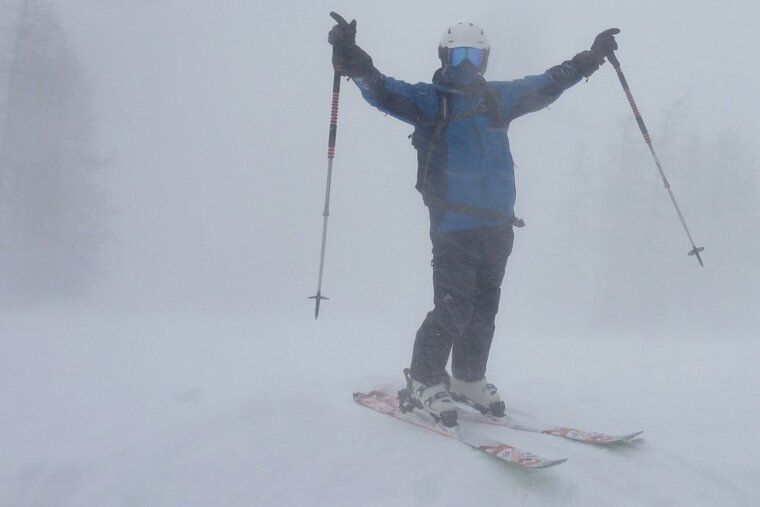 Where to go in bad weather
When the weather closes in in Alpe d'Huez, our advice is to head for the tree-lined pistes of Vaujany and Auris-en-Oisans. The trees here provide much needed definition when you can't otherwise tell what's sky and what's ski.
Our favourites are:
the Village blue down to the village of Huez
the red run starting at the Huez tourist office - this drops you down to the same return lift
Bear in mind that even if the valley itself is shrouded in all-encompassing fog, the top of the mountains can be bathed in glorious sunshine. Best thing to do is to check out our Alpe d'Huez webcams.
Also don't forget that if it's lashing down with rain in the valley, that normally means it's snowing up top. If you can take advantage of days like these, you'll often have great stashes of fresh powder all to yourself.