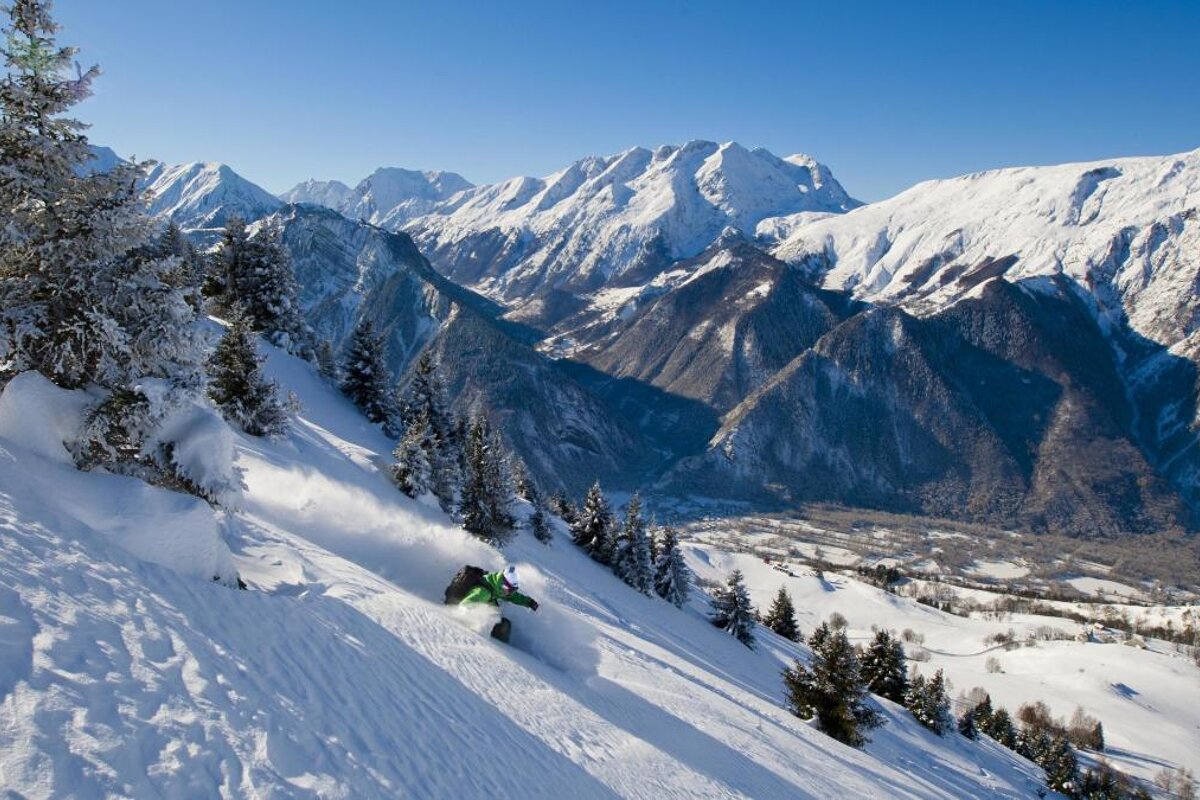 Off-piste Ski Areas in Alpe d'Huez
Discover the top Alpe d'Huez off-piste skiing
Alpe d'Huez has a large selection of advanced terrain and off-piste skiing for those who like to venture off the slopes and marked pistes. From Alpe d'Huez you can also get across to the famous La Grave ski area - a must for all experienced freeride skiers and off-piste thrill seekers.
Buy My Ski Pass Book My Ski Hire Book My Off-Piste Lesson Book My Mountain Guide
The best place to find off-piste skiing in Alp d'Huez is from the top of the Pic Blanc Glacier. From here you will find plenty of couloirs to go down that all end up on the Sarenne path. There are also plenty of other off-piste runs that will drop down from the top of the Pic Blanc but these should only be attempted with a guide as you can end up in places that might require a helicopter or a taxi to get back to Alpe d'Huez.
In Oz on each side of the Poutran red run are large amounts of off-piste, but beware, the off-piste on the left (north facing) is extremely avalanche prone and shouldn't be attempted unless you have all the correct avalanche safety equipment, mountain knowledge and/or a guide.
Over in Vaujany is a black off-piste run called Roche Melon which is only open when conditions are good. It is never prepared by the piste crews and descends through the trees to eventually join a blue run called the Vaujaniate.
Before heading off-piste
Before you head off piste, here's a few things you should be thinking about:
Take a course in avalanche awareness and practice the techniques learned. Henry's Avalanche Talk is one way to find out more with regards avalanche safety and there are several companies who run courses in alpine resorts throughout the winter.
Look at the weather and avalanche forecasts for France, reviewing the degree of local avalanche risk also. Henry's Avalanche Talk produces a translation of current avalanche conditions in English and PisteHors is also an excellent reference place.
Don't ignore advice given by local mountain guides or others if advised to ski a certain path, or to keep a specific distance between fellow members in a group
Plan the route carefully, evaluating all different options and assessing all elements of danger. Look at the timings for each route. Inform others of your route, and when you expect to arrive back
Attach your transceiver properly to you and DON'T FORGET to turn it on, test the signal is working, and make sure you have all the necessary equipment. (A transceiver is of no use if the user has not been trained in its use, it is turned off, or it is in a rucksack - unless you want just your bag to be recovered).
Read more about understanding avalanches & how to try to avoid them.