Ski helmets guide
A helmet is one of the most important pieces of kit you will ever buy
Whether buying for the first time or yours has seen better days, read our guide.
Within the last ten to fifteen years there has been a shift in the ski and snowboard industry towards helmet wearing, especially amongst children, indeed it's rare to see children on the pistes without one.
We know that collisions and falls don't happen every day, but they do happen. And remember, a helmet is only useful if you actually wear it. Especially with children, it's worth getting them involved in the buying process to ensure some compliance with actually wearing it.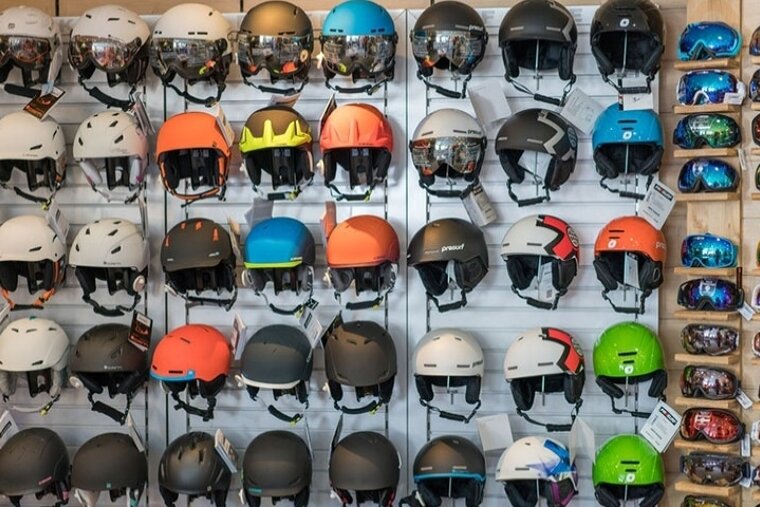 Buying in store
Whether it's for you or your children, here are some tips to take with you:
try on as many helmets as you can
the helmet should fit snugly on the head, but not be too tight when the fit system is loose
find one with an adjustable dial at the back so you can customise the fit
the helmet should sit level, not more than two fingers space (about one inch) from the top of the eyebrows and it should protect the forehead without hindering vision
adjust the straps so they sit just below the earlobes
try on the helmet with goggles, there should be no gap between the top of the goggles and the helmet to prevent cold air and snow from entering
remember, not all goggle and helmet combinations work together and some helmets include a pair of goggles, which is a good idea if you're looking for the perfect fit
wiggle the helmet back and forth without closing the chin strap, if it stays in place and doesn't move about it's a good fit
remember the chin strap is only to keep the helmet on, it is not part of the fit
Note: something to be aware of is head shape. Some people have rounder heads, others more oblong, and helmets will fit them differently. For those with round heads, you may notice it's difficult to find a helmet that fits well (even if the measurements look correct). In this case look for Asian fit ski helmets if you can, they're actually designed for rounder head shapes. Anon and Smith both make helmets for a rounder head.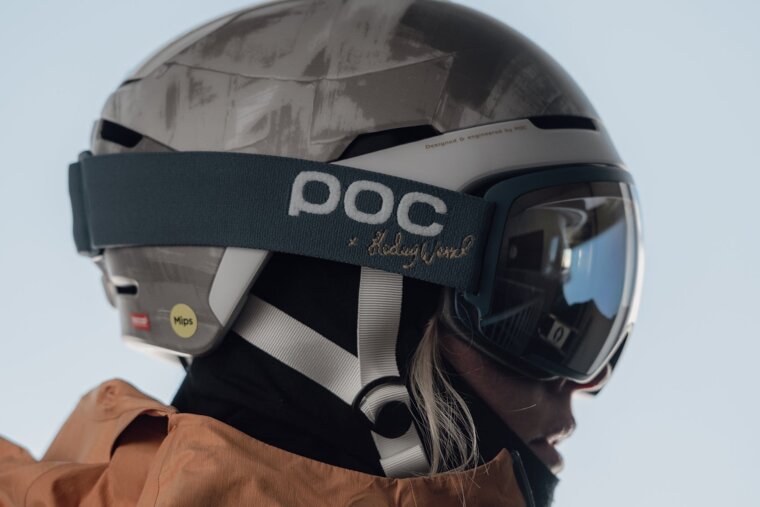 Buying online
If buying online you'll need to measure yours or your child's head. Take a tape measure and wrap around their head one inch above their ears and eyebrows. Make note of the measurements in both cm and inches - all manufacturers show sizes in terms of these measurements.
Note: not all helmet and goggle combinations work together, but some websites list which helmets match which goggle brands and you can search for your brand in advance of any online helmet purchases.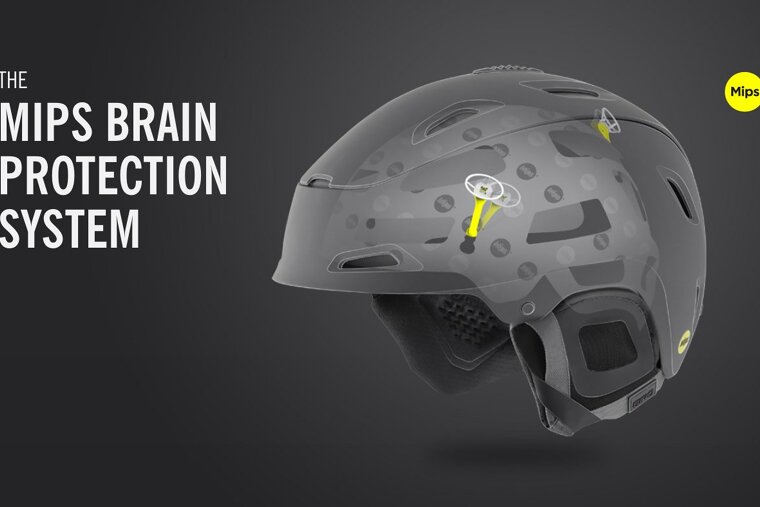 Technologies to know about
Traditional helmets tend to use EPS (expanded polystyrene) or EPP (expanded polypropylene) foam liners. These liners provide a high level of protection, but more durable alternatives are emerging. You'll see a number of additional technologies in helmet safety when shopping for helmets, and they add an often considerable amount to the price. Mostly these technologies originated in bike helmet manufacturing, but have proven to be easily transferable to the ski and snowboard helmet market. Here's some info on what they mean and what they do.
Mips
Short for Multi Impact Protection System, this is a safety feature that's added to many higher end helmets and is becoming a lot more commonplace in the industry. Developed in 1996, Mips is designed to help protect the brain from a fall at an angle (this is how most skiers/snowboarders fall). Allowing the helmet to move around on the head with a layer that sits between the liner and the shell, this low friction layer lessens the trauma of any impact, resulting in fewer big brain injuries. These helmets do cost more than those without, but if you can afford it this is one safety feature that's worth investing in - we only have one brain after all.
WaveCel
A new technology that's revolutionising helmet safety. It protects against rotational impacts, like Mips, but also linear impacts. It "behaves like a network of hundreds of interconnected shock absorbers connecting your head and the outer shell of the helmet, distributing the impact energy through its network of cells". Whilst there isn't a lot of data currently, early signs point to its being significantly safer than Mips alone. For example Mips is considered three to five times safer than a non-Mips helmet, whereas WaveCel is thought to be up to 40 times safer than Mips. Something to know is that WaveCel helmets do fit a little closer to the head and they usually have a BOA dial to allow adjustment. The helmet shape is more rounded.
AMID
Developed by Atomic for their helmets, it stands for Atomic Multi-directional Impact Deflector and is similar to Mips in many ways. The dual density protection foam absorbs shocks and impacts, thereby providing better protection against angled impacts.
SPIN
Despite being early adopters of Mips, POC have begun implementing their own version called SPIN - Shearing Pads Inside. Similar in principle to Mips, it consists of a series of silicone pads built into the fabric padding that allows for movement of the helmet in much the same way.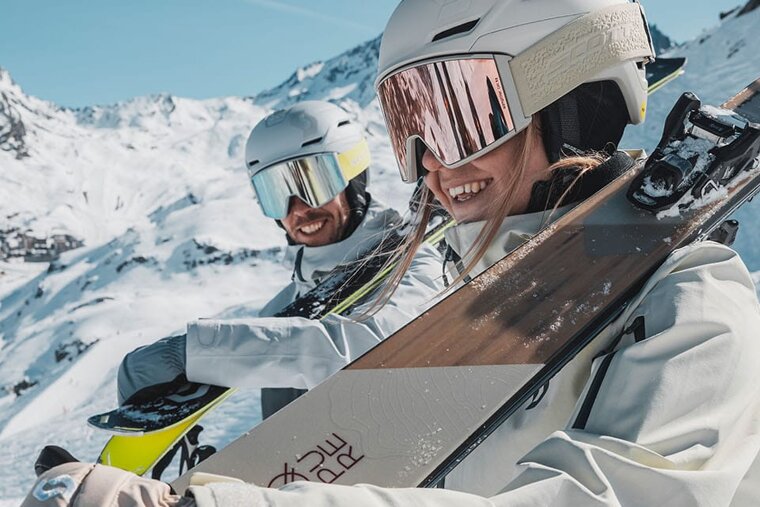 What else to look for
On top of fit and safety innovations, here are few more things to consider:
good ventilation is especially important for sweaty heads
magnetic closures at the chin strap, which is good for when you're wearing your gloves and help prevent you from pinching your child's neck
adjustable dial to customise fit and allow some room for growth
removable liner that can be washed extends the longevity of the helmet
ensure the helmet meets safety standards, there will be a sticker inside the helmet and you should look for either ASTM F2040, CE EN 1077 or Snell RS-98 (the last one is the most stringent helmet safety standard)
safety standards are to prove the helmet has passed tests for shock absorption, penetration resistance and durability, plus a number of other tests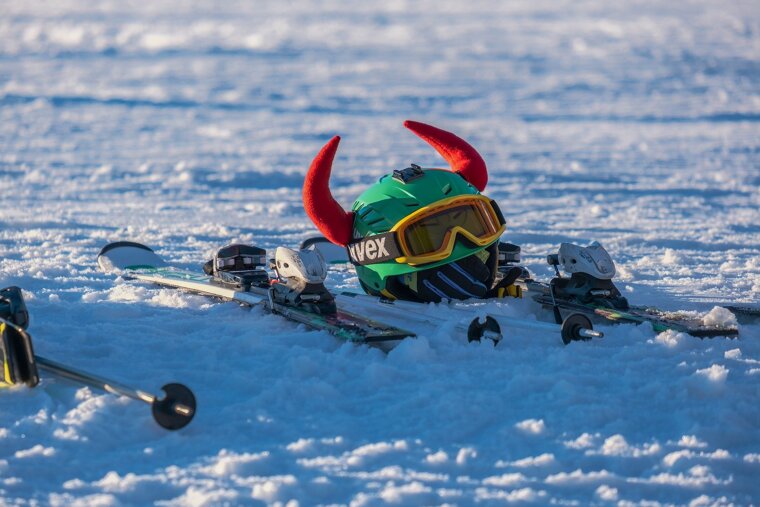 Good to know
there is no difference between a ski and snowboard helmet, and sometimes 'snowboard' helmets can be a little more rounded in style, akin to a skateboard helmet
kids can wear an adult helmet, it's all about head size and volume, but you should never buy a child a helmet they can 'grow into'...the helmet needs to fit them today
wearing a helmet isn't the law (apart from in a few countries), but for most ski schools it is now mandatory for children
ideally you wouldn't put a hat under the helmet, but on days when it's super cold opt for a thin hat or balaclava if you feel you or your child needs extra protection from the cold
helmets are surprisingly warm, and are often too hot on warm days, which is why vents are so important, and washable liners are a bonus
helmets for babies can be tricky to find, but you can try GIRO for kids in XS
if your child is 12 months or less they shouldn't wear a helmet, their neck muscles aren't developed enough
if you see helmets with hard, rather than soft ear covers, these tend to be racing helmets so do not buy them unless you or your child is into ski racing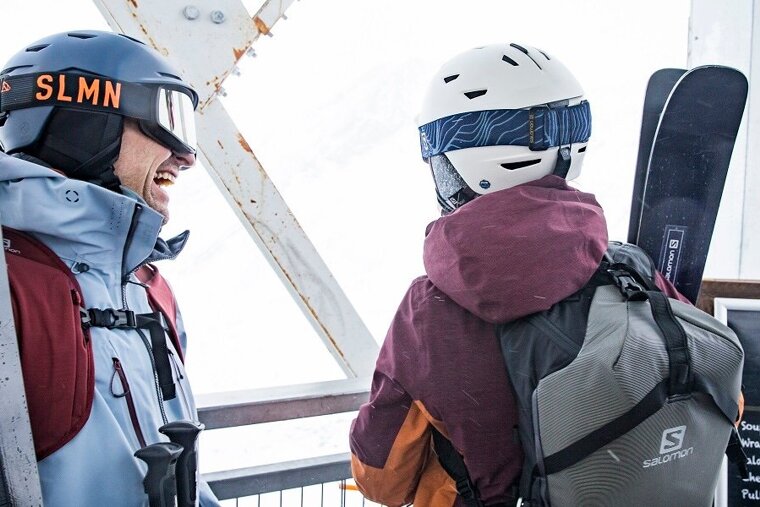 Do helmets have an expiry date?
The rule of thumb here seems to be you should discard your helmet after two to five seasons, or three years since its purchase, whichever comes first.
Generally the EPS foam inside remains intact for up to 30 years, but it's the shell that gets degraded and weakened by UV, general wear and tear, sweat and salt. Some helmets come with an expiry date, and if so use that as your guide. Other ways to tell include:
the foam looks compressed
chips and/or cracks on the exterior
faded colouration
straps in bad shape and don't have any stretch left
Also worth noting is that a helmet constructed with less durable materials will breakdown faster than a well-made, quality helmet. The frequency and severity of falls whilst wearing it will determine its longevity. You should immediately replace your helmet if you have any accidents where your helmet was impacted. Helmets purchased in a sale are likely to be older models, always check they meet recent minimum safety standards.
When it comes to hiring a helmet for yourself or your children when you go on your ski holiday, we would say this is a big, fat no! You will not know when the helmet was manufactured or how long it's been hired out. It may have been involved in crashes, badly handled, left rolling around in the boot of someone's car, or dropped, all of which compromises its safety, and therefore yours!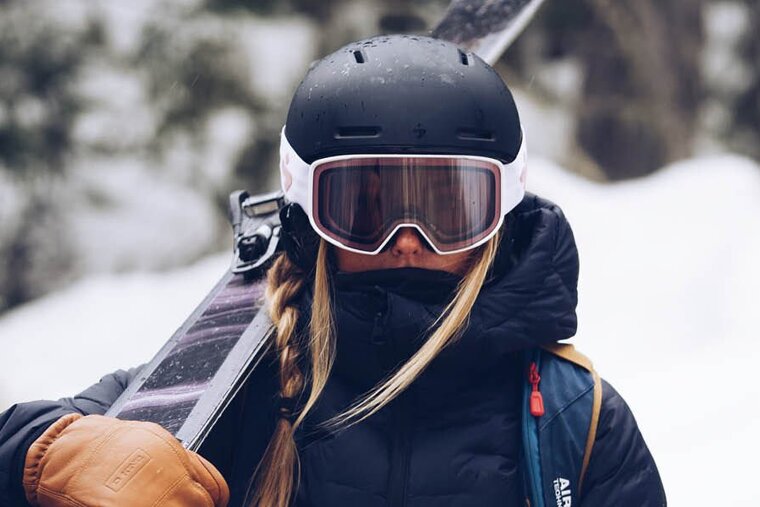 Tips on maintaining your helmet
When you're done with your ski holiday, you may simply chuck it into your luggage and then into the garage when you get home. But a little bit of care on your part can help keep your helmet in tip top condition and ready to go again.
We recommend you:
clean it regularly, using mild soap and water and then dry with a soft cloth
do not use strong detergents or solvents
wax your lid for added corrosion and water protection
store it away from heat, not near a hot radiator or in sunshine coming through a car window
replace worn out straps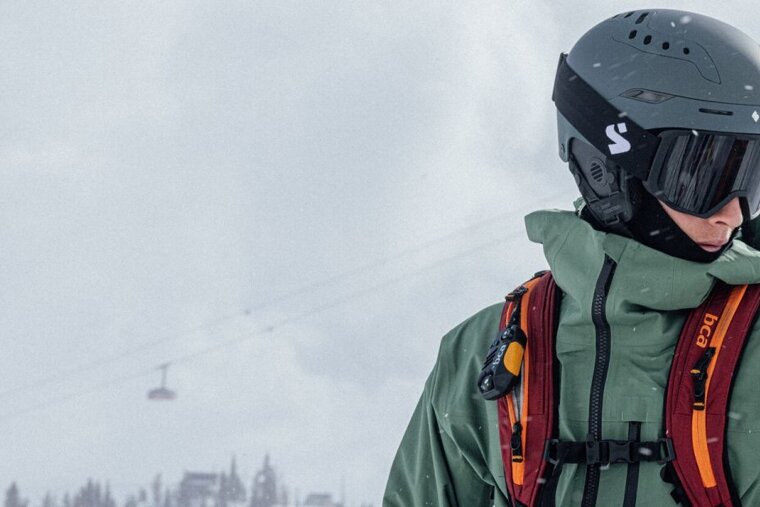 So what brands should you look for?
Whilst there are a number of brands out there making helmets, these are the ones that stand out for us as worth looking at:
GIRO
Founded in the 1980s as a bike brand with a focus on design solutions that "enhance experience and performance", in the nineties they designed a lightweight snow helmet with vents. Sceptics laughed, but riders embraced it and helmets became a normal sight on the mountain in winter. GIRO website
SMITH
In 1965, an orthodontist who was a keen weekend skier hand built goggles in his garage, selling them on weekend ski trips to Utah and Colorado. In 1969 he introduced the Smith Original Ski Goggle to the market, and so from these humble beginnings was born one of the main players in the trade today. In 2006, Smith entered the helmet market. SMITH website
SALOMON
Born in 1947, in Annecy, France, Salomon was predominantly a ski brand. In the late nineties they expanded into snowboards, and then into running shoes in the early 2000s. Now owned by Chinese sports group Amer Sports, its sister brands include Wilson, Atomic, Sports Tracker, Suunto, Precor and Arc'teryx. SALOMON website
POC
Founded in Sweden in 2005, its focus was the ski racing market with a mission to 'protect lives and reduce the consequences of accidents for athletes and anyone inspired to be one'. A reputation for breaking with convention, exploring new ideas and innovating to improve protection for all, they have become a leading manufacturer of helmets, eyewear, body armour, apparel and accessories in snow sports and cycling. POC website
ANON
Part of the behemoth that is Burton snowboarding, Burton created Anon Optics in 2001 as their in-house goggles brand, that would also make helmets and other apparel. Some Anon helmets come with WaveCel technology in both youth and adult sizes, but you will pay for this luxury. ANON website
SWEET PROTECTION
With its roots in Norwegian skateboarding and kayaking, it was officially founded in 2000 with local boy and snowboard legend Terje Hakonsen on board. Swiftly moving from a garage operation to the international scene, since 2001 they have consistently won awards for their function and design innovation, and to this day continue to work to push boundaries with their products regularly appearing in the 'best of' guides. SWEET PROTECTION website