Mountain bike gear guide
Every year new mountain biking gear hits the shops and suddenly your goggles, helmet, protectors all feel another year older.
There's always some new technology for the biking season to come.
Have a read of our guide to what you may (or may not) need this biking season.
Watch this
Helmets
The most important piece of kit and an essential piece for any mountain biker, who knows without question that head protection is crucial. Before deciding which helmet to buy, first decide which type of mountain biker you are. Those into cross-country and trail riding tend to wear half-shell helmets, whereas those who ride hard, and do more downhill and enduro biking would tend to favour a full face helmet. So what's the difference?
Half-shell
Covers the top of the head, along the side just above the ears and the back of the head. Similar in style to a road biking helmet, the better models tend to have extended coverage for the sides and back of the head, a range of fits, an impact protection system and an adjustable visor. The more coverage of the occipital and temporal lobes the better.
Full-face
Full coverage of the head, including a face and chin guard that wraps around the front of the helmet for additional protection. Generally worn with goggles, they are typically heavier with less ventilation. However, they do offer significantly more protection than a half-shell.
Rotational Impact Systems
Aimed at reducing the force applied to your head in an impact, and they all work in a slightly different way. MIPS (Multi Impact Protection System) was the first in the market, and the idea is that there is a liner integrated into the helmet between the foam and the pads that shifts in the event of an impact, reducing the rotational forces on the brain. MIPS is the most common, but some manufacturers have introduced their own systems all with varying elements. WaveCel is another technology you'll see mentioned when researching helmets; a porous, cellular structure that they claim works like a crumple zone to absorb the forces of an impact. These protection systems do add to the overall cost of the lid, but are worth it.
Other important elements to consider when you are buying a new mountain bike helmet are:
Fit - measure your head and make sure it fits within the fit range of the helmet, and know your head shape (oval or round), as some helmets are better for one type or other, some are ok for both. It's worth checking. The helmet should sit level on your head and the chinstrap comfortably tightened.
Weight - there isn't a great difference, but the lighter the better.
Ventilation - air channels that allow the air to flow over the head from front to back are vital when things get a bit heated on the uphills or on hot, sweaty days.
Visor - an adjustable visor is worthwhile if you like to ride with goggles, if not then a fixed visor should suffice.
And finally, no matter what helmet you go for, actually wearing it is the most important thing of all.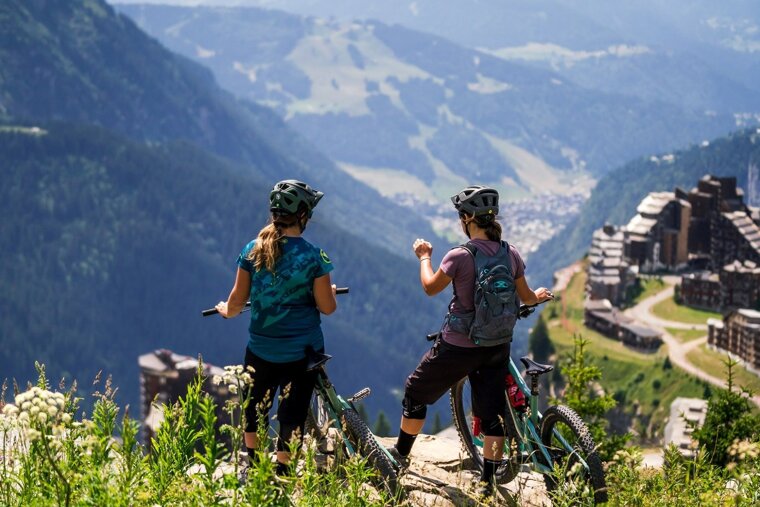 Body Protection
Most riders wear knee pads at the very minimum when riding anywhere there's a chance of a spill. The options are increasingly lightweight, whilst allowing you to comfortably pedal. For more technical riding some mountain bikers wear elbow pads and chest and/or back protectors.
Body protectors are designed to protect chest, spine, shoulders and coccyx in the event of a crash or impact. Lightweight and streamlined, yet super strong at the same time, the latest technology means they are supple and soft, and move with you as you ride. The moment they experience any impact they become a hard shell to resist penetration and defend against injury. Look for wicking fabrics to manage moisture. Some brands do women specific fit, but some women may feel they are okay with the unisex fit.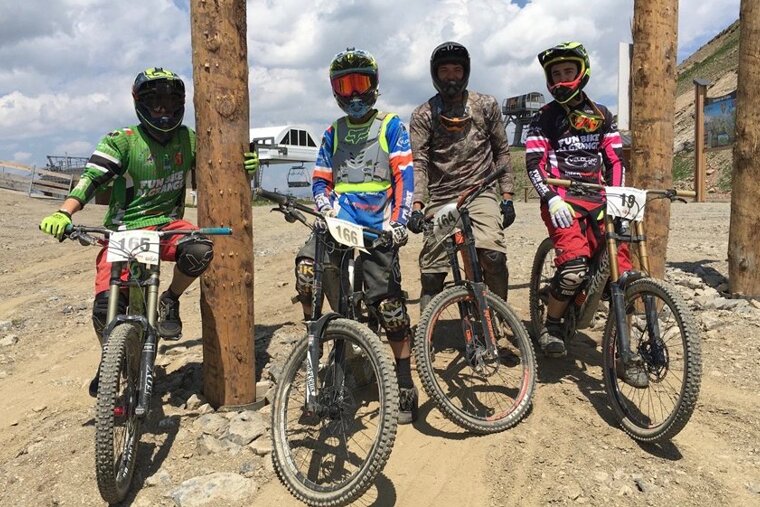 Apparel
When preparing what to wear when mountain biking start with a moisture-wicking base layer and a waterproof and windproof jacket. Obviously the conditions are going to determine what you need to wear, and different rides will require different clothing.
Jersey
Keep you comfortable and cool in summer and warm and cosy in winter. It should be breathable, and sweat wicking fabrics such as merino wool are good. Cotton isn't a good option because it stays damp too long and you'll be cold once your body starts to cool down. Some jerseys combine several fabrics to give you a solid knit through the body, but have mesh inserts under the arms or down the sides. They tend to be loose cut and have short-sleeve, three-quarter or long-sleeve options. Some come with rear pockets that are ideal for stashing spare parts, tools and snacks.
Shorts
Padded shorts (shammies) are a good idea, you'll spend a lot of time getting in and out of the saddle, they help provide cushioning and help avoid chafing. These can be worn alone or underneath a pair of baggy bike shorts. These should be lightweight, usually knee-length, and have room for knee pads to fit underneath.
Jacket
The jacket should be packable, so you can easily stow it in a backpack, jackets with vents are good for when you heat up. A water-repellent, windbreaker should suffice, unless you ride in the wet a lot, in which case a fully waterproof jacket that can keep you dry for hours is required.
Gloves
Full finger gloves are common, providing more comprehensive protection than mitts and helping protect hands from crashes, undergrowth, and the weather. They also help prevent your hands from getting sweaty and slipping off your grips, some have padding on the palms to provide cushioning.
Socks
Long socks help protect the shins and calves from scratches and cuts from undergrowth, or even from the pedals. Waterproof ones are available for those who ride in wet conditions.
Shoes
There are two choices here: flat or clip. If you prefer to ride clipped in, like road cyclists, there will be a cleat on the sole of your shoe that connects to the pedal. Flat shoes have a rubber sole and the bike's pedals have little bumps that project outward to grip the sole. If riding in winter, it's worth looking at those made from warm, waterproof materials.
Glasses or goggles
Essential for keeping your eyes protected from the weather, debris flying up off the trails and the sunshine of course. Look for ones with interchangeable lenses so you can swap according to the conditions. Trail riders wear glasses most of the time, but if the weather is grim and muddy, goggles are great. Downhillers usually pair goggles with a full-face helmet, although many will fit regular helmets.
Backpacks
Hydration packs are popular, with a reservoir and hose plus room to store snacks. You can sip water whilst pedalling and there are some specifically designed for mountain biking. Lumbar packs are basically bum bags, designed to keep excess weight off your shoulders and they come in a variety of styles.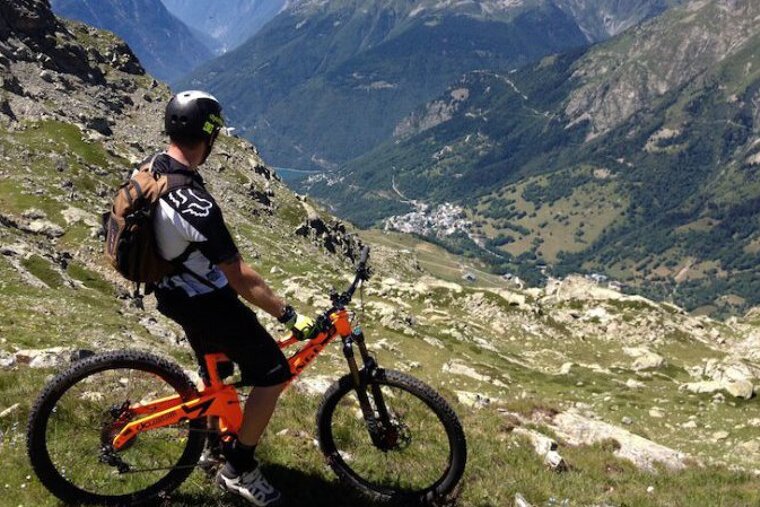 Brands to look out for
Fox
Founded in 1974, it is the most recognised and best-selling brand of motocross apparel in the world. Based in California, they began developing clothing for high intensity, physically demanding motocross, which easily crossed over into the mountain biking world. Designed with the input of some of the best mountain bike athletes in the world, their apparel is tested and pushed to the limits. Their gear can stand the toughness of any trail, their equipment takes a beating so you don't have to. Their helmets will keep your head safe, their clothing breathes and moves with you and their protection gear will last longer than your last run. FOX website
POC
A Swedish brand founded in 2005, they are a leading manufacturer of helmets, eyewear, body armour, apparel and accessories. Their reputation is built on innovative protection for all, whether you're an elite athlete, weekend mountain biking enthusiast or a daily bike commuter. POC website
Endura
A Scottish brand founded in the nineties, who have worked with the hottest sports stars in downhill, enduro, freeride and BMX, including World Champions. Their gear is 'built rugged for riding in gnarly terrain' and from head to toe you'll find all you need - helmets, jerseys, shorts, gloves, protectors and shoes. ENDURA website
Sweet Protection
Their roots are in snow sports, but they also develop helmets, protection equipment and technical clothing for mountain bikers. Their award winning designs offer functional equipment that is constantly pushing the boundaries. SWEET PROTECTION website
Giro
Founded in 1980s California, Giro is a leading manufacturer of helmets, goggles, cycling and mountain bike apparel and shoes. Their gear is high performance, stylish, and made using innovative fabrics. Their price range is accessible for all. GIRO website
Smith Optics
Founded in 1965 by a ski loving dentist who worked to create the first double-lens ski goggles, making fogged goggles a thing of the past. Their main market area remains ski goggles, closely followed by sunglasses and motocross goggles. SMITH OPTICS website
Troy Lee
From painting helmets in his parents garage, this motocross racing teenager built his company into a world renowned brand supplying motocross and mountain bike gear to the world's best. Their line includes helmets, helmet visors, stickers, as well as sportswear and protective gear. TROY LEE website
Five Ten
Highly regarded cult brand considered 'the' shoe experts for mountain bikers and freeriders with their legendary Stealth Rubber compound. Available for flat pedals or SPD click pedals, their range for men, women and children offers high wearing comfort and impressive craftmanship. FIVE TEN website
Crank Brothers
Producing top quality cycling parts, accessories and apparel since the late 90's, their cleat shoes are extremely well regarded in mountain biking circles. CRANK BROTHERS website
Dakine
This Hawaiian brand was founded in the seventies, their backpacks, travel bags, accessories and clothing are for those who love all sports, including mountain biking. When mountain biking you will see their backpacks, hydration packs and bum bags everywhere. DAKINE website