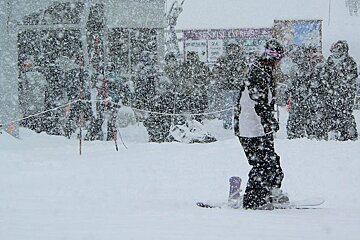 Bad weather ski areas in Alpe d'Huez
Discover the top Alpe d'Huez bad-weather skiing
The high, open pistes lack the contrast required for orientation during white out conditions and slope and sky can blur into one.
Buy My Ski Pass Book My Ski Hire Book My Ski Lesson
However, there are certain runs that offer more contrast providing vast amounts of skiing/snowboarding when the flakes are falling. The trick is to head for the pistes that are tree-lined (Vaujany, Auris & Huez), as they help provide definition when everything else seems to be white.
In really bad visibility some great shelter can be found over on the runs from Auris-en-Oisans down through the forest to Maronne – with the trees providing some much-needed definition in periods of poor light.
One small blue run that is worth a mention in the case of really bad weather, is the Village blue piste down to the village of Huez. There is also a red accessed from the tourist office, 'Huez', that will drop the skier down to the same return lift. The village of Huez is the original name of the commune and the term Alpe means 'pasture' of Huez. Indeed summer brings a four hundred herd of cattle to gorge on the rich alpine grass.
Keep in mind that the valley itself can be covered in an all-encompassing fog, but the top of the mountains can be bathed in glorious sunshine. Always check out the webcams. Also, if it's lashing down with rain in the valley, it means it's snowing up top, giving you the best and freshest powder you're likely to ski on! And because it's a bad weather day, chances are, you'll have the mountain to yourself.