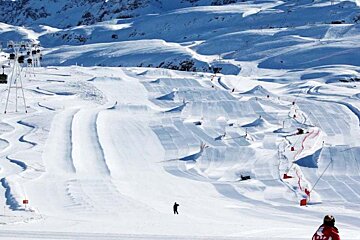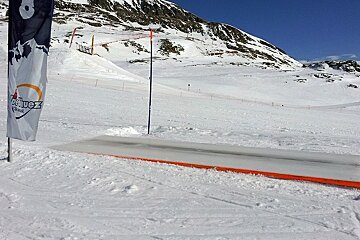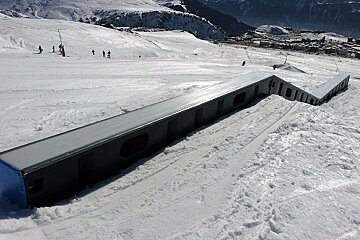 Snowparks in Alpe d'Huez
Discover the top Alpe d'Huez snowparks
If you're new to the slopes it's a good chance that you'll be wanting to try your first kicker or rail soon. Freestyle is great fun and if you want to learn there's no better place to head than the Alpe d'Huez snowpark.
There are two snowparks in Alpe d'Huez, one is in Montfrais and a larger one is located beside the beginner runs above 1800, most easily accessed from the DMC 1st station. Although larger in size, it's very beginner friendly with a number of small features providing a gentle introduction to park riding.
The snowparks have now been equipped with an automatic filming system. Skiers and snowboarders, simply log in with your ski pass, take your best line down and watch your video on the big screen. By giving your mobile phone number, you will receive a link to watch your videos directly on your mobile phone and share your feats immediately.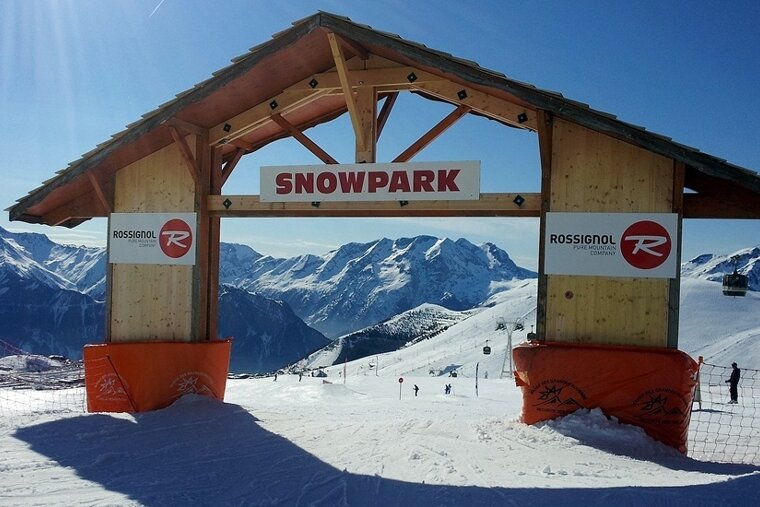 Main Snowpark in Alpe d'Huez
Chances are if you're a beginner park rat you will spend most of your time in the park above Alpe d'Huez village. It's larger, in a more central location, surrounded by beginner friendly slopes and easily accessed by the DMC. Ski schools often have parts of their lesson here and other beginners can be found having their first experiences of park skiing. Because of this, there are more hazards to look out for, and the majority of them are focused around the blue beginner line. Don't be embarrassed or afraid to fall over when learning the basics, but make sure you don't put anyone else in danger.
Entering the park there's a sign indicating the four approximate difficulty levels from right to left – beginner (green), easy (blue), intermediate (red) and expert (black). Each route through the park has three to four boxes or rails and four kickers (jumps).
Beginner line
The beginner line starts with a flat or 'butter' box. It sits flush with the snow so you can ski on without having to jump, and then has a small drop of a couple of inches at the other end. Two more boxes follow each slightly narrower than the last. Following the boxes there are four kickers which are usually less than a foot high but this can vary slightly. Many people do not 'jump' the jumps and enjoying simply skiing over them to get an idea of the height and sensation that the ramps produce. It's actually a good idea to ride past any feature you have not attempted before to get an idea of the size and shape of it. Once you know what to expect, try a little jump but remember to take off with your weight low and centred, also to lean forward to land flat on your skis.
Blue and Red line
In the middle of the park the red line starts with a long box about a foot high – a significant step up from the green line but wide enough to provide some support and stability. Another similar box follows then there are two rails – similar to the blue line each feature is longer and slightly higher off the ground than the last. Again, four jumps each about 1.5 feet high follow.
Black line
The black route has three rails which are 2-3ft high and vary in shape with kinks and bends to keep more experienced riders entertained. There are also large kickers.
On the whole, the easier side of the snowpark is down the right, with the harder line being down the left.
The fastest way to make laps of the park is by taking the DMC to the first station and riding diagonally to skier's left after exiting the lift (you can't miss the giant snowpark sign). An alternative to the DMC gondola is the 'Les Jeux six-man chairlift' which also has gondola cars approximately every 10 chairs or so, this really moves the queue super quick.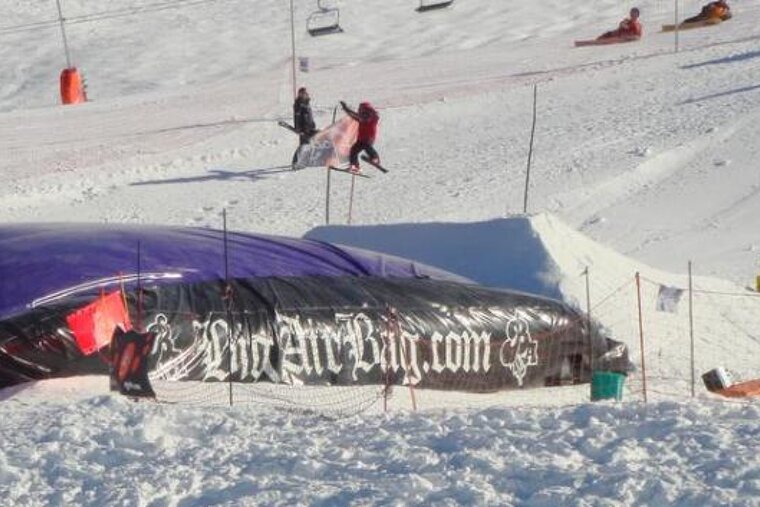 Big Air Bag
At the bottom section of the Alpe d'Huez snowpark is the "Big Air" freestyle practise facility, which is basically a huge bouncy castle with a kicker at the entry point. Ski down the 50m "runway", hit the kicker, perform your trick and splash down in the inflatable bouncy castle, a great way to practise your big air tricks. Simply pay your money and join the queue.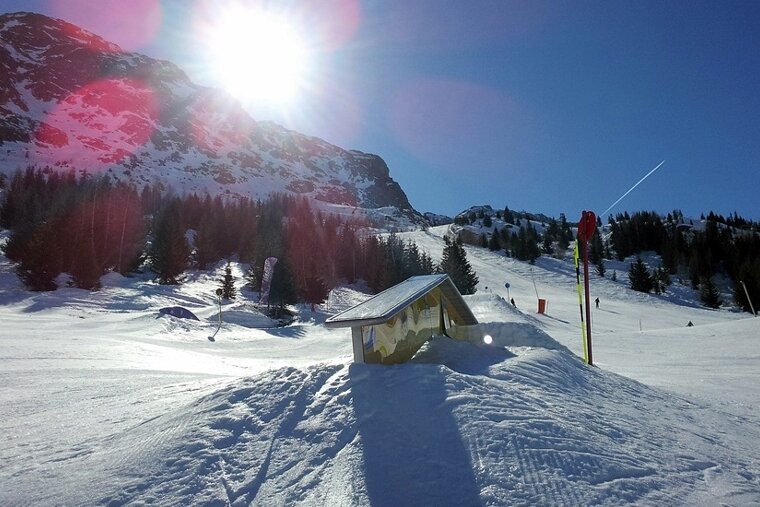 Montfrais Snowpark
The second and smaller snowpark in resort is in Montfrais – located on the far left of the piste map. This park is slightly more difficult to find, most easily accessed from the Myrtilles blue piste. It also has features of varying difficulty but a general rule of thumb is that everything is more difficult here – the kickers are slightly larger and rails more challenging across all difficultly levels. Each run is shorter, with around one to two kickers and boxes for each level. It is not so easy to lap this park as it's short in length and the nearest chairlift takes you some distance higher than the park's entrance.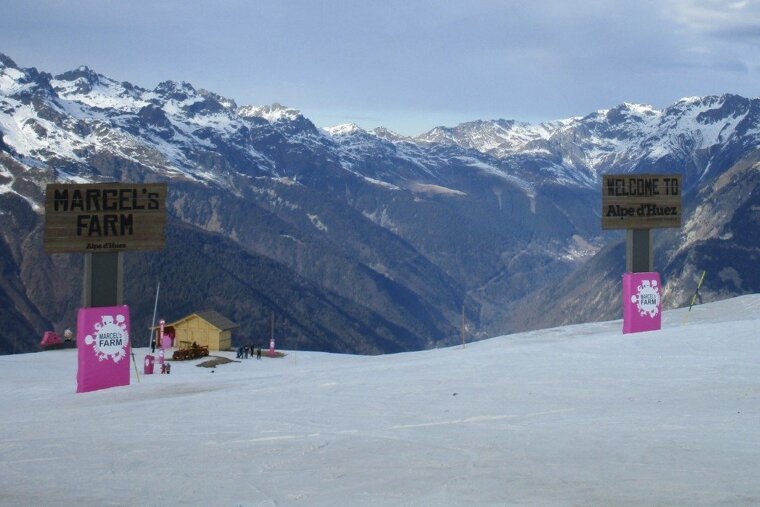 Marcel's Farm
This fun zone and the Signal ski lift were part of SATA's €16million renovation of the ski area. The lift itself is super-high speed and is a "chondola"; a mix of eight-person chairs and gondolas, giving faster access to this side of the mountain.
At the top of the lift you join the entrance to Marcel's Farm, a purpose-built 1.2-mile smile-a-thon of banked corners, boardercross style features, gates, a small half pipe, tunnel and a cow slalom course. There are also some rails for budding freestylers to tackle.