Trail running gear guide
Trail running is moving through the mountains as fast and light as possible.
A real joy, it's all about freedom, you versus the trail.
Officially defined by the International Trail-Running Association as a "pedestrian competition open to everyone...whose total distance cannot be on more than 20% on cement or asphalt roads".
If you're choosing to start out in the sport, or simply doing short runs in established areas on marked trails with amenities such as water supplies, you won't need much gear. But if you're more experienced and running adventure races and ultra marathons in remote areas, your equipment list needs to be a lot longer. Choosing the right gear can make a real difference, so here are a few of our favourite items for mountain and trail running.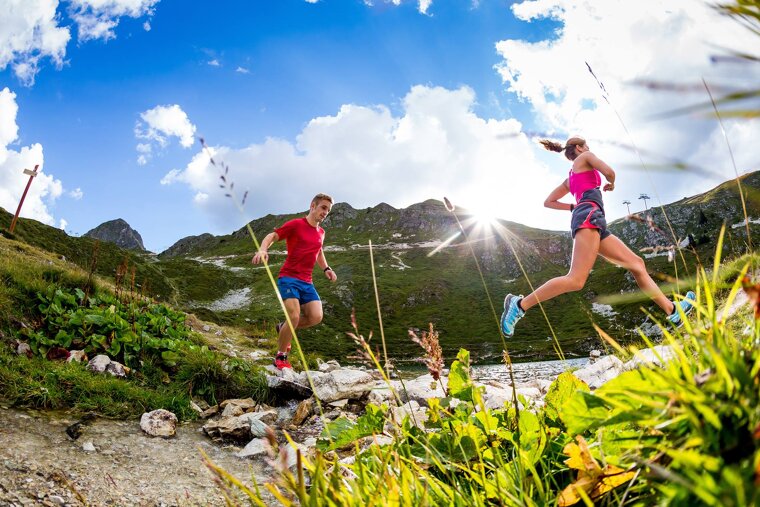 Trail running shoes
Trail running is very different to running on pavements for many reasons, including the terrain you may encounter which can include sharp rocks, tree roots, river crossings and even sand, plus forest trails, grass tracks, and smooth rock. A good pair of trail running shoes is the most important item to invest in, especially when starting out, and at any one time there are well over 200 trail running shoes on the market. This means there are shoes for every foot, trail and terrain.
The key difference between trail and road running shoes is that trail shoes are built to be more rugged and durable. They keep you on your feet when navigating uneven, often slippery and loose terrain, including steep inclines and descents. The key features they will offer you are grip and traction, stability, cushioning, and a different heel-to-toe drop. They also usually have enhanced toe protection to spare you the pain if you kick a rock or root.
Wearing trail running shoes for hiking is becoming increasingly popular, especially for those who want to hike faster and lighter, but if you're buying them for running, wearing them for hiking will wear them down quicker than a pair of hiking boots.
Brands to look at would include Salomon, Hoka, Brooks, Saucony, Nike, Altra, La Sportiva.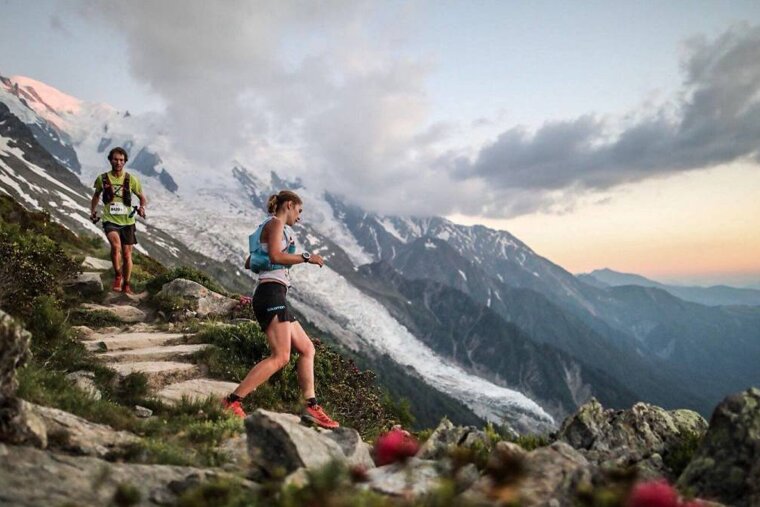 Running apparel
Your normal running gear is just as good to wear when trail running, as long as it's practical, lightweight, and of high quality. Be careful not to overdress, you'll warm up quickly unless it's exceptionally rainy or windy. Layers are important, especially on longer trail runs, and if the weather turns your clothing needs to keep you cool or warm. Here's a checklist:
Warm weather
T-shirt - should be wicking, quick drying, synthetic or wool.
Underwear - again look for wicking, quick drying, synthetic or wool.
Sports bra - yep, you guessed it...quick drying and wicking, and the level of support and tightness is down to the individual depending on always avoiding chafing where possible.
Socks - should be made from a technical, sweat-wicking fabric, such as nylon, polyester, merino wool. Many runners choose ankle socks for summer and knee-highs for winter.
Running shorts - stretchy is best, allowing full-range leg movement, water-resistance and quick drying, and look for technical fabrics that don't tear easily with at least one pocket, ideally zipped.
Cap with sun-shielding visor - Ciele is pretty much the standard running hat these days. Stylish, light, quick-drying, they look good on and off the trail, plus have SPF40+ sun protection and reflective parts for safety in low light.
Buff or bandana - offers neck protection for winter and summer, these high-UV protection tubulars can work as a neck warmer, bandana, head band, balaclava...and much more.
Sun sleeves - whilst these may seem like a garment of the elite runners, they are a great way to keep warm in cold weather and protect the skin in warm weather. Easy to pop on or off to control your temperature and super light to roll up and pack in a pocket.
Cool weather
Layering is key, you'll need to add these items to the list above:
Running pants/tights - a great option for cold weather, make sure to look for fabric, fit, and features. Compression running tights give extra support and may help with recovery.
Running jacket - essential for cold or windy weather, look out for deceiving labels such as 'weather-proof' or 'water-resistant'. These jackets can handle only a little rain, so when exposed to a downpour you'll get soaked. Make sure your jacket says 'waterproof' and 'windproof' yet has breathability, vents are ideal.
Fleece jacket - an ideal mid-layer either worn alone or underneath your waterproof jacket to keep out the chill on cold days.
Gloves or mittens - to protect yourself from the elements, look for waterproof and thermal gloves that are touchscreen compatible. Wearing gloves helps maintain circulation, manage moisture and protect fingers from discomfort and potential frostbite.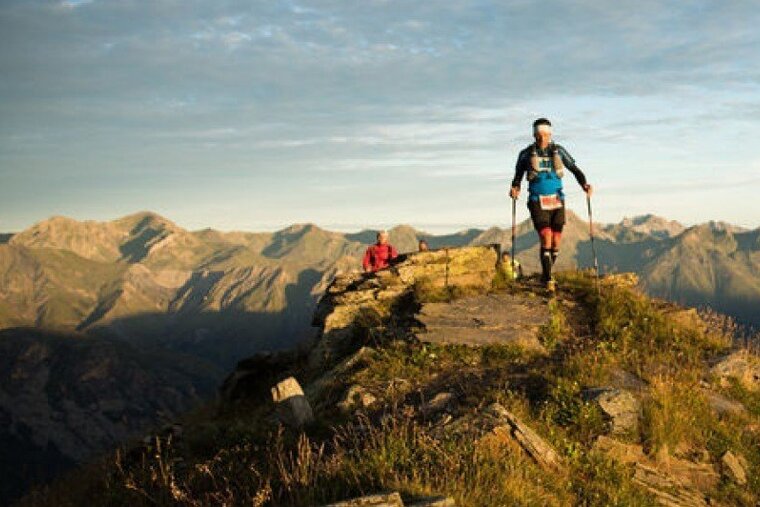 Navigation
Navigation is an important part of trail running, and the most important item you'll need is a map. For most trail runners this would be a GPS watch or a phone, with technology there to help you easily monitor your running using one of many running apps. These apps also measure distance and the speed at which you are running, helping you improve.
Smartwatch
If you don't already own a smartwatch, something designed for running like a GPS watch is a great option and there are numerous choices. The basic models come with GPS sensors, step counters and heart rate monitors, with the more advanced versions recommending workouts based on recovery, sleep tracking and adaptive training plans. Depending on your size you'll want something that fits neatly on your wrist, with a strap that's comfortable. The more you pay, the more gizmos you'll have at your fingertips, such as advanced offline maps and routing to stop you getting lost.
The mainstream brands to look at include Garmin, Polar, Apple, Coros.
Most good smartwatches can store music offline for playback with a set of Bluetooth headphones. Also whilst you can run with almost any headphones, there are models that are designed for wearing whilst running, just make sure they don't block out the world, you need to remain aware of your surroundings. Bose have actually made audio sunglasses designed for sport with interchangeable lenses and sweat-resistance. Others won't be able to hear your music at normal volumes unless they are very close to you. If you always wear sunnies when running, these are great, but they can't be bought with prescription lenses.
Look at brands like Shokz, Bose, Sony, Beats by Dre for running Bluetooth headphones.
Armband phone pockets
Strapped to your bicep they let you work your phone and listen to music. Many sports brands sell these.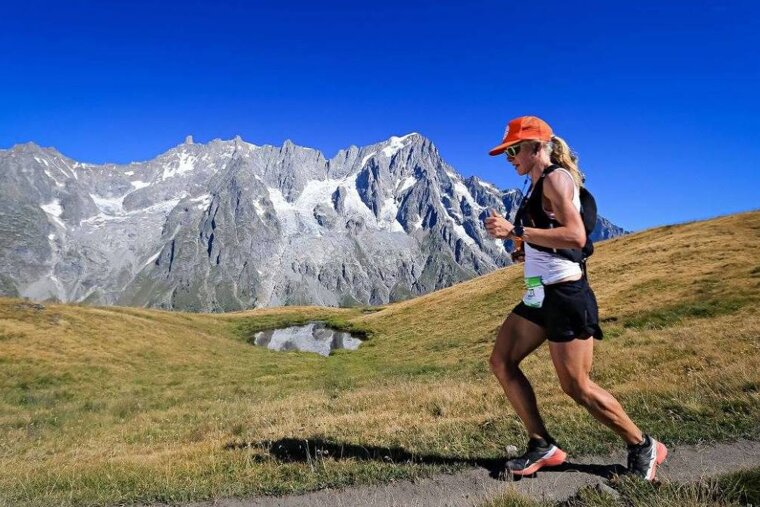 Backpacks
It's not so important to use a specific type of bag, just make sure it's comfortable, and a great option is a bag with a water bladder, so you don't have to carry a water bottle. You're ideally looking for something lightweight, suitable for carrying water, energy gels and an extra layer, so a hydration pack will suffice. The most important part is the straps. The shoulder straps should be padded and wide enough to distribute weight evenly, the chest strap should be able to be moved up and down, (especially important for female runners), and all the straps need to be adjustable.
Hydration pack
You'll see many runners wearing a running vest, sometimes known as a hydration pack or race vest. These are extremely lightweight backpacks with multiple pockets and pouches to carry everything whilst being easily accessible. They come in different volumes and sizes, and should fit what you need when out running depending on whether you're out on a training run on the local trails or a multi-terrain full-day of trails or even a race event with a lengthy mandatory kit list. Items you pack may or may not include water/fluids, snacks, phone, keys, hats/gloves, spare kit, headtorch, sunscreen etc. Like buying running shoes, no one pack is perfect for every run. Before you buy try it on. It should sit high on your back with shoulders and upper back taking the weight, leaving no pressure on the lower back. It should be snug enough to stay in place, but not be so tight that arm movement is restricted or you feel anything rubbing around your neck or shoulders. When the chest and tummy straps are fitted well, the hydration bottles or their pouches should lie vertical and not at too much of an angle. Most brands offer gender-specific models, some just unisex. Women's-fit packs tend to be narrower at the shoulders and offer more volume in the chest area.
Bottle vs reservoir/bladder
A personal preference thing. Some prefer to carry bottles stowed in front pockets, whilst others prefer a larger reservoir that fits into a sleeve in the back. Most vests are compatible with both options, but bladders aren't usually included in the purchase of the vest.
- Reservoirs: hands free, fuss-free, carry more fluid.
- Bottles: more versatile, easier to refill, but can be a fuss getting in and out of the pouches whilst on the move. To counter this, some come with a drinking tube, eliminating the downsides of taking them in and out of pouches. If you're a bottle person, you also have the choice of soft vs hard. Soft are light and flexible but again can be fussy, whereas hard bottles slot in easily but some people find them uncomfortable.
Brands to look at are Salomon, CamelBak, Adidas, and Montane.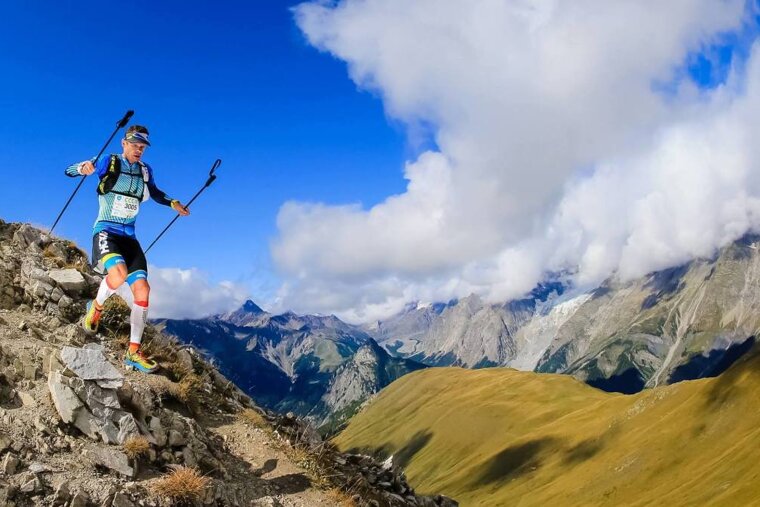 Running poles
When trail running on steep terrain poles are an excellent aid, and they are becoming increasingly lighter with every new model, in fact most are now made from carbon fibre. They fold down into two or three parts making them extremely easy and light to carry when you're not using them. Once you have got used to them, it's unlikely you would run without them.
Why should you run with poles?
Poles help you save energy on the uphill, they can help power you along flats by getting you into a rhythm, and when running downhill they will help you balance and slow down. Be mindful that poles can get stuck in between rocks, be careful not to snap them. You should practise using them so that they become more like a part of your body as you run, there are techniques and tips for usage, so do a quick internet search to see how best to use them.
Carrying your poles
When not using them, you can either run with them held in your hands, but if you won't need them for an extended time you can simply attach them to your bag or belt, and most running packs now have ways to attach poles. A pole quiver can a useful addition to quickly stow and access your poles.
Buying poles
Generally we recommend going for the lightest ones you can afford, and definitely buy folding/collapsible ones. As a general guide, when holding your pole with your arm at your side and elbow at a 90-degree angle, your forearm should be parallel to the ground. Be sure you're wearing your running shoes whilst measuring.
Brands we recommend include Black Diamond, Leki, Komperdell, and REI Co-op.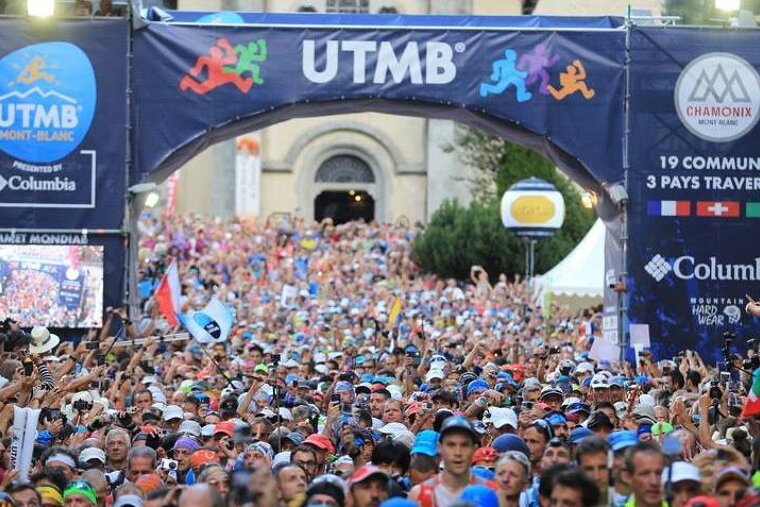 Growing sport
With an estimated 20 million participants, trail running is one of the world's fastest growing sports according to the International Track and Field Federation. It has grown 231% in the last 10 years, races are getting longer than ever averaging 24.63km long. Races are also getting bigger, those with more than 500 participants have grown 5252% in the last ten years, and increasing prize money or appearance fees for those at the top of their game. At distances over 195 miles women are actually faster than men, and the trail runners average age is 39.5 years old.
Trail running is an outdoor sport, and climate change is affecting the sport. Races take place in remote and protected natural areas, so when hundreds, even thousands of runners pass through it has an impact on vegetation, wildlife and soil. The environmental footprint of an event should not be underestimated - transportation, soil and plant damage, waste management and more. Ethics and eco-responsibility is at the heart of many events, as organisers seek to limit their impact by restricting the number of participants, raising awareness, and reducing waste.
More inspiration...
In France, it's Chamonix that hosts the sport's biggest race, the UTMB. The 170km race is the most famous trail race in the world, and every year at the end of August the entire town is taken over by trail runners and their supporters for a week long UTMB World Series - around 10,000 runners compete across seven different races of varying lengths. To qualify for the UTMB in Chamonix you must compete in at least one of the 25 UTMB World Series events collecting 'running stones' to enter the lottery for a place in the UTMB itself. Races in the World Series include Lavaredo Ultra Trail, Italy; Speedgoat Mountain Races, USA; Ultra Trail Snowdonia, UK; Puerto Vallarta, Mexico; and Doi Inthanon, Thailand.