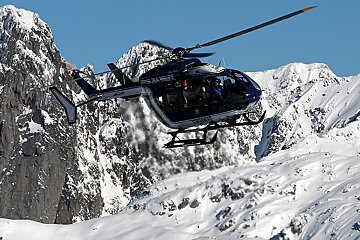 Mountain Rescue in France
Gendarme en Montagne are the official and specialised unit of the French Police. Known as the either the PGM - Peloton de Gendarmerie de Montagne, or in higher mountain ranges they are the PGHM - Peloton de Gendarmerie de Haute Montagne.
How the system works
Their job is to ensure the safety of the mountain area and the safety of those who are in it.
For example searching for people who have disappeared, are lost or possibly presumed dead in the mountains. Conducting investigations into the circumstances of a mountain accident especially if there has been injury or when professionals are challenged. Making sure the laws and regulations relating to the mountain are observed and respected.
They will work in conjunction with other local services to ensure a fast response and the best outcomes.
The members of the gendarmerie are highly trained and must keep up an excellent level of technical ability and the physical condition appropriate for safety and rescue in the mountains.
Paying for treatment
There are still some discrepancies and some debate over the cost of mountain rescue and who should pay the bill, as the higher mountain areas are covered by the National Government and the ski resorts are assumed to be the responsibility of the local commune.
In any case, it is always advisable to ensure you have adequate insurance to cover your holiday and sporting activity in the mountains, whether it is skiing, climbing, biking or another activity. You will often have to pay for additional coverage for mountain sports and helicopter rescue so make sure you check this before you go on holiday!
Who to call & when
European emergency services number: 112