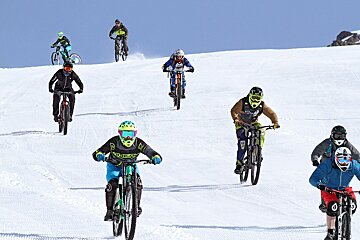 © https://www.alpedhuez.com/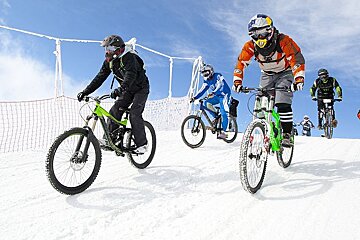 © Laurent Salino / Alpe d'Huez Tourisme
Sarenne Snow Bike, Alpe d'Huez
Downhill biking event on a glacier
The Sarenne Snow Bike event is a non-timed downhill mountain bike descent on the mythical Sarenne. Starting at Pic Blanc (3,330m) and ending in Huez (1,500m) it covers a descent of 16km and almost 2,000 vertical metres.
The day starts when the riders meet at the Rond Point des Pistes in Alpe d'Huez to collect their tickets and take the lift up to Pic Blanc. Entry includes your race number, lift pass, post-race meal and afternoon ski (also includes insurance). If you already hold a ski pass, entry costs less and includes your race number, post-race meal, and insurance.
The Sarenne Snow Bike is the perfect race to practise for the Megavalanche in summer!
Watch this
Location