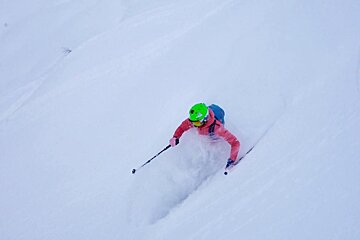 Avalanche safety gear
When venturing off-piste or into the backcountry, avalanche safety gear is a life-saving imperative
Drawn to the wilds of untracked snow, the mountains can quickly change.
Heading far beyond the managed zones of the ski resort into no-man's-land, never without the proper safety equipment.
Your essential pieces of avalanche safety gear consist of the main three: avalanche transceiver, snow probe and snow shovel, but as technology advances so do the extra 'nice to have's'.
For those experienced in off-piste and backcountry skiing or snowboarding, this article isn't going to tell you anything new, but for those of you investing in your first kit, or looking to add to it, take a look at our guide for what you may or may not need/want on that next day in the backcountry.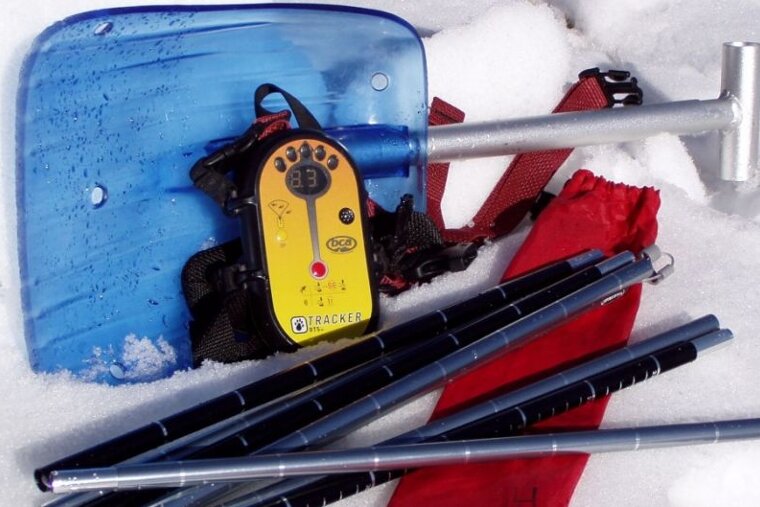 The Three Elements
To effectively increase the chances of surviving an avalanche, you should possess all three elements when skiing or snowboarding:
Transceiver: Emits a radio frequency, allowing it to be located by other transceivers equipped with 'search' mode. A transceiver will display a range of information, such as distance to victim(s), number of buried victims, and direction of victim(s). This will usually be shown by the digital display and a beeping noise which will intensify in frequency the closer to the victim(s) you become. Transceivers should be worn below at least one layer of clothing using the harness provided, never in your backpack, and kept in "send" mode at all times. You should keep the software updated, and use new, good quality batteries at all times.
Probe: This is used to plunge the snow and establish the depth of the victim. Modern probes are lightweight aluminium and can be collapsed down from 2m+ length into foot long pieces to fit into your rucksack. A probe of 240cm is a popular recreational length, and the minimum you should consider. Greater overall length is preferable as longer probes improve efficiency at finding a deeply buried person.
Shovel: This is for digging out a victim once located. It should be made of aluminium, not plastic (these can shatter in cold environments), and the bigger the better - digging out a victim can involve shifting a lot of snow - so anything smaller than 20cm x 20cm is not recommended. Similar to a probe, it should be collapsible via a detachable handle to allow it to fit into your backpack.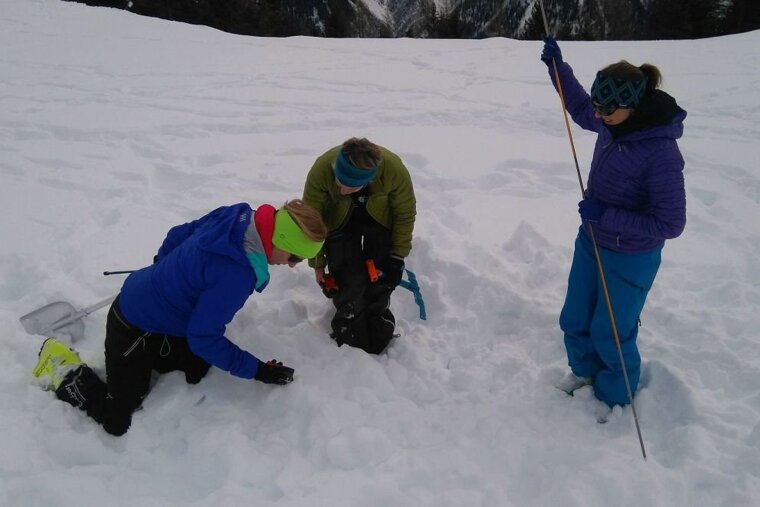 Transceivers
A transceiver is not a cheap piece of kit by any means, and the pricing is generally driven by component costs, where it's made, shipping and taxes, and of course the price that the market sets. The feeling from ski clubs like Club Alpin Français is that when it comes to buying a transceiver, prices in general are too high and restrict people from buying the best in terms of safety and reliability. But the reality is the more you spend, the more features it will have and capable it will be. However, with features comes complexity, and the most feature-filled transceiver may not make your search for a victim any quicker if the interface is too complicated. A transceiver for a mountain professional is likely to be a poor choice for a novice, or someone who doesn't practise regularly.
Whether you're buying second hand or new, here are some tips for when buying yours:
avoid cheaper models, they tend to have too low a range, making the first detection of a signal from another beacon too slow a process in an avalanche - the minimum range you need is 20m
all transceivers today operate on the same international standard of 457kHz, so you don't need the same brand as everyone else, or to pay a premium unless you want advanced features
most transceivers have a three-antenna design that allows searchers to pinpoint a victim regardless of its orientation on the buried person - this is a must-have feature
make sure the display screen is intuitive for you to use - most are, but the interfaces vary by brand and model
a multiple victim feature can be useful in an avalanche with several victims, where you can flag them and then move onto find additional victims
'auto-revert to send' is a feature where the transceiver automatically switches to send when left in search mode too long or if it's been stationary for a while. There are pros and cons to this, so decide which side of the fence you fall on this one
Tip on usage:
user capability is often the defining factor in how good your device will perform, make sure you learn how to use yours properly and practise regularly in different conditions - you need to know how to use it as survival rates drop dramatically after 10 minutes
most transceivers require replaceable alkaline batteries because their energy drain is gradual, allowing a reliable battery level readout, critical when doing a search
always check your battery level before heading out, cold temperatures drain batteries quicker than warm, so it's a good idea to store replacement batteries somewhere close to your body (to keep them warm)
most manufacturers recommend carrying your transceiver close to your body, underneath an outer layer close to your torso and NEVER in your backpack, which could be ripped off in an avalanche
always keep it in send mode, until a search is needed
avoid carrying mobile phones or radios too close to your transceiver, as they can interfere with search and transmit signals.
you'll need your phone to call the emergency services, just make sure it's separated from your transceiver
do a transceiver check before every day on the hill: check battery level, make sure 'search' and 'send' functions work, verify that everyone in the group is in 'send' before you move off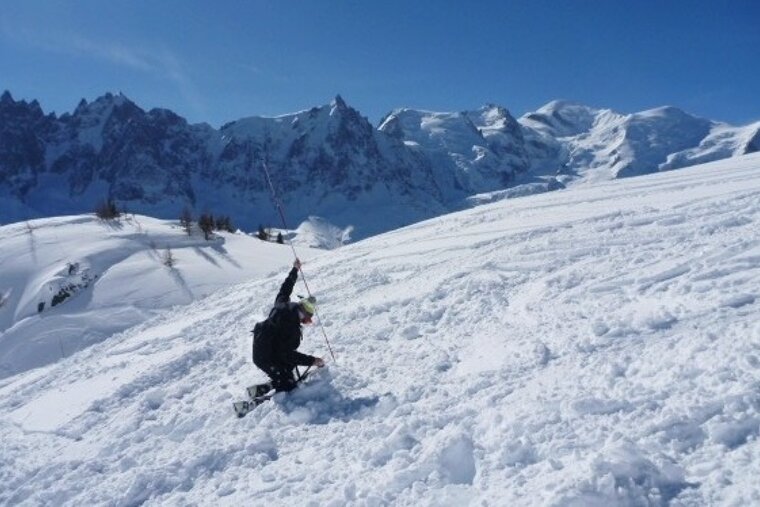 Transceiver brands
The transceivers market isn't large, and it's not like a slew of new models is released every year. However, dedicated avalanche professionals and ski guides will extensively test avalanche transceivers and publish their findings every couple of years (at the most). You can find numerous reviews of most brands online, that are definitely worth reading, even if they are a couple of years old.
The brands below are the key players who have stood the test of time, and continue to innovate and produce a range of transceivers for professionals and novices alike. And on that note, you'll find that every brand produces a range of transceivers at different price points, some that are suitable for entry-level occasional users and some more suited to mountain professionals, so make sure you get one to suit your requirements rather than going for all the bells and whistles (and price tag) of some of the pro models.
BCA (BACKCOUNTRY ACCESS)
The best selling brand in North America, their focus since conception in 1994 has always been on saving lives with easy-to-use products. Founded in South Boulder, Colorado, they invented the world's first digital, multi-antenna avalanche transceiver (Tracker DTS) in 1997. One of the most popular brands in the transceiver market, they are considered reliable and easy to use, 'simplicity is speed' is their mantra. BCA website
BLACK DIAMOND
A mountain sports specialist with a passion for innovation. Originally named Chouinard Equipment after its founder Yvon, who created the business in 1965, selling hand-forged pitons from the boot of his car. It was bought out, renamed and relocated to Salt Lake City at the foot of the Wasatch mountains in the eighties, and continues to design and manufacture equipment for climbing, skiing and mountain sports. The Black Diamond avalanche transceivers are well regarded and regularly appear at the top of many 'best of...' review features. They are known for producing a reliable top-tier range with an easy to use interface, and sit at the pricier end of the market. They also own Pieps and Poc Sports, both pioneers and innovators in mountain safety. BLACK DIAMOND website
MAMMUT
A Swiss mountaineering and trekking company founded in 1862, it has grown from a modest ropemaking operation into an alpine safety brand known for producing high-quality gear. The development of the Barryvox VS 86 transceiver in 1969, at the request of the Swiss Army significantly improved the chances of survival for people buried in avalanches. Mammut has continued to optimise the Barryvox, with its latest generation becoming an indispensable part of avalanche safety for many. Over the years Mammut has become a market leader in avalanche safety, also producing airbags, probes and shovels. MAMMUT website
ARVA
A French brand that still designs and produces its transceivers locally, in 1985, they released their first transceiver - the ARVA 4000, at a time when winter sports were nothing near what they are today. Some 35 years later their passion for snow safety is as strong as ever, and you cannot go wrong with an ARVA in your avalanche kit. They also produce a full range of shovels, probes and backpacks. ARVA website
PIEPS
An Austrian company, founded in 1967 and sold to Black Diamond in 2012. Considered one of the leading manufacturers of avalanche transceivers, they are well regarded by the outdoor industry press, and their Pro range is considered very user-friendly. Their entry-level model is also well regarded, although found by some to be a little bulky. PIEPS website
ORTOVOX
Producing the first double frequency transceiver in 1980 put Ortovox on the outdoor safety equipment map, and within two years it was the number one model on the market. Until then all transceivers would send and receive in different frequencies, often leading to fatalities when victims could not be found quickly enough due to the different frequencies. In 1985, they released the first powder rucksack and a shovel that was especially designed for avalanches. Three years later they moved into fabric technology, developing 'Walk Wool', thereby being one of the first brands giving wearers 'natural' advantages over the synthetic fibres that most apparel was made of. They have continued to remain a global market leader for avalanche safety and clothing, and in 2022, in collaboration with Canadian brand Arc'teryx, presented a new avalanche airbag technology: LiTRIC, producing airbag systems weighing only 1.1kg, winning an ISPO Award and Red Dot Design Award along the way. Their transceivers are considered simple and intuitive at all levels. ORTOVOX website
When buying your transceiver you'll see that most brands will offer a package deal that also includes a probe and shovel. These work out to be good value for money versus buying the pieces individually, so definitely check out who's offering what before you make your final purchase decision.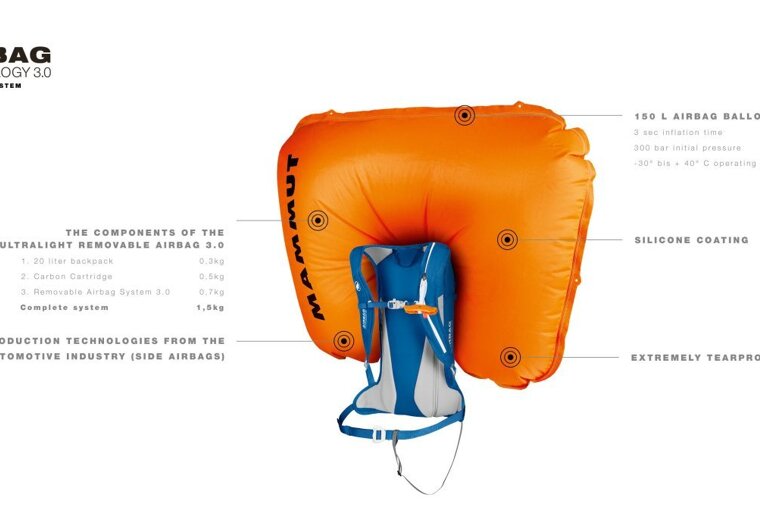 Avalanche Airbags
These are by no means a replacement for your avalanche rescue kit (transceiver, probe and shovel), and when they first appeared on the market a couple of decades ago, nobody could have predicted just how popular avalanche airbags would become. They are now a regular sight in the backcountry the world over, and have become an important component of many skier's and snowboarder's avalanche kit.
As their popularity has grown, so has the development of and investment in the tech. If you're looking to buy one, head to your local shop and try them on, and go armed with questions for the staff. These packs all fit slightly differently and fit and comfort is a crucial element.
What is an avalanche airbag?
A rucksack fitted with an inflatable airbag that is deployed when the user is caught in an avalanche. The airbag is inflated by either compressed air from a canister or a battery powered electric fan. The airbag works not through enhanced buoyancy, but helps the wearer to stay on top of the sliding snow and resist burial by making them the biggest thing within the moving snow, enabling them to remain on the surface.
Do they work?
Yes. A 2014 study by an international team of researchers analysed incidents in which both airbag pack wearers and non-wearers were seriously involved. Able to isolate the effect of airbag packs, the most striking single statistic is that out of every 100 skiers who died in avalanches, 36 would have lived had they been equipped with airbag packs. It's worth noting that airbags do little to protect the wearer from the trauma of multiple impacts from trees and rocks in an avalanche path runout, around 25%-35% of all avalanche victims die from trauma, not asphyxiation. Also, some airbag wearers manage to stay on top of the avalanche, only to be simultaneously buried by another debris flow - this is often the case in large avalanches. And, sometimes the wearer fails to deploy the airbag, they simply never managed to pull the trigger.
There are several systems on the market today from brands such as Highmark, Dakine, PIEPS, Scott, Ortovox, Klim, Mammut, BCA and Black Diamond, and this is how they work.
Compressed Air Cylinder Inflation System - The most common type used by Highmark, Mammut, BCA, Ortovox and Dakine, it uses regular air. When deployed the air from the cylinder also pulls air from around you into the bag to help with filling it. A small, lightweight, refillable cylinder is used and can be refilled at many retailers. As these systems have the potential to lose pressure over time, they should be checked prior to each ride.
Compressed Gas Cylinder Inflation System - Similar to the system that uses air, but these use other gases instead. This system is used in Scott, Klim, Black Diamond and ABS models.
Electronic Airbag Inflation System - Currently there are two types and the difference is in how they are powered. You must charge and switch them on before you use them, and the electric airbag inflates pulling ambient air into the bag when the handle is pulled. The battery powered version was the first on the market, however it is considerably heavier, and that's its main drawback. This system is used by PIEPS and Black Diamond.
Supercapacitor-powered Inflation System - The latest in airbag technology, these are lighter than a battery-powered system, using a radical compressor to inflate the airbag. They recharge via USB, and can be recharged in the field with two AA batteries (it takes around one hour). The system is used by Scott, Klim and Black Diamond.
LiTRIC - A new player in the electric airbag arena, this collaboration between Ortovox and Arc'teryx is offering an even lighter and more compact fan system. Instead of disposable and leak-prone AAs, it uses a lithium-ion battery as a secondary power source to recharge the supercapacitor after deployments (which takes just 25 minutes). When fully charged It lasts at least 60 hours with the system switched on, making it possible to use it on multiple day tours without recharging, and it inflates twice on one charge.
Whichever system you decide to go for, there are several things to remember: Practice!! Non-inflation is considered the greatest limitation to the effectiveness of airbags. Always check your bag prior to use, and remember to expose the deployment handle before you head into avalanche terrain. If it's electronic, remember to turn it on.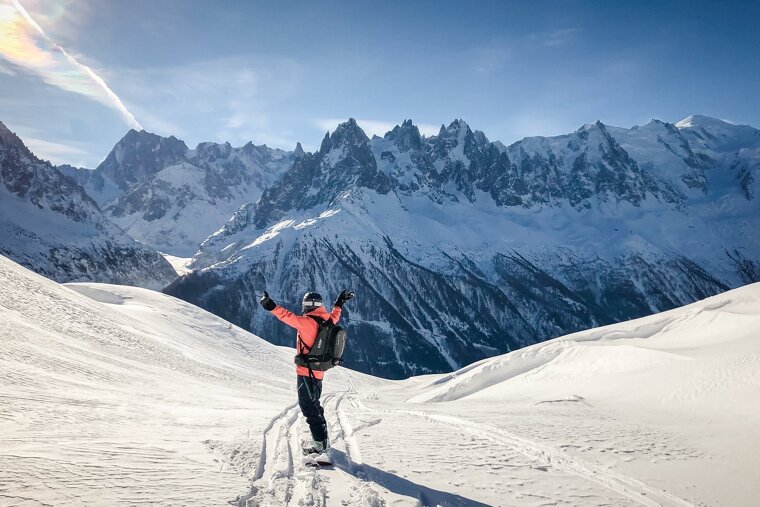 Backpacks
With all this gear to cart around you'll need a lightweight, comfortable backpack that allows you to organise your gear for quick access.
The basics to pack are your shovel, probe, repair and first aid kits and extra clothing, water, snacks...so when buying a pack ensure it can at least carry these essentials. It should ideally have a waist and sternum strap to keep the pack secure. Unique design features that set some models apart are dedicated pockets for goggles and avy gear, multiple access points and external ski or snowboard carry straps. Some will come with external shovel pockets, helmet storage and hydration systems. Designs vary depending on whether they are a simple day pack or aimed at those going on a ski mountaineering mission. Of course, there are also those equipped with airbags, but we have already discussed those above.
Brands to look to for good quality ranges at a variety of prices would be Dakine, Black Diamond, Patagonia, Osprey, Deuter, Ortovox, and Mammut. Head to your nearest store and have a good look, open them up and see if they would work for the amount of gear you like to cart around with you when you're out and about in the mountains. Don't forget to compare prices online for some tasty discounts, and read the reviews before you part with your cash, some of these packs cost a pretty penny or three.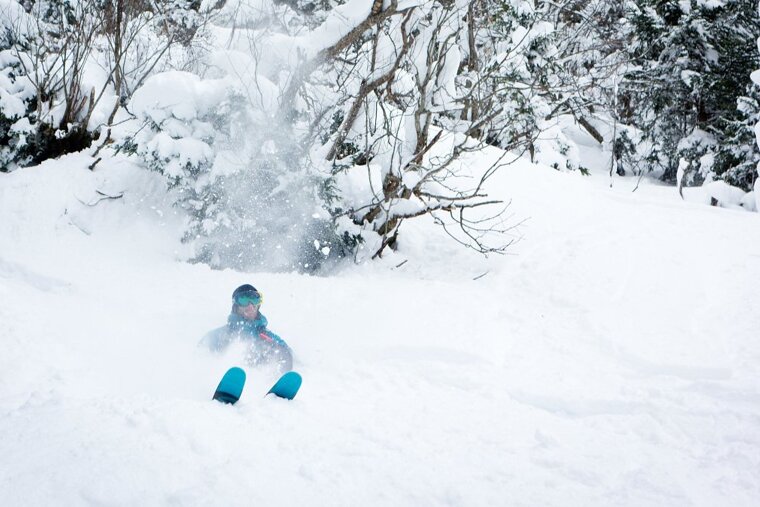 What else is out there?
Avalung
Operates on the premise that most avalanche deaths are caused by asphyxiation (carbon dioxide in the victim's air pocket). It's a long tube with a bi-valve intake box that pulls air from the snowpack. The victim breathes in oxygen and exhales CO² into an 'exhaust pipe' which deposits the poisonous gas away from the body. It allows the buried victim more oxygen, thereby increasing their time window to rescue. The chances of survival dramatically drop if buried for more than 15 minutes, and Black Diamond claims its Avalung gives a 58-minute window to victims with enough air supply to survive.
Critics ask how would you ever get your hand free of your ski pole to stick this tube in your mouth, let alone remember it even exists when you're about to get slammed by an avalanche. But some advocate them over the Airbag, simply due to the fact you can easily travel anywhere with them, they are lightweight and much cheaper. Users suggest when heading into avalanche terrain you can actually ski with the Avalung tube in your mouth.
Whether an Avalung is a practical tool to save your life in the split-seconds before you get buried is one for you to decide, should you be thinking about getting one of these for your kit.
Recco
Short for reconnaissance, Recco is a rescue technology used by organised search and rescue teams as an additional tool to quickly locate people buried by an avalanche or lost outdoors. A harmonic radar system, it's composed of a detector and a passive reflector integrated into outdoor clothing and equipment. Built to last forever, it doesn't interfere with transceivers as it doesn't emit a signal. The range is up to 500 feet in the air, 60 feet in dry snow, 30 feet in wet snow and about eight inches in water. Most lift stations have a detector at every lift hut. Not a substitute for a transceiver, some say it's more of a body recovery tool in the aftermath of an avalanche.
More inspiration...
Bringing the right safety gear with you is vital, but so is knowing how to use it. You'd be a fool to buy your kit one day and head off into the back of beyond the next. In any and every resort you visit you can do avalanche training courses and will find transceiver training parks. Having all this equipment, but not knowing how to use it can be as useless as not having it at all. Plus, these courses teach avalanche awareness, how to avoid avalanche prone areas, and how to avoid causing them in the first place.
Whilst everyone thinks 'it won't happen to me', a good education will enable you to feel more confident in your decisions and abilities when the unthinkable happens.
You can read more in our avalanches piece here.