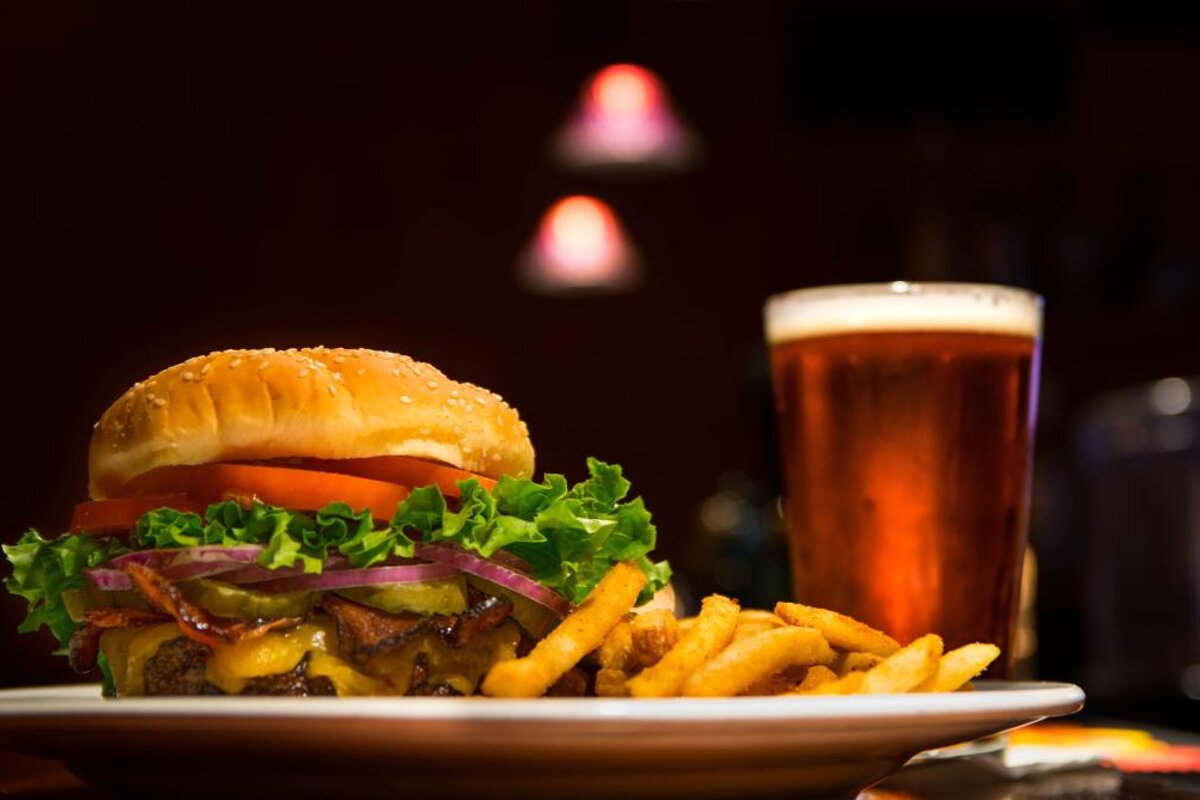 Best burgers in Alpe d'Huez
Some old favourites and a new kid on the block
Burgers and, in particular, gourmet burgers have been increasing in popularity for the last few years, a trend that hasn't been lost on Alpe d'Huez.
From James Martin to Jamie Oliver or Joe Wicks, they've all fallen for the charms of the gourmet burger. Here's our guide to the best that Alpe d'Huez has to offer.
Le Trappeur - Best burger in town?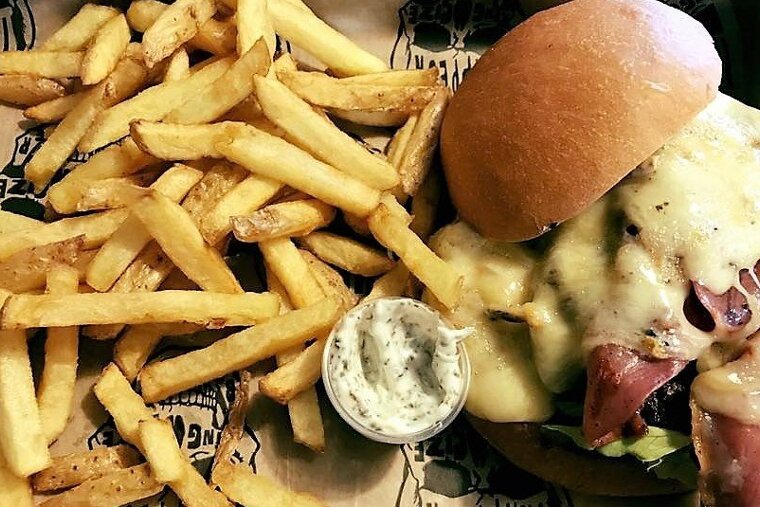 Le Trappeur, now in its third season, is located by the DMC lift station, at the top end of town on Avenue du Rif Nel. Although it's fairly basic and café-style in its décor, it's definitely high-end on quality. It's got a surf-skate-chic style to the interior and the music further adds to this. The coat hangers are skateboard wheel chucks – really cool!
The revised menu for this season has 12 different burgers, including 10 beef-based, one chicken-based and a veggie burger. You can also get a couple of salads if you fancy but, let's be fair, this place is all about burgers. The house speciality is the Jack Daniels burger which comprises of a 150gr beef pattie, a shot of "Jack", three rashers of bacon, a hash brown, salad, onions and barbecue sauce. All of the burgers here are available as singles, doubles and a not-for-the-faint-hearted triple burger. If you are hungry, a single burger is for you and if you are absolutely "Hank Marvin" then it's a double – as for the triple burger, I guess a stint on a desert island may be the necessary precursor.
Le Trappeur is open from 19:00 to 22:00 and they also offer free home delivery so you can enjoy burgers in your chalet. Prices range from €13 for a single cheeseburger with homemade chips up to €21 for a triple "Jack" burger and fries.
Smithy's Tavern - Or is this the best burger in town?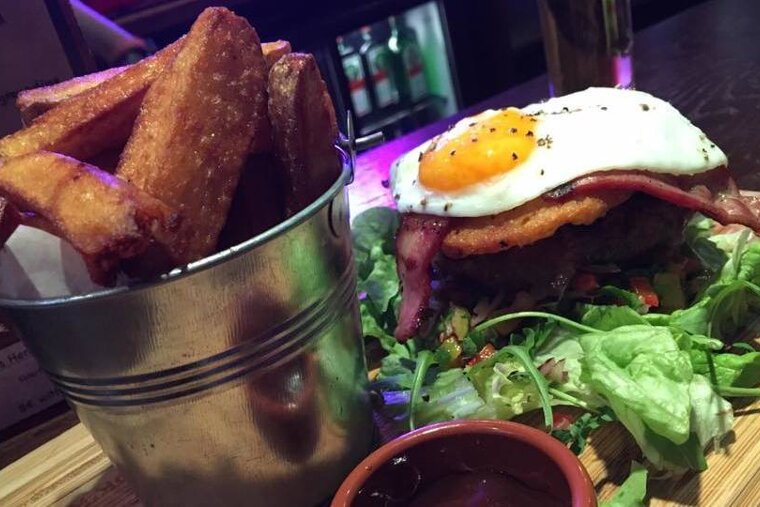 Smithy's Tavern is located in the heart of resort, next to Lounge 21 and above L'Igloo Nightclub on Rue du Coulet. the fact that it's now in its 22nd season just about says it all, this is one of Alpe d'Huez's top eateries and nightspots. Ever popular with British tourists and seasonnaires alike (it also has ultra-reliable Wi-Fi), its fabulous burgers are available every night – they are truly mouth-watering, prepared fresh on the premises. Monday night is Burger Night when the extended burger menu is on offer including a wide range of beef, chicken, veggie and pulled pork burgers. There are 17 in total to choose from, so they really offer something for all tastes.
The burgers are all priced at €12 and represent fabulous value for money, especially taking into account that a "demi" (a half pint) of Carlsberg is only €2 when ordering from the burger menu. If you are in the mood for a challenge, then go for "The Fat Boy" – three burgers topped with a hash brown, onion rings, bacon, cheese and a fried egg – it stands at around 30cm high and is the stuff of legends here in Alpe d'Huez. All the burgers come with a choice of chunky hand cut, sweet potatoes or skinny fries. They are served from 18:00 until 22:00.
Les Bergers Cafe - Slopeside burgers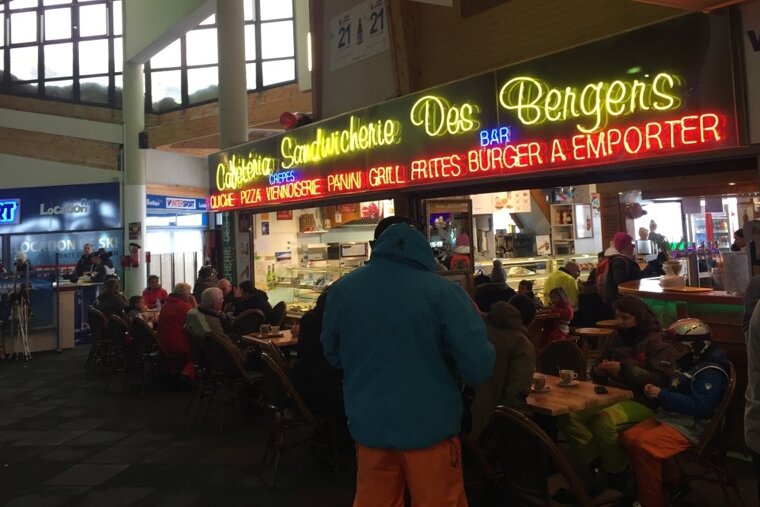 For a good burger at lunchtime next to slopes, the Cafeterie Sandwicherie des Bergers in Les Bergers Commercial Centre is a great option. It's only a few metres from the Marmottes 1 lift and is always busy, with a good range of menus for different burgers, sides and drinks. It's also a popular haunt with the ESF instructors which is always a good sign.
L'Indiana Bar - Après-ski burgers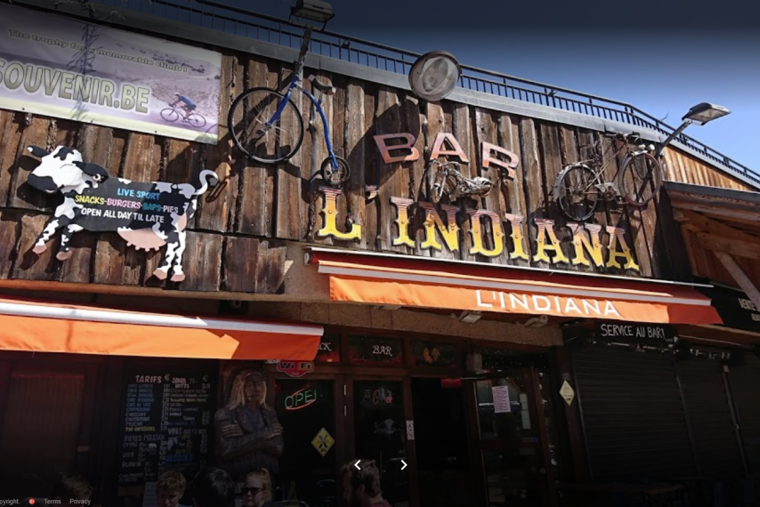 L'Indiana Bar, down in the old town, does a couple of good burgers at very reasonable prices. They also have daily happy hours between 15:30 and 18:30, and again between 21:30 and 23:30 and, in the afternoon sunshine, the south-facing seating outside is truly glorious. L'Indiana has become really popular this season as one of the resort's main early evening après ski destinations.
Gaston Burger - Takeaway burgers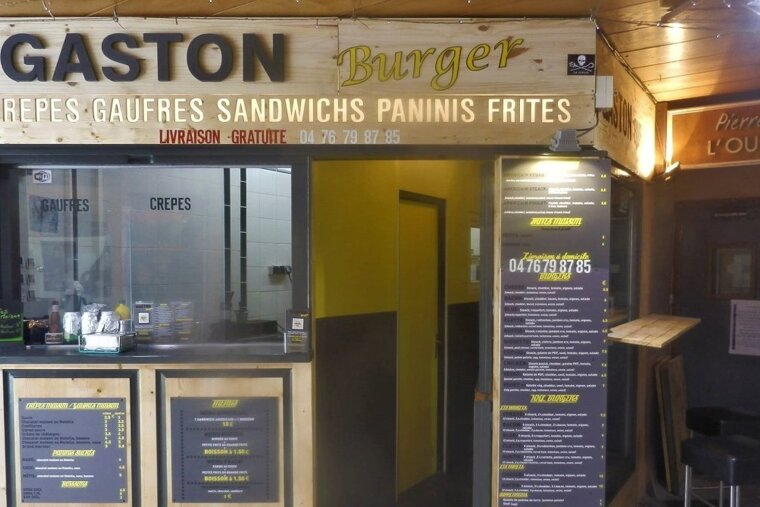 Gaston Burger opens every day from 16:00 to 01:00 so it's good for some late-night munchies. Prices range from €6 for a cheeseburger up to €12.50 for a bacon triple burger. They have a good range of burgerse with 17 different options available. Offering pretty good quality, this long-established takeaway continues to go from strength to strength. Free home delivery is also available between 19:00 and 23:00.
Baba's Burger - The new kid on the block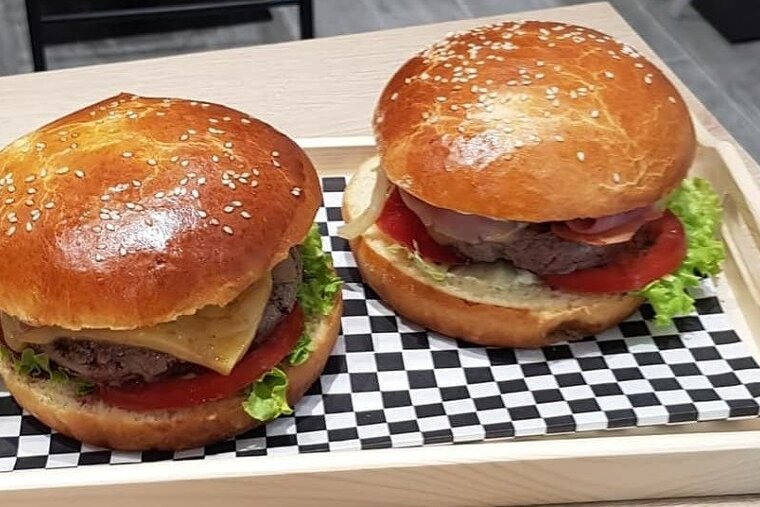 New for this season and located just up from the Old Town is Baba's Burger. Mainly operating as a takeaway it does, however, have seating for around eight people but these seats are at a premium as this place is always super-busy. The high quality of its burgers has seen Baba's rapid rise up the rankings in Alpe d'Huez. The menu comprises of six different burgers plus a daily house special – everything is homemade which is evident in the quality of the burgers. Singles cost €12.50 and doubles cost €16. It's open every day from 12:00 to 14:30 for lunch and from 18:30 to 22:30 in the evening.
More inspiration...
As you can see, there are many places to consider when going out for a burger in Alpe d'Huez. Take a look at our Where to Eat Guide for even more options and book your table.
Bon appetit!