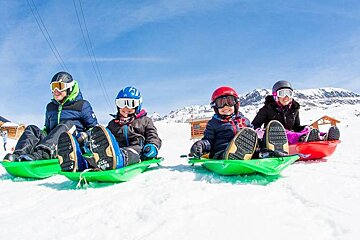 © Laurent Salino / Alpe d'Huez Tourisme
Non-skier things to do in Alpe d'Huez
Can't ski, won't ski? It's not all downhill you know
Whilst Alpe d'Huez is a great ski resort, there are many activities here to suit all non-skiers.
Whilst Alpe d'Huez is a great place to come skiing, there are many activities here to suit a non-skier of all ages and tastes.
Here are some great ideas for you:
Buy a pedestrian pass and jump on a lift
Go to après-ski along with everyone else
Ride a skidoo, horse drawn sleigh or huskies
Book a tandem flight
Go snowshoeing or ski-touring
Go to the sports centre
Visit a spa for some relaxation
Book a restaurant for lunch
Visit a museum or see a film
Learn nordic skiing - you might just like it!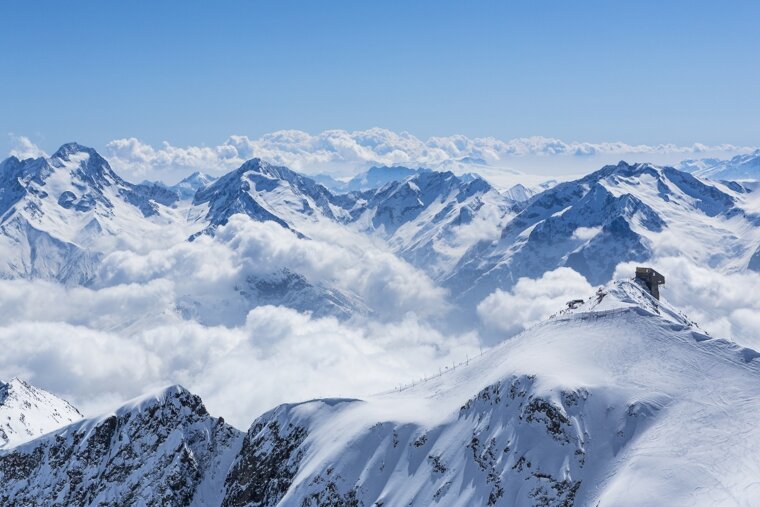 Snow fun without the skis
Buy a pedestrian pass
Enjoy the mountains as a non-skier by buying a pedestrian lift pass. It provides access to 24 lifts, over 35km of marked and maintained winter walking trails, and to many mountain restaurants. Often the mountain restaurants can be reached on foot by ski lift, so it's entirely possible to meet up with your family and friends for some fine dining.
The panoramic views from the mythical Pic Blanc summits are easily accessed by taking a gondola, but you will also be able to visit villages linked to the resort. There are some beautiful well groomed hiking routes around the lakes at 2,100m or towards Col de Sarenne, that are dotted with benches so pack a lunch, and don't forget to visit the ice cave. Local lift operator SATA provides twice-weekly guided tours up to the summit of the Pic Blanc. The views from here are truly epic and, on a clear day, you see for literally miles and miles including as far as Mont Ventoux, the 'Giant of Provence' to the west. These tours start from the DMC lift station at the top end of town.
Après-ski with everyone else
You don't have to ski to enjoy "après-ski". Meet up with the rest of your group in a local bar and share stories from your day over a beer. Or head to the local ice skating rink for a fun evening set beneath the snow-clad Alps. Located in the heart of the main street this is another fun activity you don't need skis for.
Alternatively, grab a sled and head to the designated sledging zone under the Grandes Rousses / DMC gondola, or sled for free on the piste next to the Bergers shopping centre. Night sledding is held on the Butte de l'Eclose slope. Not enough excitement? Then head to the Luge track for a 1km descent with turns, twists, jumps, tunnels, and if you want to add some more thrills just borrow one of their virtual reality masks for an altogether altered experience.
Drive a dog sled, skidoo or go ice driving
Whether on a sledge pulled by huskies, riding your own skidoo, or whizzing across the ice in a car, there is an excursion choice to suit all levels of adrenaline. You can opt to be the 'musher' of your own huskies, or take the less physical option and sit in the sled whilst the guide and dogs do all the work. Operating from the top end of the Altiport at the end of the trail to the Sarenne gorge, the rides take place every afternoon, and it's very popular so we recommend you book in advance.
To try your skills at the controls of a skidoo, there are specific circuits for snowmobiles as well as organised tours you can join, even heading out onto the trails after dark to have dinner at one of the mountain restaurants. Remember to bring or borrow some goggles for this one.
Or if you fancy testing your driving skills, book an ice driving session. The cars all have studded tyres, and you'll learn to control (or not) the vehicle as you whizz across the ice. The circuit can be found behind the Palais des Sports.
Book a tandem flight
Take to the skies for a bird's eye view of the mountains with a tandem paragliding flight, or book yourself onto a helicopter tour.
Snowshoeing and ski-touring
You can really get away from it all and disappear into nature on some snowshoes (raquettes). The area around the fort is particularly popular for snowshoe walking, as is the Sarenne Gorge area up behind the Altiport. If you prefer a guided snowshoe walk, you can easily book a snowshoe excursion with an activity company to see a side of the mountains that most skiers will never see. Full-day, half-day and night-time options are available to take you into the heart of the mountains – from the highest peaks to the wildest valleys. Equipment and transport are usually included, check when you book.
If you've decided the days of skiing up the mountain all-day, every-day, are well behind you, those with previous skiing / snowboarding experience could try ski touring. Hire a guide and pull on some skins for an adventure away from the madding crowd. Popular routes include the Grandes Rousses massif, which has easy routes like the Grandes Buffes or the Croix de Cassini.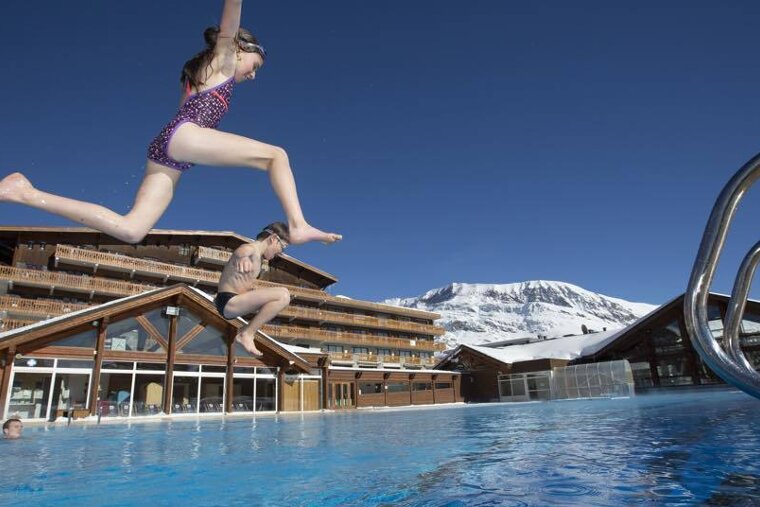 Not just a ski resort
Alpe d'Huez is so much more than a ski resort. In fact, you can really have a great time here without setting foot on a lift.
Go for a swim
The town boasts sports venues – an outdoor swimming pool in the centre and the Palais des Sports centre. The outdoor pool is surrounded by wonderful mountain views and the enormous sports centre offers over 20 activities including swimming, badminton, squash, gym with a cardio area, yoga and pilates classes, a climbing wall and much much more. So don't forget to pack your gym kit and a swimsuit (speedo-style only boys).
Book a treatment at the spa
Or if all of that sounds far too active and you really just want to pamper yourself and read your book, or stare at the view, there are numerous spas and treatment rooms you can enjoy. Many hotels have luxury spas which are open to non-guests, the public pools have relaxation areas, and mobile massage companies will arrange to visit you at your chalet or apartment.
Book a table
And when you feel hungry, enjoy some slap up French cuisine with a glass of fine local wine - you deserve it. Many local restaurants have well priced lunchtime set menus offering the same cuisine as their main menus, but often with considerable discounts. Some offer wine tasting sessions also.
See a concert, visit a museum or take in a movie
The local church next to the leisure centre hosts a classical music concert every week, and for those interested in Alpe d'Huez's heritage, the museum regularly holds locally themed exhibitions with history and geology very much to the fore. The region's rich history really means they have plenty to choose from. Or drop into the local cinema, grab a box of popcorn and catch up on the latest releases - look for VOST or VO (version originale) for English language films.
And then there's the ultra-famous Belgian festival Tomorrowland, which attracts thousands of music fans every year, usually held in March, turning this alpine resort into Ibiza on the snow thanks to the first-rate DJs that will grace Tomorrowland Winter Festival's stage. No need to ski for this one!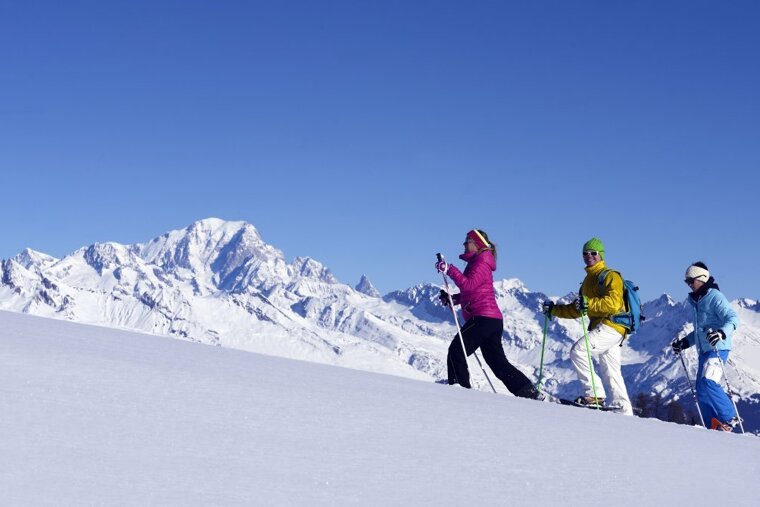 Skiing, but not skiing
Nordic skiing
Still looking for something to occupy your time? There's always cross-country skiing to try. An extremely popular mountain sport, known as 'ski de fond' in France, there are 50km of perfectly groomed cross-country tracks in Alpe d'Huez, with five main looping trails providing an array of terrain. You can hire the lightweight boots, poles and skis fairly cheaply in resort and book a lesson from most ski schools. You can find your way around with the cross country skiing maps.
More inspiration...
As you can see there is more than enough to keep you occupied here during a no-ski skiing holiday. So unpack all those books you planned on reading, you simply won't have time.