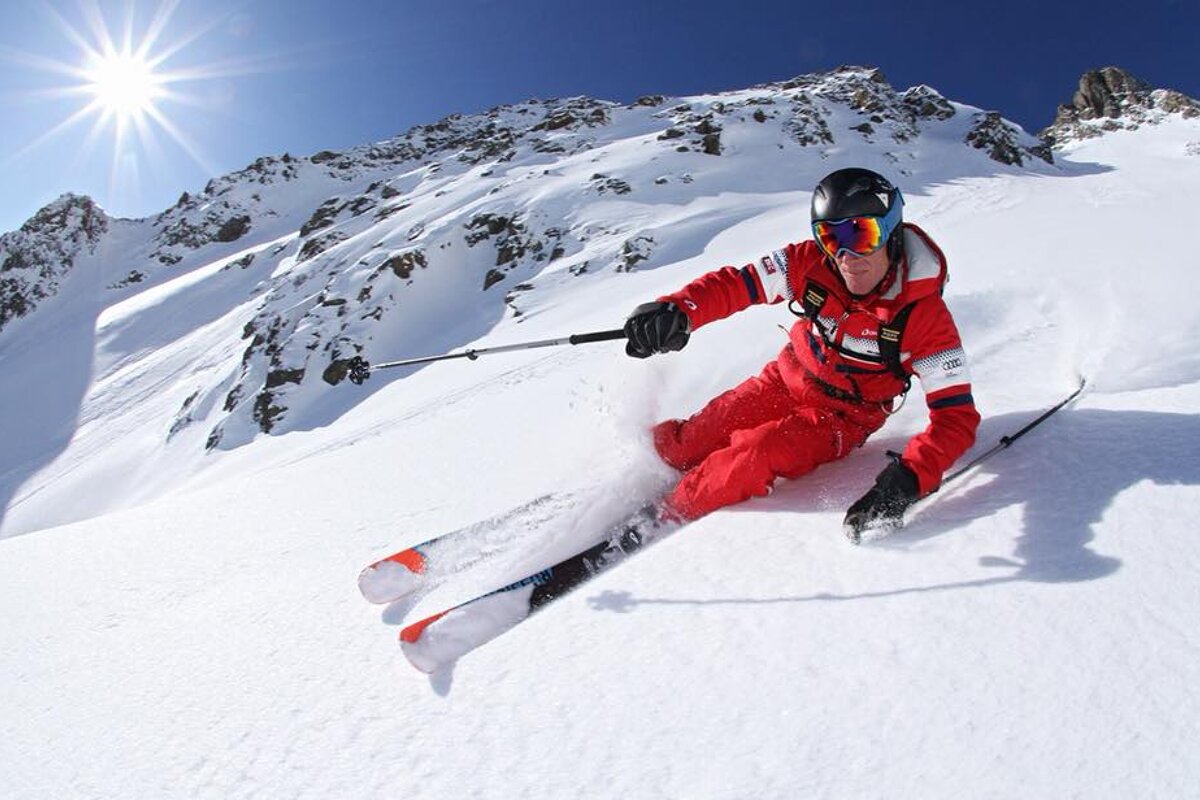 March in Alpe d'Huez: What's On & Weather
The manic pace shows no signs of letting up in March
Magical March sees the half-term holidays behind us and a party vibe settles on the town.
With fewer families around, you also tend to find far fewer ski schools on the hill, which of course, also means an end to those long, snaking trails of beginners making their way down. It also makes for quieter lift lines. So all in all, an ideal month to visit Alpe d'Huez to make the best of the near-perfect conditions.
Read on for a look at what we like to get up to when spring arrives in town.
What are the weather & snow conditions like in Alpe d'Huez in March?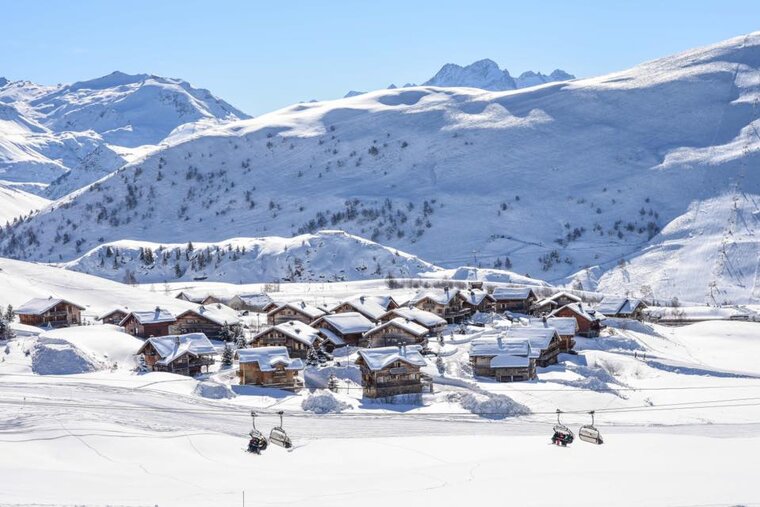 The days are stretching out now with sunrise at the start of March at 07:10 and sunset at 18:22, so there will be plenty of daylight at the end of the day after the slopes close. Traditionally, March sees the end of winter and the start of spring in the Southern Alps.
You can expect temperatures to rise from mid-March onwards and sunshine to be prevalent. There is still regular snowfall, on average 14 days, and the temperatures still dip below freezing at night to keep any new snow nice and fresh. The average daily temperatures generally fall between a high of 2°C and a low of -5°C.
What's on in Alpe d'Huez in March?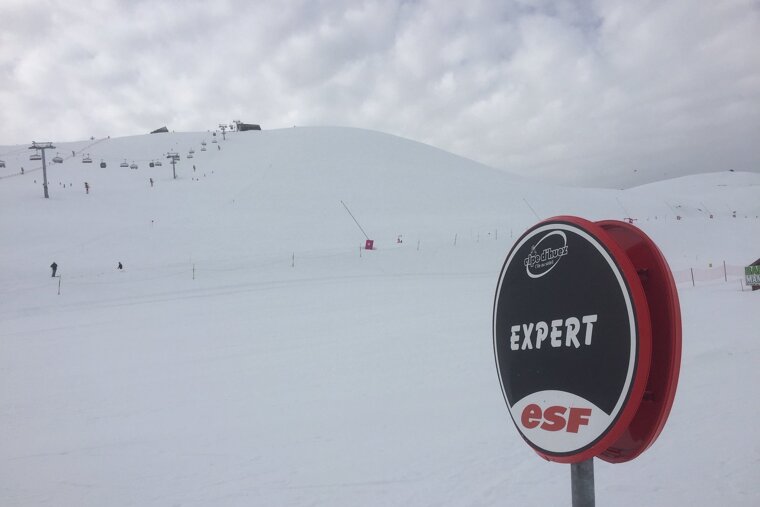 Classical music concerts
If a bit of culture is your thing, then head to the stunning church next to the leisure centre, where the music of Bach, Mozart et. al. is played on the wonderful organ. Each concert is led by a different conductor and features many other instruments and performers from all over the world.
ESF Ski Show
Bringing the half-term period to an end with a bang, the instructors of ESF put on a truly fabulous show including freestyle ski and snowboard tricks, synchronised skiing, a torchlit descent by 300 instructors and a fabulous firework display. The show lasts for around 75 minutes and is one of the highlights of the season.
Derby du Loup
The Derby du Loup or "Race of the Wolves" has risen in popularity each year and now has different categories to accommodate the growing participant numbers. This is an eyeballs-out, no-holds-barred ski race against the clock from the top of Pic Blanc (3,300m) down to the Pont de Sarenne (1,900m) – 1,400 metres of freeride descent for the very best amateurs and professional skiers, telemarkers, mono-skiers and snowboarders. With no pistes, no markers and pretty much no rules – there are just a few mandatory timing gates that skiers must go through but, other than that, it's a real free for all.
There is a best-fancy-dress prize, as well as senior and female categories, with the first prize in the male and female category being a fabulous helicopter ride.
Tomorrowland
Billed as a magical gathering of the People of Tomorrow filled with skiing, snowboarding and the best electronic music. During the day you can party on the slopes at different stages, and in the evening at a covered, heated main stage. Tomorrowland offer various ticket options and the event takes place in the middle of March in and around the village and mountains.
Skiing
Les Cristaux by Atomic et Vola, Alpe d'Huez
A gentle ski race designed with kids in mind, open for 4-12 year olds with gentle slopes, games and gifts for all entrants. 750 children participate in a timed downhill ski race, giant slalom and ski cross course. Local champions will be present to encourage and congratulate the potential medallists of the future. Register in advance at the Tourist Office. FFS license or race tickets are compulsory.
Lessons
Now is a great time to take a private lesson or join a group ski or snowboard lesson, with quieter slopes there's less queues and the softening snow makes for a much kinder landing.
Things to do
Ofe X Day
Local legend and general all-round top girl Ophélie David hosts her annual ski cross competition in the snowpark at the mid-station of the DMC lift. The ski cross legend, winner of the 2007 ski cross World Championships and four-time gold medallist at the Winter X Games, is keen to develop young talent and this is her way of paying something back to her hometown resort. Over two days budding ski cross racers between the age of 11 and 14 will get some invaluable tuition from a true legend of winter sports. Photo and autograph opportunities are aplenty and it's an event well worth checking out.
Ice hockey
Located in the middle of resort is the ice rink, which is home to the local ice hockey team, Les Yetis. Home games have free entry and get underway at 19:00.
Human curling
Also at the ice rink you can take part in 'human curling' - a variation of curling. Here the stone is replaced by a person lying face down on a buoy. By grabbing their feet, the other team members give the necessary impetus to reach the target.
Bars & Clubs
When the lifts close for the day hundreds of skiers / revellers head into town to find an après-ski party, and one thing's for sure, you won't have far to stumble in your boots to find a jug of beer and some good snacks before you head home for dinner... or not! It's easy to find a last-minute table for dinner now the school holiday crowds aren't here.
More inspiration...
There's a lot more than just skiing or snowboarding to do here, the fabulous local leisure centre hosts a plethora of regular activites including indoor swimming, crazy golf, gym, fitness classes, tennis, five-a-side football, squash, badminton and a climbing wall. Take a look at our Events Calendar for a full run down and check out all the Things To Do in resort.
Location
Alpe d'Huez, Alpe d'Huez