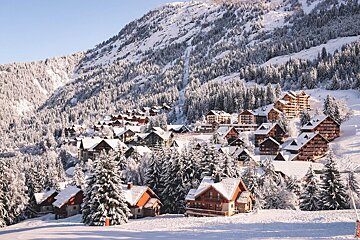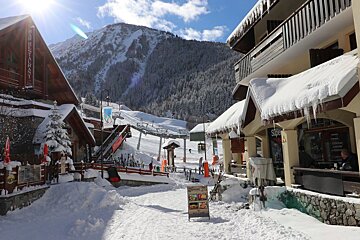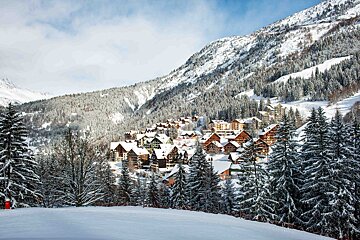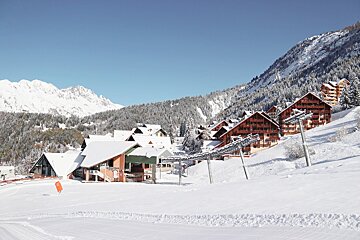 Oz en Oisans
A smaller, purpose-built resort accessible by lifts
The ski station of Oz en Oisans is a small, purpose-built, primarily north-facing resort set at 1,650m, above the tiny village of Oz. Built around the two main lifts serving Oz, the town centre consists of several purpose-built apartment blocks and chalets.
The main market town of the Oisans region Bourg d'Oisans, is a 20 minute (12km) drive away. Being the main town, 'Bourg' offers a wide array of shops, bars and restaurants. It has a large supermarket with parking (ideal for stocking up). Petrol stations, banks, post office, pharmacies, medical centre, bus terminals, builders, merchants, churches, riverside walks, cycle hire, swimming pool, tennis courts, osteopaths (the list goes on!) can all be found in this quaint typically alpine mountain town.
Sights & Attractions in [locality]
The 21 hairpin bends that lead from Bourg d'Oisans up to Alpe d'Huez is probably the most famous climb in the whole of the cycling world. The views from the top of the Pic Blanc (accessed from the DMC lift centre) offers truly breathtaking views, on a clear day you can see Mont Blanc, Les Deux Alpes and even the mighty Mont Ventoux (the giant of Provence!!). Around 45 minutes towards Grenoble is the historic town of Vizille with its museum and Chateau. Top-flight rugby is played at the new Stade des Alpes by Top14 club Grenoble, which is around an hour away. The historic and incredibly picturesque 'Route Napoleon' runs from the area all the way to the Mediterranean, and follows the route taken by Napoleon upon his return from Elba in 1815 and links Grenoble with Cannes (N85).
Events in [locality]
Oz plays host to a leg of the French national MTB championships each year but you'll find most of the events take place in the main part of the resort.
Things to do in [locality]
Being part of the 'Alpe d'Huez Grande Domaine' ski area, Oz offers fantastic opportunities for skiers/boarders of all levels. Nursery slopes are situation right in the middle of the resort centre. The 'Go Ape' a style climbing rope centre in Oz, 'Parc de Loisirs en foret', is great fun in the summer and for the more adventurous of you, Oz provides easy access to tougher via ferratas. There is also a tennis court, swimming pool and ice rink in resort.
The nine-hole golf course in Alpe d'Huez, by the Altiport, consists of six 'pitch and putt' holes to start and three genuine tough par 3's to finish. A tougher nine-hole course can be found in Les Deux Alpes, underneath the 'red jelly bean' bubble car. For a serious challenge try the Golf International at Eybens, around 45 minutes away toward Grenoble (near Vizille). This Robert Trent Jones designed course is regarding a being amongst the best in France. During the summer in Alpe d'Huez most Thursdays you will find a competition at the course which can be entered on the day. The 6th tee box is literally on the runway of the Altiport and offers fantastic views. There are other courses in the area at Seyssins, Charmeil and Uriage (all near Grenoble).
Dining in [locality]
With only a handful of restaurants, choices are somewhat limited here, although Creperie Pizzeria Ello has a good menu.
Nightlife in [locality]
With only a handful of restaurants and bars, Oz doesn't offer much in the way of nightlife. With Alpe d'Huez around 40 minutes away, Oz really isn't the destination for you party goers, more those that prefer a quieter night.
Chalets in [locality]
There are a small number of chalets available to hire in Oz, ideally suited to larger groups or families with five to ten bedrooms each. If you're looking for a quieter getaway, one of these could be perfect for you.
Apartments in [locality]
There is a good selection of apartment buildings in Oz ranging from smaller ones to suit 2-4 people up to large ones for groups of up to 16. Typically traditional in style, you should be able to find something to suit your group and budget.
Hotels in [locality]
There are fewer hotels to choose from here than anywhere else in the area, but what there is offers good quality and comfortable bedrooms.
Location