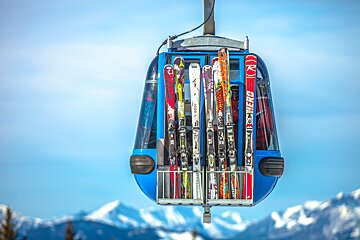 Hiring skis and boards in Alpe d'Huez
Discover the top Alpe d'Huez ski and snowboard hiring options
There are several shops offering ski and snowboard hire in Alpe d'Huez. All of them provide a range of equipment rental options plus the possibility of renting packs comprising of skis or snowboard, boots and poles. We've compiled a list of things to look out for when hiring equipment in Alpe d'Huez, including some tips, pros and cons and our local team's advice.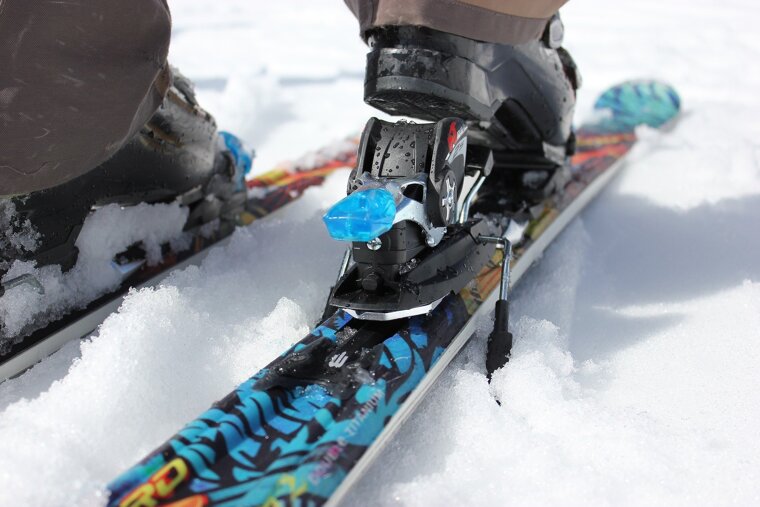 How to arrange your equipment hire in Alpe d'Huez
It may seem straightforward for the uninitiated in the joys of sliding down a mountain, but choosing your perfect snowboard and ski hire involves making a few decisions. These are our top tips to help you find the perfect set up in Alpe d'Huez.
Pre-book online
There are many advantages to pre-booking your gear online in advance. Below are the main ones:
Beat the queues - By letting the hire shop know your shoe size, height (in cm) and ability in advance, they'll be able to get your gear ready before you arrive and will only need to perform minor tweaks to fit them perfectly to you. You'll also save time at the shop.
The best bargains - You can save a substantial amount of money by booking in advance, by up to 50% with additional discounts offered for groups and families. What's more, you won't have to pay extra on your flight for sports baggage.
Your gear delivered to you - Some shops offer the option of delivering to your accommodation, and they'll do the boot fitting in your apartment or chalet so you won't even have to carry your stuff from the shop.
Collect your gear the evening before your first rental day
Most shops encourage collecting your equipment the evening before your first day up the mountain. Many are open an hour or two after the lifts close, so even if you haven't pre-booked you can still stop by the shop the day before your first ski day. Our advice is that you head their right after you've checked in.
Trust the shop staff
There are plenty of things to consider when renting gear. It's not a problem if you don't know exactly what you need, the shop staff will be experienced and knowledgeable technicians who will be able to pick the perfect pair of skis/snowboard and boots for you. Trust their judgement and follow their advice – they know what they're doing. Of course, if you do know exactly what you're after it's good to have discussed this in advance so they can ensure they have it.
Get your gear right
Trusting the shop's staff is the best way to make sure you get the perfect equipment for you, and to make their job easier bring ski socks to improve your boot fitting, know your measurements (mainly shoe size, height in cm and weight in kg), desired ski or board length, take your DIN settings (if you know them), and be honest with the staff (and yourself) about your snowboard or skiing ability.
Rent near your accommodation or the lifts
A key thing to consider is how close the hire shop is to your accommodation and the lifts/pistes. The closer the better, not just for collecting and returning your gear but also in case you need to pop back for advice or to change your equipment. Also if they have overnight storage available for clients, it's useful if it's on the way/near to the lift station you'll be using, (otherwise it's of no use). Most chalets, apartments and hotels have their own boot room/locker where you can safely leave everything for the night.
Buy the optional insurance
Most ski and snowboard rental companies offer insurance against theft and damage to their equipment (as an added extra). The main reason for this is that most travel insurers don't cover 'loss' of rental equipment, especially if it's stolen when left unattended/unlocked in a public place, outside a mountain restaurant or an après ski bar. For the few euros difference the extra insurance may be worth getting. Just be sure to check with the shop/read the small print what the excess is versus the actual replacement value of the equipment, i.e. if you lose 'old' skis of little monetary value and they need to replace them with new - how much does the insurance actually pay out towards them.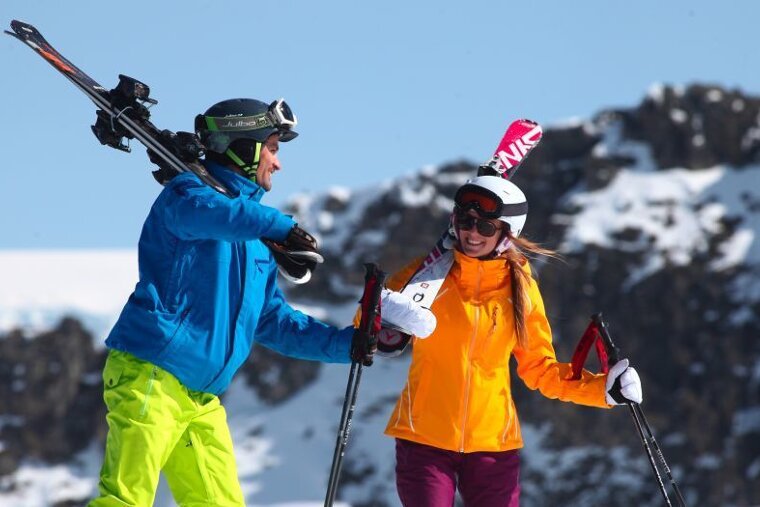 Choosing a rental shop in Alpe d'Huez
Ski hire shops offer a wide range of gear depending on your ability, your gender (although most equipment tends to be unisex), and your age - there are usually four age groups: 3-6yrs, 7-14yrs, 14-17yrs and adults.
Hire options
When choosing what you need be honest about your skills – you want your equipment to help you get down the slopes, not make it more challenging. There are typically four levels of equipment to choose from and the more experienced a skier or a snowboarder is, the better quality equipment they will need.
Ski and Snowboard Hire Options in Alpe d'Huez

Basic Equipment
For beginners or experienced skiers and snowboarders who prefer to stay on the blue slopes. Basic but functional and safe equipment, easy to use and turn on.
Intermediate Equipment
For skiers and snowboarders with a few weeks experience, progressing on red slopes. Equipment that performs better at speed than the basic level but is still forgiving.
Advanced Equipment
For experienced skiers and snowboarders who ski red and black slopes. High-quality skis or snowboards, usually less than two years old, which perform well on steep slopes.
Premium Equipment
For very experienced skiers who want to try the latest equipment. Top of the line, latest generation skis with specialised slope, all-mountain, freestyle or freeride profiles.
In the past few years ski and snowboard gear has diversified and most hire shops will stock a selection of slope, all-mountain, freeride or freestyle skis and snowboards as well as race skis, mini skis, touring skis, split boards, powder boards and cross country skis. You won't need to know about the technical aspects of any of the equipment when you book, and when you arrive the staff will advise you.
Rental prices in Alpe d'Huez depend on what you're looking for, which in turn depends on a number of things:
Your ability - in general, the more high-end or technical the equipment you want the more expensive it gets. Skilled skiers in search of high quality gear will pay more than beginners for example.
Rental period - costs may rise during peak weeks due to increased demand.
What you need - if you select the pack offer usually comprising your skis/snowboard, boots, as well as poles for skiers, or individually hire one of the multiple elements: skis, boots, board, poles or helmets.
Personal details - age may also be a defining factor on the final price, for example children and teenagers tend to benefit from cheaper rental fees.
Book early - if you're in a position to arrange your equipment hire in advance you're likely to save money versus what it would cost if you simply walked in off the street, because there can be discounts of up to 50% when booking online in advance.
Take a look at our dedicated Ski Gear Guide and Snowboard Gear Guide for more information on the types of skis and snowboards available.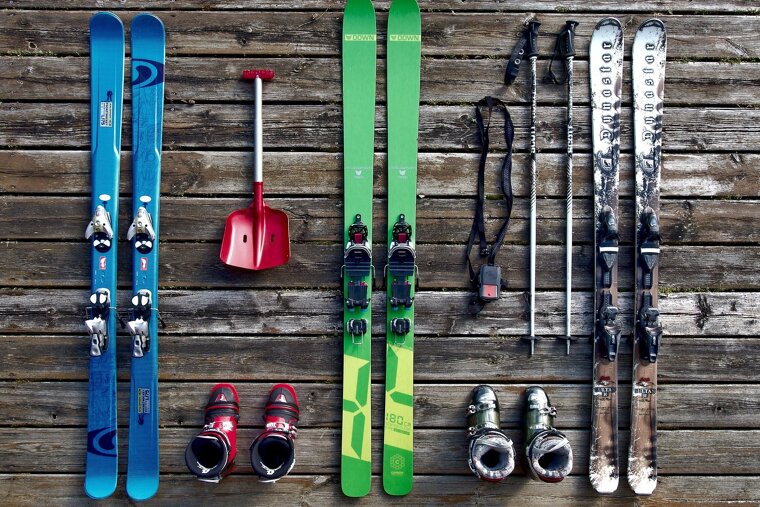 Hiring vs buying
Every intermediate skier and snowboarder's dilemma – should I buy my gear or keep on hiring? We don't have any definite answers here, after all, it's more a matter of personal taste and circumstances. However, we've compiled a list of pros and cons of renting so that you can have a clear idea of what may be the best option for you.
Pros
Better for children and beginners: Kids grow so fast that they're unlikely to use the same equipment next year, while the latter improve and their gear requirements change. Also you don't want to commit hundreds of euros to a pair of boots and skis if you end up never coming back.
Cheaper than buying: If you're skiing for one or two weeks every year, renting may be a cheaper option than buying, especially if you like swapping your gear. You'll also save money on luggage fees and on servicing.
Test out the latest gear: You'll have the chance to try out new skis each year since shops usually stock the latest models, and may even swap them throughout the week (ask at the shop). The choices are endless.
Well-serviced equipment: Your gear will be in tip-top condition. Contrary to popular belief, ski hire shops are great at keeping their rental equipment as good as new. At the very least, edges will be sharp and bases will be freshly waxed.
Lighter luggage: Renting your gear is more convenient when travelling. Your journey is much easier if you don't have to carry ski bags around.
Room for growth: The shop staff will be able to help you pick out the perfect equipment for your current ability, which may change from one year to the next.
Cons
Ill-fitting boots: Rental ski boots may be uncomfortable even if the shop's staff do a great job at finding the perfect size and shape for you. That's because they haven't been fitted specially to your feet and have been worn by a number of people before you. One solution may be purchasing moulded foot beds which you can put into a rental boot – just remember to pack them.
Queues: You'll have to rent your gear every time you visit a ski resort, which means you may encounter queues at the shops. To avoid them, pre-book your equipment online in advance.
More expensive than buying: I know we just said that renting was cheaper than buying but that depends on cost per use and how often you would want to purchase new equipment. Even if buying equipment can cost hundreds, even thousands, of euros, it can still be cheaper if you keep using the same equipment for a few seasons.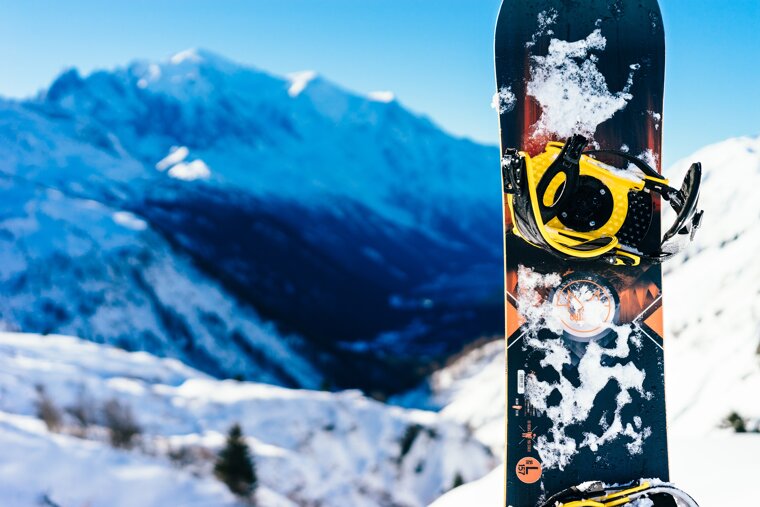 Additional equipment hire requirements in Alpe d'Huez
It's not only skis, poles, boards and boots that hire shops rent out. Many have other pieces of equipment on offer.
Helmet hire in Alpe d'Huez
Most shops rent out helmets and whilst their use is not legally required in France (except in competitions) it's strongly recommended, especially for children, and the ski schools will expect your children to wear one in lessons.
Trends have changed over the last 10-20 years and nearly everyone you see on the slopes is wearing a helmet these days. As well as protecting you from head injuries, most helmets ('casques' in French) keep you warm, are well designed to minimise loss of spatial awareness and provide adequate ventilation.
Snowshoe and sledge hire in Alpe d'Huez
Many shops have snowshoes and poles to rent so that you can explore the trails surrounding Alpe d'Huez on foot. Kids (or the young-at-heart) will be pleased to hear that many also offer rental sledges ranging from simple plastic snow gliders to more sophisticated contraptions.
Mountaineering equipment for hire in Alpe d'Huez
Some specialised hire shops have mountaineering equipment for hire if you're planning a backcountry expedition while in Alpe d'Huez. Avalanche gear including transceivers, telescopic poles and shovels, rucksacks, crampons and even ropes may be available to rent at some of the local ski hire shops.
Apparel for hire in Alpe d'Huez
If you don't want to spend a fortune on your children's jacket and salopettes every year, or pay out for something they'll never wear again (if they hate it), then you can rent them in Alpe d'Huez. There are several online companies that rent out clothing and deliver all over the French Alps, and some will send your apparel to your home address before you leave.