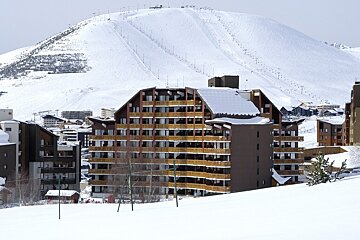 Alpe d'Huez self-catered apartments
Discover the best apartments to rent in Alpe d'Huez
Renting an apartment is often the best option if you want self-catered accommodation for your winter or summer holiday to Alpe d'Huez, especially for smaller groups of friends or families.
There are literally hundreds of apartments in Alpe d'Huez that come in all shapes and sizes, ranging from small but functional studios to large properties with five-star luxury facilities. They are quite flexible in terms of catering choices and, sometimes, dates and duration of stay. Because they're generally self-catered, renting an apartment tends to be cheaper than staying in a catered chalets, so they're a great choice when looking for a budget-friendly base at the foot of the slopes.
This guide will help you choose the perfect apartment for your holiday.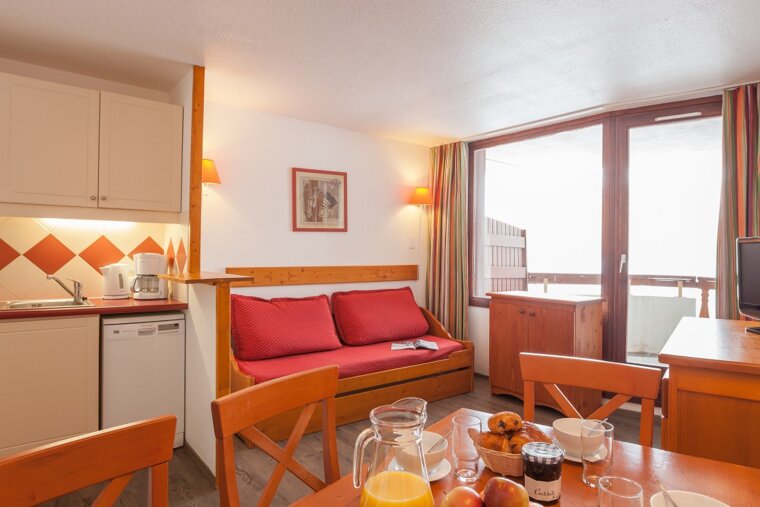 Things to look out for when booking an apartment in Alpe d'Huez
When planning your break away to the mountains here are a few things worth thinking about before you decide what to go for.
Book early
We recommend you book your apartment accommodation as soon as possible. Apartments usually sell out quite quickly and a lot of people book as early as January for the next winter season. Book it before buying your flights or train ticket, the reason being that availability may be limited and arrival/departure dates are not always as flexible as travel options.
How long you want to stay
Most apartments in Alpe d'Huez are rented on a weekly basis only. You'll find that Saturday to Saturday rentals are most common, but increasingly with the times being as they are, dates can be flexible and some chalet companies may provide a mix of Saturday and Sunday changeovers.
Plus shorter and longer breaks are becoming more and more popular, so some companies may be flexible on their rental dates on request. Summer bookings in Alpe d'Huez are generally much more flexible on dates and length of stay, especially outside the peak months of July and August. This means that you can come for a long weekend, for ten days or for a few days mid-week more easily.
Size matters
Apartments to rent in Alpe d'Huez range from small studios to large chalet-apartments, making them suitable for all sorts of parties, from couples looking for a romantic escapade to families or groups of friends. Before booking your apartment, you'll need to know the exact number of people and the ages of the children coming with you on your holiday.
Know your wants and needs
There are literally hundreds of apartments on offer in Alpe d'Huez, some providing simple accommodation at the foot of the slopes and others boasting five-star luxury facilities. Most come with WiFi as standard, but check before you book if it's important, some have ski-to-door access and state-of-the-art boot warmers, some don't, and if you need a large terrace with breathtaking views, a cinema room, designer décor or a pet-friendly property, make sure you book as early as possible.
You'll also find that many high-end companies offer concierge services who'll take care of everything, from your ski passes to your lessons, your equipment hire, chauffeur services to take you to and from the slopes or drive you around resort, private chefs and spas with massages on demand. You're spoiled for choice in Alpe d'Huez!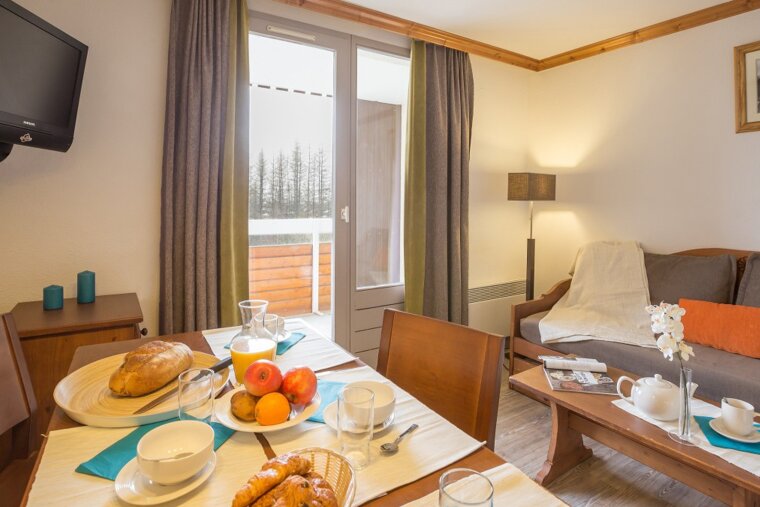 Catering options & apartment add-ons in Alpe d'Huez
Apartments in Alpe d'Huez are generally rented out on a self-catered basis. However, this doesn't mean that you need to take care of everything yourself since many accommodation providers offer a wide choice of add-ons to boost your holiday experience.
Catering
Catering is often top of the list of add-ons and can range from private chefs, welcome packs for your first day, or grocery shopping to fill your fridge and pantry before you arrive. There are plenty of private chefs and catering companies working in Alpe d'Huez, so take your pick – you can hire them for the length of your stay or just a one-off special dinner. Also, in the post-Covid world, food and drink delivery services are springing up in resorts making flexible self-catering much more of an option. Gone are the days when self-catering meant someone cooking every night of their holiday (however, someone definitely still has to load the dishwasher I'm afraid!)
What else is there?
Accommodation companies offer numerous add-ons to make your holiday as hassle-free as possible. When booking your apartment, you can often include lots of other services for an additional fee, from ski hire to ski passes, ski lessons, transfers, activities and anything else you can think of. This means that you can relax knowing that all the different bits of your holiday will be taken care of. Some may even offer a bespoke concierge service through which you can book high-end treats such as a 24-hour chauffeur, massages or private tours.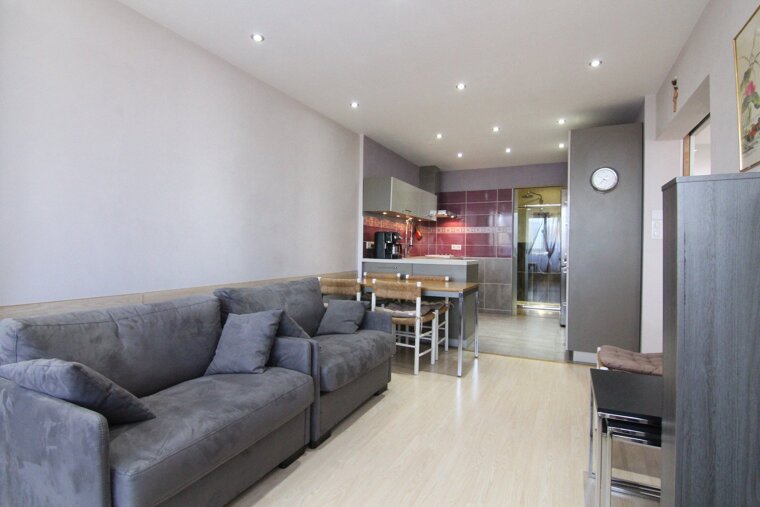 Prices for apartment rentals in Alpe d'Huez
Apartment rental rates depend on many things:
facilities and services
location within the resort
desired dates
size of your party
length of your stay
In general, you can benefit from discounts if you're booking early and outside the main busy holidays (Christmas, February half-term, Easter, July and August).
Luxury apartments in Alpe d'Huez
Millions of euros have been invested in the tasteful development and renovation of former hotels and apartment blocks giving a real boost to the self-catering accommodation market in Alpe d'Huez without damaging the mountain feel of this magical place. Many of these renovations, as well as some of the new-builds, boast five-star facilities including indoor swimming pools, spa rooms, terraces with mountain views and even private hot tubs.
Where can you find luxury apartments in Alpe d'Huez?
The choice of apartments in the centre of Alpe d'Huez is almost unlimited, with everything from studios to spacious penthouses available. These include a few luxury apartment blocks with their own spas, indoor pools and saunas, many located only a couple of minute's walk from the local lifts and in the middle of the resort's busy nightlife.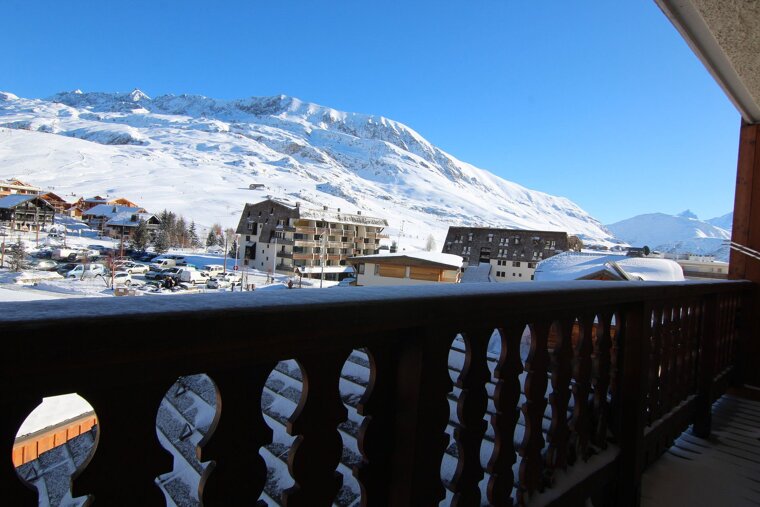 Group apartments in Alpe d'Huez
If you're looking to organise a corporate trip or a holiday with a big group of friends, Alpe d'Huez is a great place to host it. With great nightlife and plenty of choice when it comes to group accommodation, Alpe d'Huez has lots going on and it's situated in one of the biggest ski areas in the world.
Where can you find big apartments for groups in Alpe d'Huez?
Many groups of friends come to Alpe d'Huez not only to sample its world-renowned pistes but also its famous après-ski fun. For them, staying in the centre of resort is a must. Spacious pads sleeping up to 10 people and more can be found here, offering large communal spaces where groups can spend time together after descending from the mountains.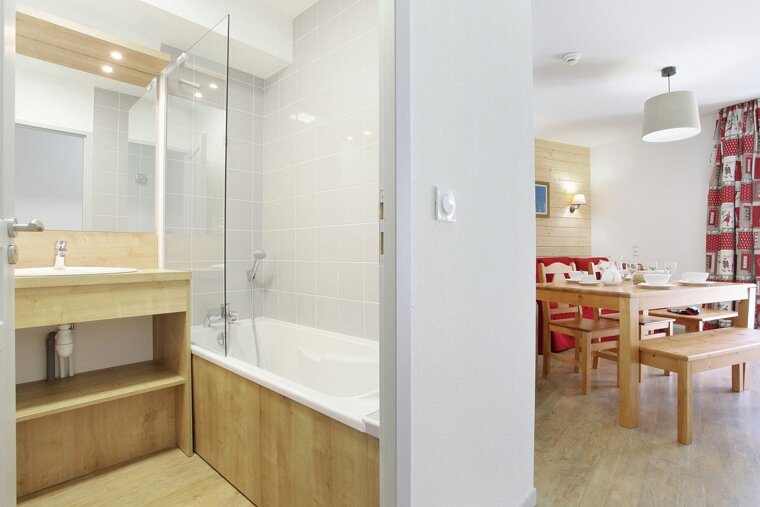 Family apartments in Alpe d'Huez
Alpe d'Huez is really well set up for mountain-loving families, with plenty of activities for all ages and a host of family-friendly apartments. Family holidays tend to have their own unique requirements, and services for families in Alpe d'Huez can range from providing cots and highchairs in accommodation to babysitting and childcare services. Depending on what is going to make or break your family holiday, make sure you discuss it with your accommodation provider before you book.
Where can you find family-friendly apartments in Alpe d'Huez?
When travelling with kids being close to the ski schools' meeting points and nursery slopes, while also far from the hustle and bustle of the resort's centre, is usually what makes an apartment's location just perfect. The Quartier des Bergers and Rond Point des Pistes are ideal for those who value staying near the beginner's ski area, while families who prefer to be close to the sports centre, ice rink and outdoor swimming pool to keep the kids entertained may find that the Quartier des Jeux, bang in the centre of Alpe d'Huez, is a better option. If being in the heart of the action isn't a must, the smaller, outlying villages of Oz en Oisans, Vaujany and, especially, Auris en Oisans offer family-friendly apartments near their less-crowded nursery slopes, while also being linked to the main ski area.
Budget apartments in Alpe d'Huez
Well-known for being more affordable than other big Alpine ski areas, Alpe d'Huez is a great option for those looking for a reasonably priced holiday while still enjoying one of the best ski areas in Europe.
How can you save money on your Alpe d'Huez accommodation?
There are cheap apartments all around Alpe d'Huez but the best bargains are often located outside the main hub, away from the local restaurants, bars and activities. Vaujany hosts some attractive apartments, all lying within a short distance of the village's facilities and ski lifts while the pedestrianised town of Oz en Oisans also has a limited choice of apartments to choose from.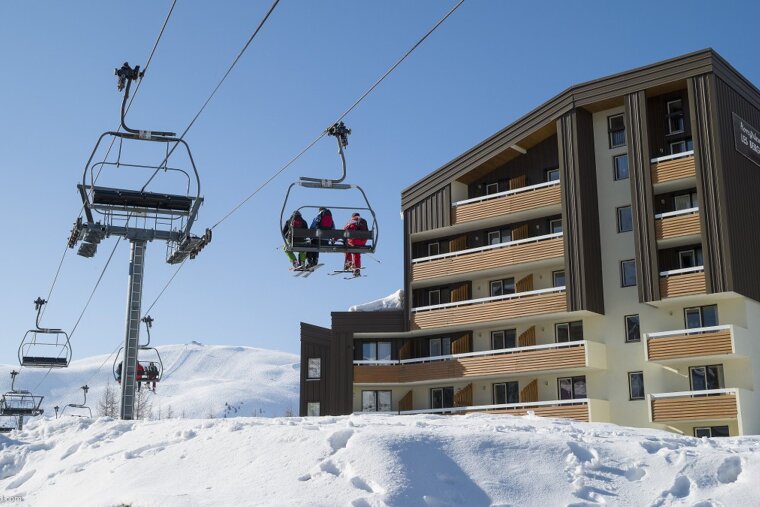 Ski-in & ski-out apartments in Alpe d'Huez
Ski-in/ski-out apartments are the most sought-after in Alpe d'Huez. There's no better feeling than being able to put your skis on right outside your front door.
Where can you find ski-in/ski-out apartments in Alpe d'Huez?
For real ski-in/ski-out accommodation in Alpe d'Huez, you should look for apartments located in the highest areas of town. There are two main ski-to-the-door accommodation hubs: one in the Quartier des Bergers district and the other one on the opposite side of town, by the Rond Point des Pistes and the departure of the Grandes Rousses (aka DMC lift), which is the resort's main snow front.
More inspiration...
Our Where to Stay guide will help give you an indication of the character and feel of the various different areas that make up Alpe d'Huez. There are also wonderful chalets available to rent here, take a look at our Chalets page to see what's on offer.