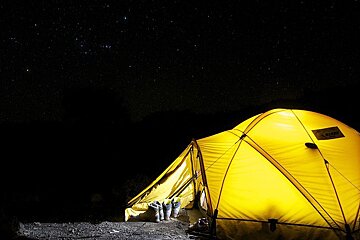 Camping in Alpe d'Huez
Discover insights about Alpe d'Huez camping
Camping is beloved of the French and they do it very well with campsites being an easy and popular accommodation choice - it is also a much more affordable way to enjoy your favourite places.
Luxury camping / Glamping
Some campsites go beyond a cold shower and a chemical toilet, some have untold luxuries such as dining and leisure facilities! If you're partial to a bit of glamping then check out the services offered by each campsite.
Aires de Service
"Aire" is the name given to a lay by where you may pull over and park up for the night - some have facilities such as a toilet block, others are literally a few parking spaces at the side of the road. There is a good guide called All the Aires, that details where to find them and what to expect at each one.
Wild or off-site camping
Camping is forbidden in the mountains and the PGHM will occasionally clamp down on it; however some of the mountain huts allow bivouacking on their land, so enquire if they are happy for you to pop up a tent before heading for the hills.
Campsites in [locality]
There is a choice of sites at Bourg d'Oisans, where you'll also find a few restaurants and bars within reasonable walking distance. Campings La Piscine, La Cascade and A La Rencontre du Soleil at the bottom of the Tour de France climb to Alpe d'Huez all open for the winter season, and offer facilities such as heated shower blocks, drying rooms and cottage or mobile home accommodation.
Further out of town Ferme Noemie offers accommodation in three-star apartments on site, half an hour from either Alpe d'Huez and also a perfect base for exploring the snowshoeing and cross-country possibilities at the little resort of Col d'Ornon. There are also three drag lifts up there serving a beginner area and four alpine pistes, all of which is worth it for the novelty value of skiing a genuinely local resort.