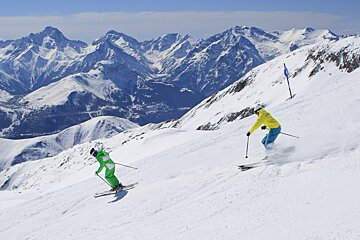 Best pistes in Alpe d'Huez
Discover the best of the Alpe d'Huez pistes
The ski area is so vast it can be difficult to know where to start, so we have put together some of our favourite runs throughout the Alpe d'Huez ski area.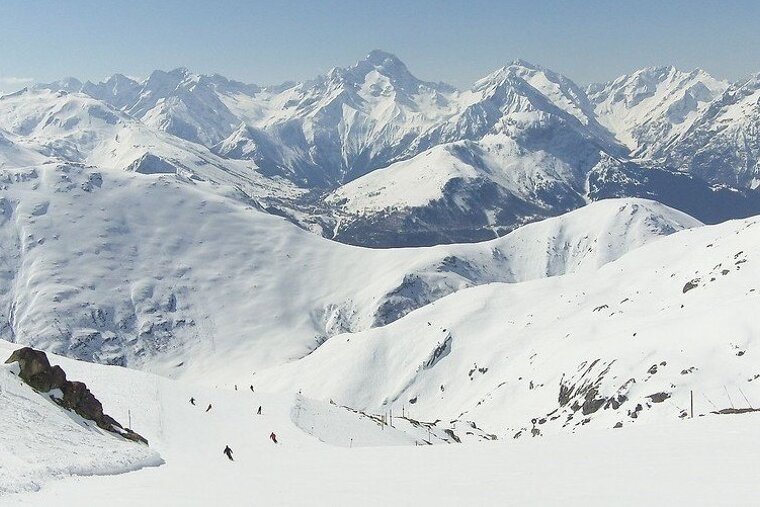 The Sarenne
Fearless intermediates can enjoy this really long black run from the top of Alpe d'Huez and there are two ways that you can approach this spectacular run:
The Sarenne - As it should be done
Access to the Sarenne is simply found by passing the Tunnel entrance and continuing as far as you can go. You have to deal with the black piste that precedes the Tunnel, which is not as daunting as its grading suggests. The run then continues for an estimated 17km and is not really black in terms of difficulty, it actually alternates between blue and affable red until it enters the Sarenne Gorge, when it rather fizzles out into a 5km flat path. Where it distinguishes itself, is that the scenery is stunning, the run is undoubtedly long and you ski a non-stop vertical descent of nearly 2,000m in an undeveloped area of mountain. The reason that the Sarenne is rated black is partly because there is a wide steep 'nearly' black section at the top, but mostly because once a skier has started the run it's not possible to turn back.

The Sarenne - Alternative
By taking the Marmotte III lift you can ski a couple of chairlift served, very high altitude, red and blue runs that liaise at the bottom with the Sarenne run and therefore miss out the black aspect of the Sarenne. There is no run back from the Marmotte III lift that will return you to Alpe d'Huez other than via the Sarenne.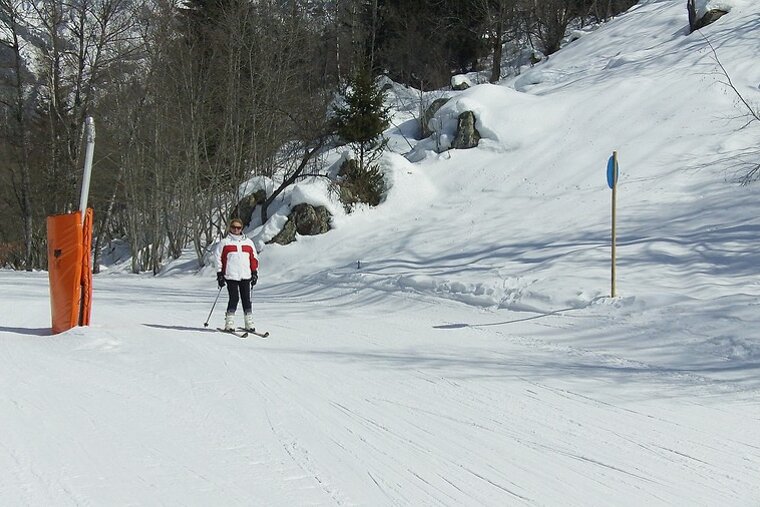 The 8,000 Metre Challenge
The "Chacun son Everest challenge" entails skiing the four 2,000m descents from the Pic Blanc, effectively skiing the height of Everest - 8,000m:
Pic Blanc (3,330 m) - Piste du Tunnel – 2,700 – Piste des Rousses – l'Alpette – Piste des Chalets – Montfrais – Piste de la Vaujaniate – La Villette (1,295m).
Pic Blanc (3,330 m) – Piste du Tunnel - 2,700 - Piste des Chamois – 2100 – Piste de Poutran – Piste de l'Olmet - Oz en Oisans (1,340m).
Pic Blanc (3,330 m) – Piste de la Sarenne - Gorges de Sarenne (1,510m).
Pic Blanc (3,330 m) - Piste du Tunnel – 2,700 - Piste des Rousses – l'Alpette – Piste des Chalets – Piste de la Fare - L'Enversin d'Oz (1,125m).
Once you have completed the four descents, have your lift pass validated and donate €1 to the "A Chacun son Everest" children's charity in exchange for a certificate.
Night Skiing in Alpe d'Huez
Alpe d'Huez is one of the few resorts that offers night skiing throughout the season and it's well worth giving it a try.
Every Thursday (and Tuesdays during French school holidays) from December through to March, the slopes on the Signal mountain are re-prepared at the end of the day and then opened again from 17:30-19:30 (or 18:00-20:00 in Spring due to longer daytime lift operating hours). It's a red graded piste, so is suitable for intermediate to experienced skiers. There's also a slalom course where you'll often see some of the local ski club kids being put through their paces. Night skiing is all included in your Grand Domaine ski pass or you can buy a one-off ticket if you don't have the full pass.
Night skiing in Auris takes place on the Bauchets drag lift every Monday from 19:00-21:00.