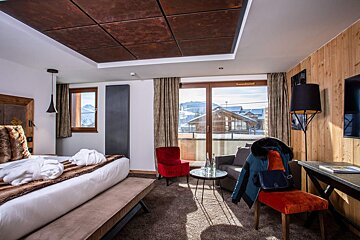 Hotel guide to Alpe d'Huez
Discover insights about Alpe d'Huez hotels
Alpe d'Huez has a good selection of hotels, many are centred around the main resort which is packed with nightlife and restaurants, but there are also quieter places to stay in Les Bergers quarter of resort or down in some of the satellite villages.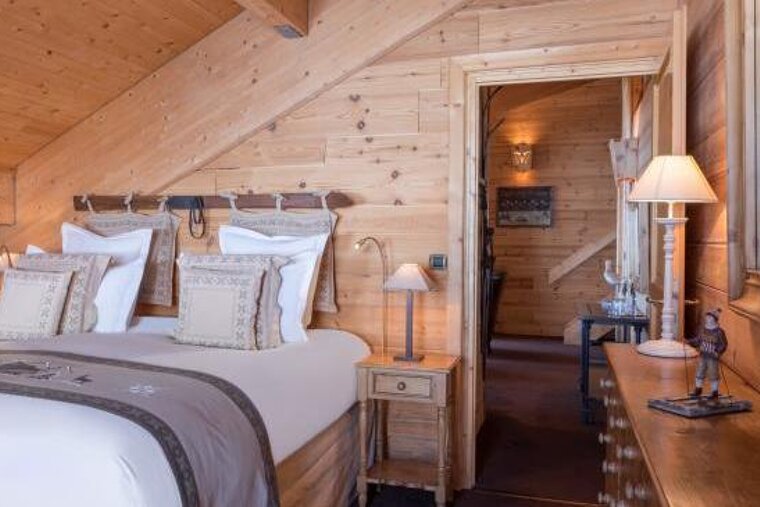 Hotels vs chalets & apartments
Chalets and apartments are usually the most popular accommodation options when it comes to ski holidays. They tend to offer more room, more flexibility in terms of catering and, sometimes, better prices. However, hotels are also a great choice for those visiting Alpe d'Huez, especially when you're not coming for a full week.
Why book a hotel room instead of a chalet or an apartment in Alpe d'Huez?
If you aren't planning on a full week ski holiday, hotels can offer much more flexibility on dates, plus many can't be beaten in terms of extended services and facilities such as gourmet restaurants, spas, swimming pools, fitness rooms, tennis courts, childcare, bike and/or ski hire, flexible catering options... the choices are endless. And even though some apartment and chalet companies have recently made their booking requirements more flexible, the reality is that many can only be booked for six or seven days especially in peak season.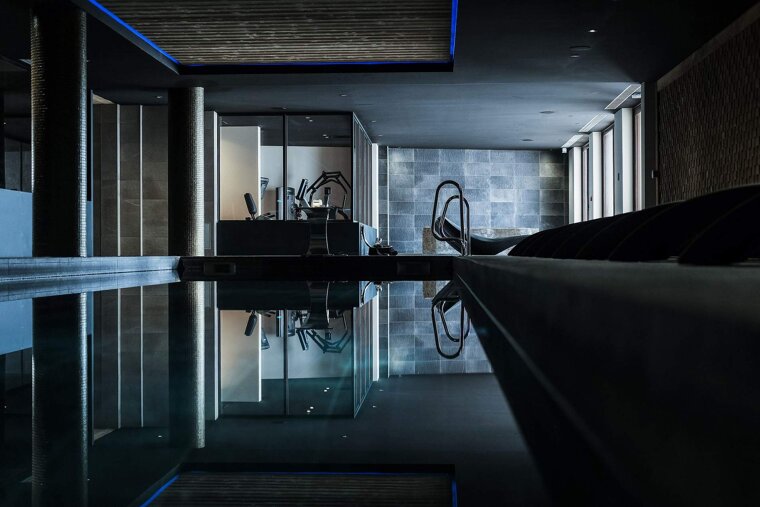 Luxury hotels in Alpe d'Huez
Hotels in Alpe d'Huez tend to be small, family-run establishments rather than the big hotel chains so often found in other resorts. This doesn't mean that there are no five-star hotels in the area. On the contrary, Alpe d'Huez boasts not one but two hotels awarded with the highest rating.
Our favourite luxury hotels in Alpe d'Huez
These are the Alpe d'Huez hotels that stand out from the rest thanks to their top-range facilities and services:
Hotel Daria-I Nor
Opened in 2018, the Daria-I Nor Hotel is the height of luxury in Alpe d'Huez. Not only because of its large spa and gourmet restaurants but also because of its exquisite decor, easy slope access and myriad of services especially geared towards families including discounts for kids and babysitting options.

Hotel Au Chamois d'Or
For a hotel with a more traditional feel, try the Chamois d'Or Hotel which boasts open fires in some of its larger suites, a spa, swimming pool and beauty or massage treatments on demand.
Group-friendly aparthotels in Alpe d'Huez
Alpe d'Huez has a good selection of aparthotels (apartment buildings with hotel facilities) that are great for groups or families sharing accommodation.
Top group-friendly aparthotels in Alpe d'Huez
These are our favourite apartment residences with hotel facilities and services in Alpe d'Huez, offering spacious accommodation for groups.
Family-friendly hotels in Alpe d'Huez
Most hotels in Alpe d'Huez are more than happy to welcome young children and many of them offer family rooms. However, there are many other things to consider, such as distance to the pistes, amenities and services within the hotel and facilities in the neighbouring area.
Our top family-friendly hotels in Alpe d'Huez
This is where we'd book a room if we were travelling with young children.
La Sarenne Hotel
Part of the trusted Club Med holiday resort chain, La Sarenne is the ideal place for families. Not only does it offer ski-to-door access, perfect to avoid trudging across Alpe d'Huez with heaps of ski gear, but also interconnecting rooms, childcare, a kids' club, a games room and even a climbing wall for the little ones. Two restaurants and a fully equipped spa complete the offering. Best of all, this is an all-inclusive hotel so you won't have to worry about any hidden costs.

Le Petit Prince Hotel
For something on the cosier side, Le Petit Prince Hotel is well suited to families. With its own kids' club to keep the little ones busy, an on-site nanny and the possibility to book a large quad room, staying in this hotel will make your family ski holiday hassle-free.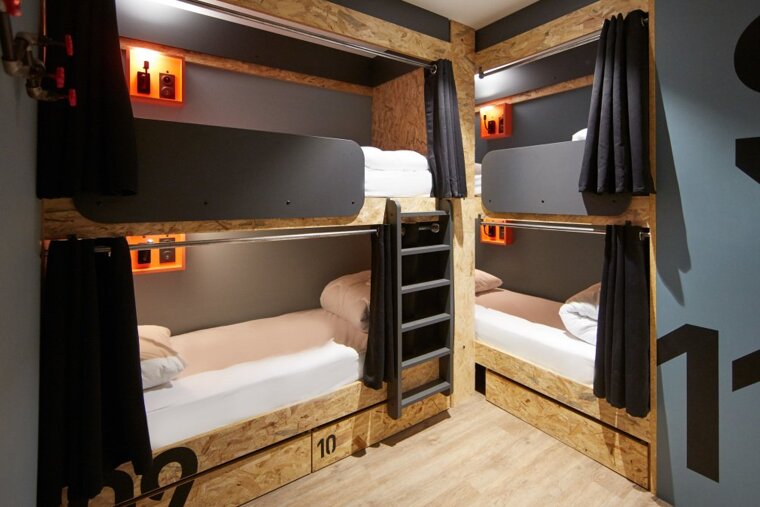 Cheap accommodation in Alpe d'Huez
There are plenty of cheap hotels in Alpe d'Huez offering decent quality rooms at reasonable prices. Many are located in the resort centre, making them a good place to base yourself on your mountain biking or ski holiday while saving some money at the same time.
Best-value hotel in Alpe d'Huez
In our opinion this hotel offers the most bang for your buck.
Moontain Hostel
The cool-looking Moontain Hostel offers shared dorm rooms for larger groups in the village of Oz en Oisans. Everything here is geared towards the digital generation, with an app that will keep you connected with the other guests and a cashless payment system.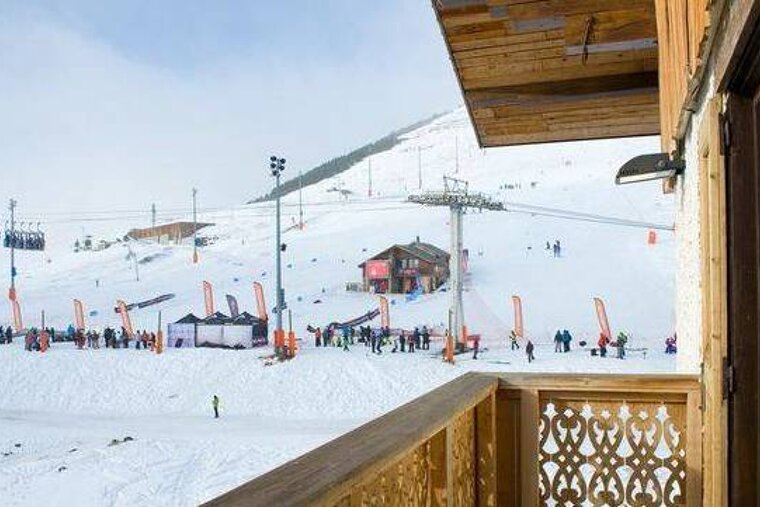 Ski-in ski-out accommodation in Alpe d'Huez
Most of the hotels in the Alpe d'Huez area boast easy access to the pistes and ski lifts, either sitting right next to the foot of the slopes or just a short trip away by one of the free local buses.
Our favourite hotels near the lifts
If we were to choose, these would be our favourite hotels in Alpe d'Huez with ski-to-door access.
Hotel Le Dome
You probably couldn't get much closer to the bottom of the Rond Point des Pistes and the DMC lift than three-star Hotel Le Dome, which is a mere 100 metres away. Choose from 23 bedrooms, a suite or a studio, most of which have a south-facing balcony.

Les Bergers Club Hotel
A four-star large hotel, part of the MMV holiday resorts chain, Les Bergers Club Hotel prides itself on offering ski-to-door accommodation. This is a good choice for families as it has a kids' club and half-board or all-inclusive options.