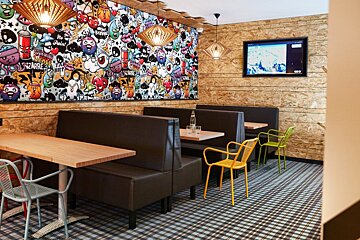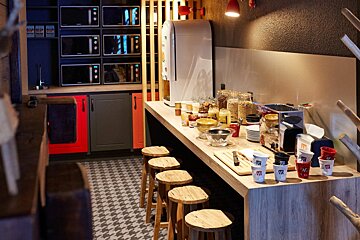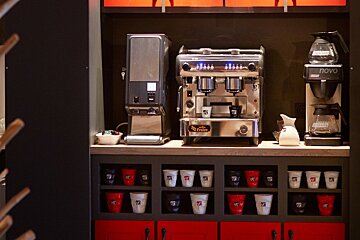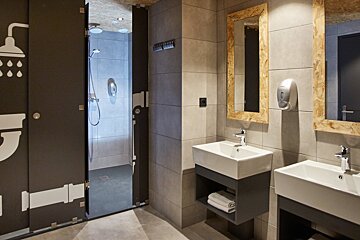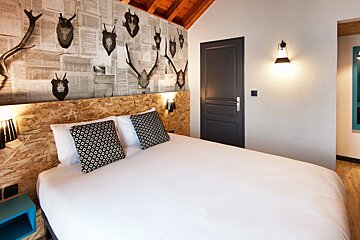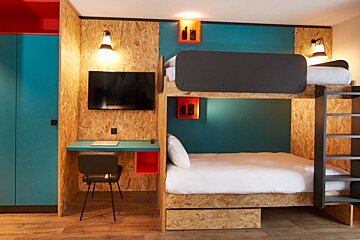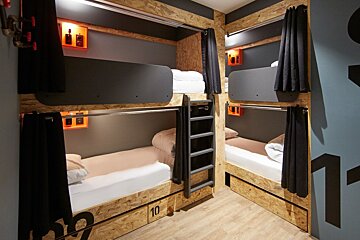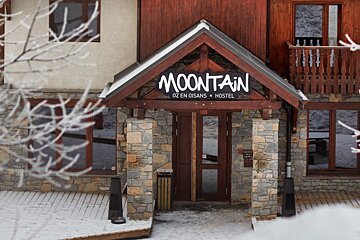 Moontain Hostel, Oz en Oisans
A new ski to the door, concept hostel offering a unique experience
This new generation hostel combines charm and innovation to bring you a personalised package. Situated on the ski slopes of Alpe d'Huez and surrounded by fir trees in the heart of Oz-en-Oisans, Moontain Hostel welcomes visitors of all ages from around the world in winter as well as summer in a green environment.
This concept hostel allows all guests to remain connected by offering an app where you can create your own events or follow Moontain's. In the hall, there's a large interactive screen with additional information about the resort. The hostel also offers a cashless payment system, where payments can be made by phone or through their app.
The hostel offers around 20 rooms of different varieties; shared, exclusive, or private. The rooms are all stylish, well furnished and the layout has been created to ensure peace and tranquillity.
Shared rooms: a room to be shared with friends or other travellers. It is well equipped with 4-star bedding, each bed has a reading light, a blackout curtain, an electric socket and a USB socket.
Premium shared rooms: blending design, comfort and conviviality, the five premium shared rooms have a terrace or balcony, desk and armchair and a private bathroom. This option is ideal if you want the affordable price of a shared room but want to share exclusively with friends and family.
Exclusive rooms: these rooms offer a luxurious sleeping area as well as access to a stylish communal TV lounge area.
Exclusive premium rooms: these rooms are ideal for couples with family or friends and meet the standards of a 4-star establishment. With 2 to 4 beds, most rooms have a terrace or balcony where you can enjoy incredible nights in an original setting.
​You can also book your lift passes when you are booking your rooms.
Worth knowing
An original twist, some shared rooms have tree house beds and all guests can access a shared TV lounge to ensure maximum fun and entertainment.
The hostel offers a luxurious setting with a fully equipped meeting area for 15 people. Their team organises customised mountain-themed excursions: day and night snowshoe hikes, Nordic walking, a resort visit which goes behind the scenes (the snow groomer garage, the snow factory, etc.) or a dinner with the local speciality. For your meeting or team building event, you can contact the management directly by clicking on the enquiry link on this page.
Who should go
This hostel caters for couples, families or groups of friends. The blend of design, technology and flexibility ensures that everyone's needs and desires are met.
The neighbourhood
Oz is a charming family resort labelled Green Station, an ecotourism label in France. The centre is reserved exclusively for pedestrians and all amenities are easily accessible. You can make the most of the mountain vibe.
The Bar
The bar is a great place to meet up after a day in the mountains to discuss adventures over a mulled wine or hot chocolate. In summer, there's a variety of fresh fruit juices and cocktails. In winter, as the bar is situated at the bottom of the ski slope, the exterior is open to the public for 'après-ski' fun.
The Restaurant
The restaurant offers specialities provided by small local producers and greengrocers. The breakfast buffet starts at 07:30 until noon so late risers won't miss out. There's a choice of cereals, jams, bread and hot drinks with orange juice as well as yoghurt and cold meats.
For lunch, you can opt for the hostel's a sandwich kit made of delicious fresh bread, good butter and local cold meats, that you can take away and enjoy on the mountain.
Dinner is served in the indoor and outdoor dining areas where you can sample local specialities like fondue, raclette or tartiflette.
Location