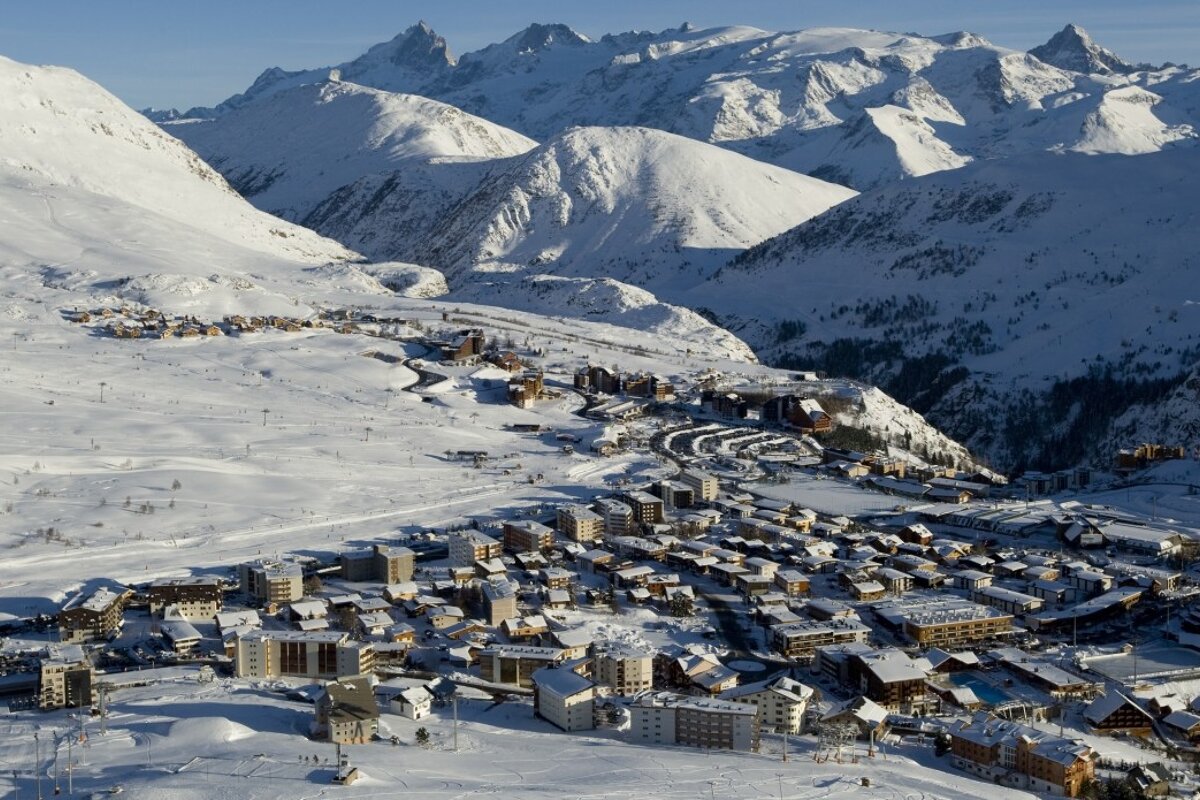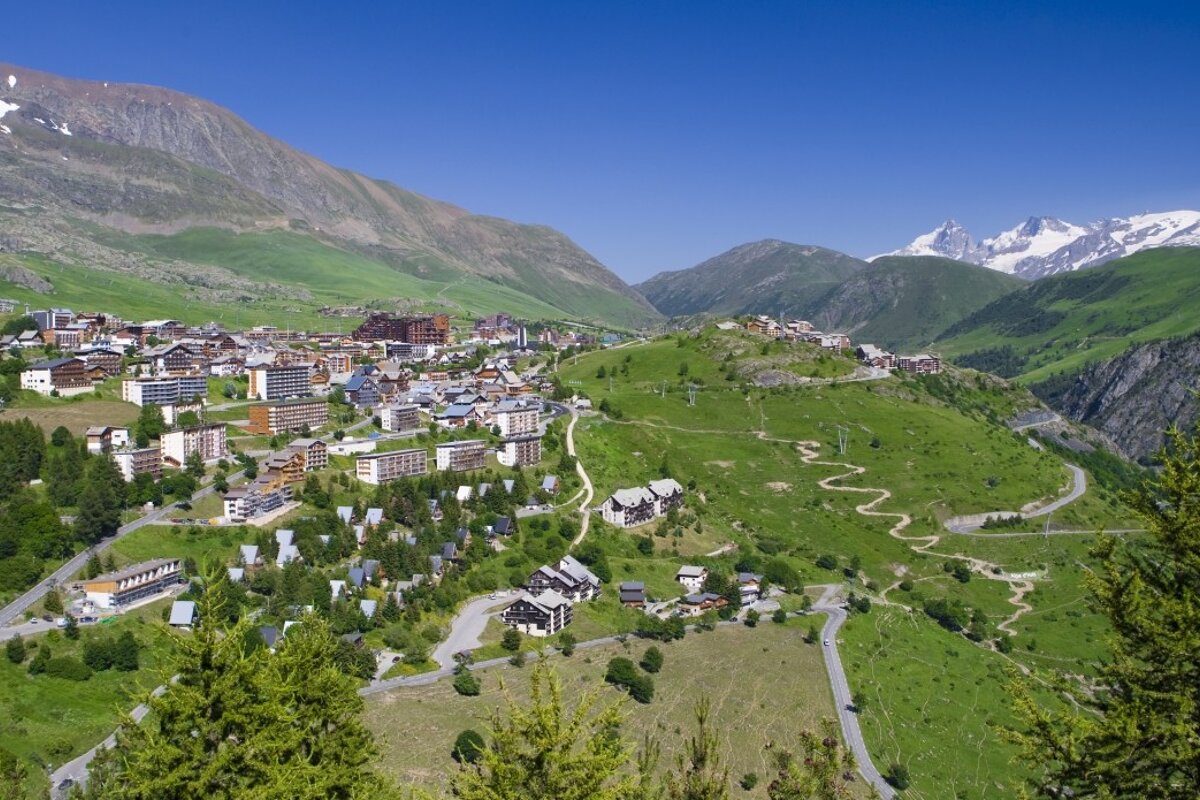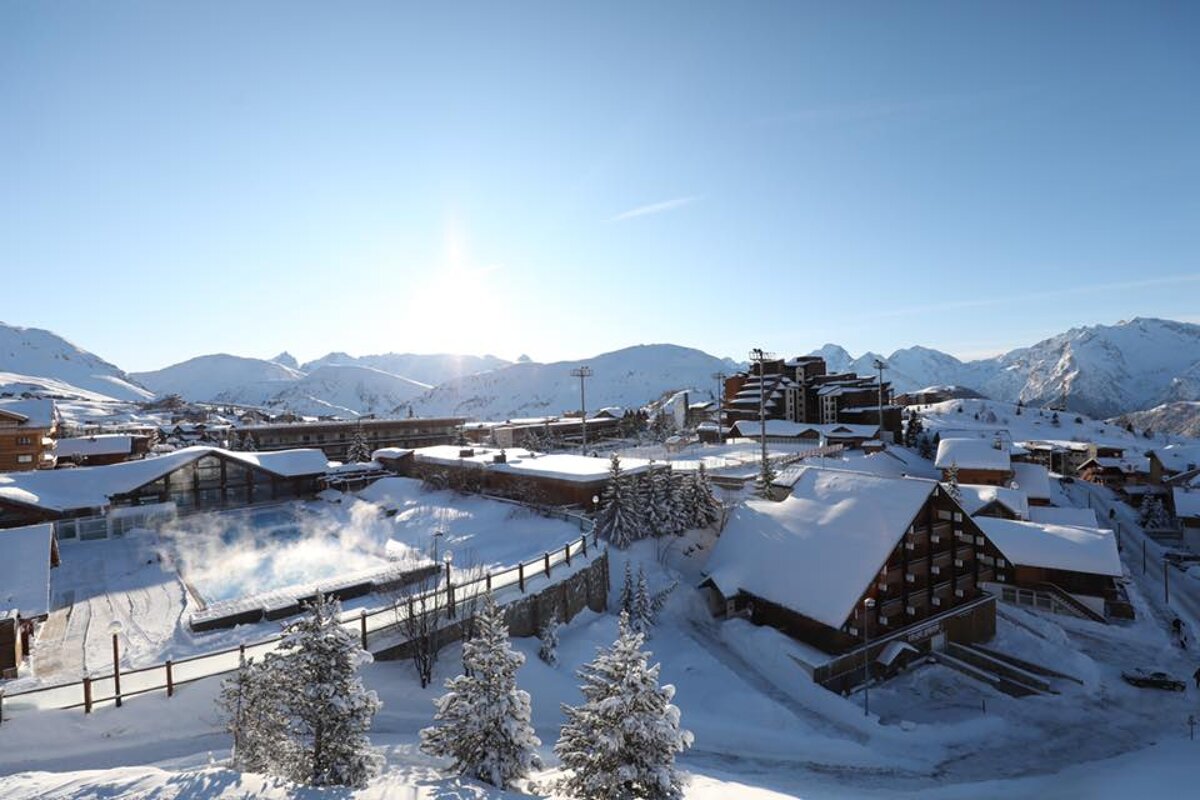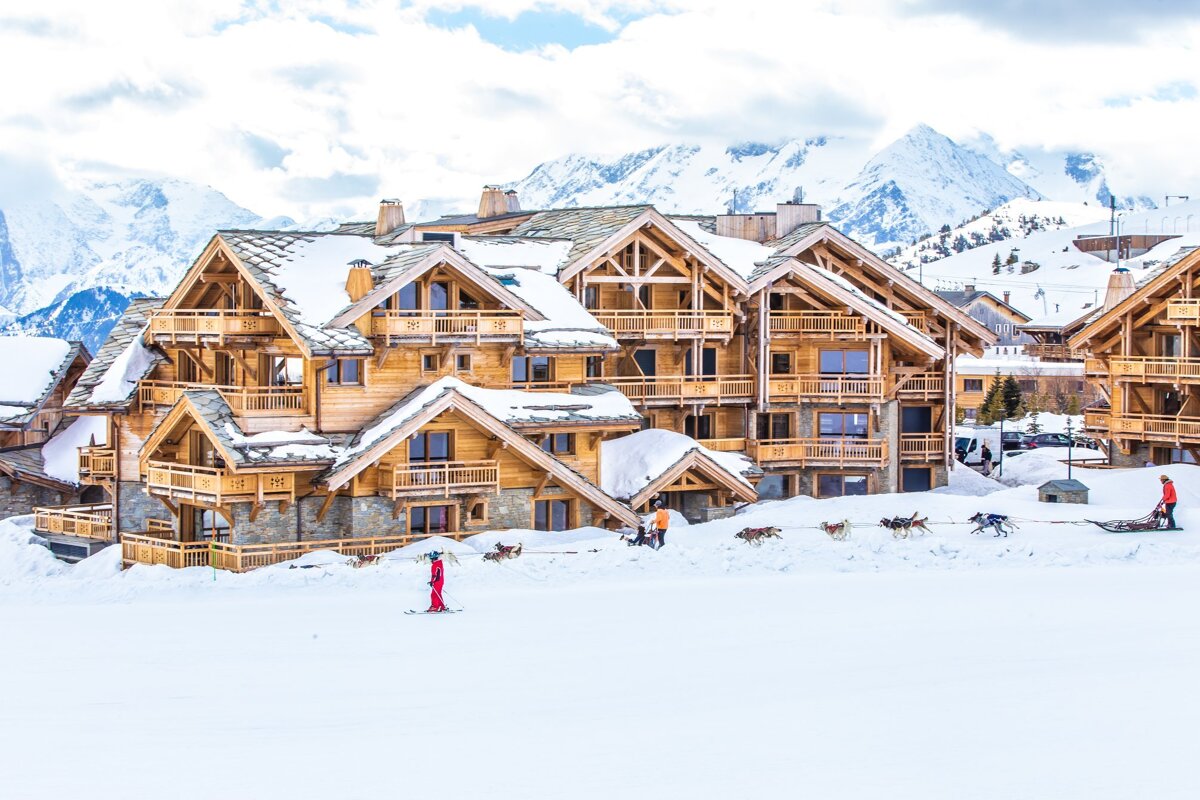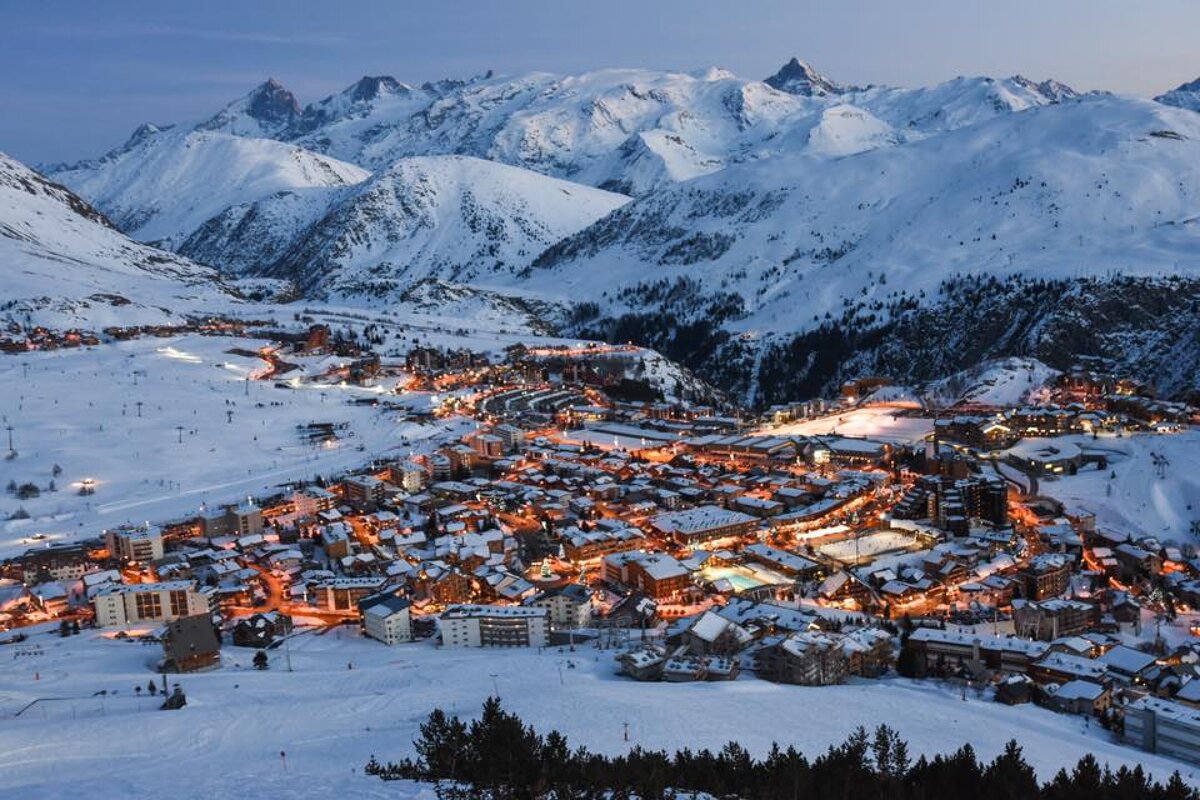 Alpe d'Huez
The central part of the resort where you'll find the most going on
Set at around 1,800m at the top of the world-famous Tour de France climb of the 21 bends, Alpe d'Huez is a large south-facing, purpose-built resort with a fantastic record for both snow and sunshine. Often sitting above the clouds, Alpe d'Huez is referred to by the locals as "Ile du Soleil" or "Island in the Sun".
Split into a number of sectors or 'quartiers', Alpe d'Huez is a thriving year-round resort with a steady community of 1,700 permanent residents. The main districts are Quartier des Vieil Alpe, Quartier des Bergers and Quartier des Jeux. Quartier des Vieil Alpe is the oldest sector and is fairly quiet and residential. It is the most charming part of Alpe d'Huez, retaining many of its original buildings. A wander around its little back streets is worthwhile, and there are a number of traditional family-run restaurants here. Quartier des Jeux is the main 'centre ville' and the place to head for bars, shops and restaurants. Quartier des Bergers is the most modern part of town and also contains its fair share of places to eat, drink and shop. Accommodation here is mainly self-catered apartments.
History & Culture in Alpe d'Huez
Founded in 1936 Alpe d'Huez is one of the oldest French ski resorts and was built, as are so many Alpine resorts, on the mountain pastures that were once home to grazing cattle. However, the history of the area goes much further back to Roman times and beyond.
Sights & Attractions in Alpe d'Huez
The 21 hairpin bends that lead from Bourg d'Oisans up to Alpe d'Huez is probably the most famous climb in the whole of the cycling world. The views from the top of the Pic Blanc (accessed from the DMC lift centre) offers truly breath taking views, on a clear day you can see Mont Blanc, Les Deux Alpes and even the mighty Mont Ventoux (the giant of Provence!). Around 45 minutes towards Grenoble is the historic town of Vizille with its museum and Chateau. Top-flight rugby is played at the Stade des Alpes by Top14 club Grenoble, which is around an hour away. The historic and incredibly picturesque 'Route Napoleon' runs from the area all the way to the Mediterranean, and follows the route taken by Napoleon upon his return from Elba in 1815 and links Grenoble with Cannes (N85).
Events in Alpe d'Huez
There are events in Alpe d'Huez throughout the summer and winter months. Most well known are the 21 bends which often feature in the Tour de France and the Megavalanche, a mass-start mountain bike race that draws thousands of MTB fans from around the world.
Things to Do in Alpe d'Huez
Alpe d'Huez offers a huge array of activities, skiing, snowboarding, sledging, tobogganing, cross-country skiing, on-piste, off-piste, paragliding, Nordic walking and the latest craze 'fat biking' (basically a mountain bike with 4x4 tyres!) to name but a few. There really is something for all abilities and all levels. In summer Alpe d'Huez is a mecca for cyclists and when the Tour de France comes to town so do around one million spectators from all over the world. Alpe d'Huez also offers a tennis club, indoor and outdoor swimming pool, ice rink, leisure centre (gym, climbing wall, indoor tennis, squash, table tennis, etc).
The local nine-hole golf course by the Altiport consists of six 'pitch and putt' holes to start and three genuine tough par 3's to finish. A tougher nine-hole course can be found in Les Deux Alpes, underneath the 'red jelly bean' bubble car. For a serious challenge try the Golf International at Eybens, around 45 minutes away towards Grenoble (near Vizille), this Robert Trent Jones designed course is regarding a being amongst the best in France. During the summer in Alpe d'Huez most Thursdays you will find a competition at the course which can be entered on the day. The 6th tee box is literally on the runway of the Altiport and offers fantastic views. There are other courses in the area at Seyssins, Charmeil and Uriage (all near Grenoble).
The main market town of the Oisans region, Bourg d'Oisans, is a 20-minute drive down the famous 21 hairpin bends of Alpe d'Huez. Being the main town 'Bourg' offers a wide array of shops, bars and restaurants. It has a large supermarket with parking (ideal for stocking up!), petrol stations, banks, post office, pharmacies, medical centre, bus terminus, builder's merchants, churches, riverside walks, cycle hire, swimming pool, tennis courts, osteopaths (the list goes on!) can all be found in this quaint typically alpine mountain town.
Dining in Alpe d'Huez
Be you a fast-food lover or a gourmet fan, Alpe d'Huez caters for all tastes. Pinocchio Pizzeria opposite the ice rink takes some beating, Smithy's Tavern's Tex-Mex themed menu is hugely popular, whilst Lounge 21 above the Igloo nightclub offers a more exclusive feel. Whilst the Edelweiss and La Pomme de Pin, by the ice rink offer traditional mountain cuisine and fondues. On the mountain, situated above the Les Bergers commercial centre, Le Spot, whilst being small, is truly a great 'spot' for lunch.
Nightlife in Alpe d'Huez
Well known and loved for its nightlife, Alpe d'Huez truly offers something for all tastes. La Folie Douce (accessed from Marmottes/Les Bergers lift) kicks off at mid-afternoon and although relatively new, it holds legendary status already, with DJ's and live acts. Smithy's Tavern, O Bar and O'Sharkeys all offer good food, drinks promos and show live sport. The FreeRide Bar next to the ice-rink has a 'stock trading' theme with TV screens showing constantly changing drink prices, pick the right time to buy your favourite tipple or alternatively try someone new at a market low price, whilst drinks trading is fun, it can get quite messy! After all of this you can move onto the Caves or Igloo Discotheques adjacent to Smithy's Tavern just below the ice rink.
Chalets in Alpe d'Huez
From the super-modern to the more traditional Alpine style, there are lots of chalets in Alpe d'Huez to suit every level of budget and group size.
Apartments in Alpe d'Huez
You can find apartments in the centre of Alpe d'Huez ranging from small two person studios up to larger ones with seven or eight bedrooms for groups or families to share. Most are self-catered but some do offer catering options if you prefer someone else to do all the cooking!
Hotels in Alpe d'Huez
There are a handful of hotels in the resort centre which are open both in the winter and summer months. Some can be quite traditional in style with others being more modern.
Location
Alpe d'Huez, Alpe d'Huez