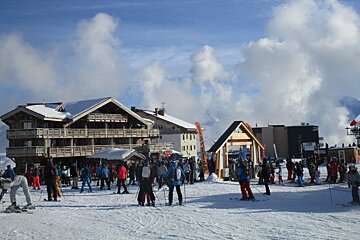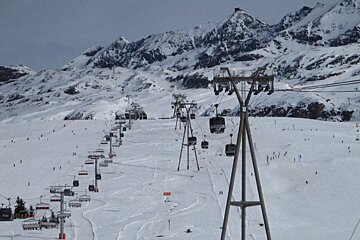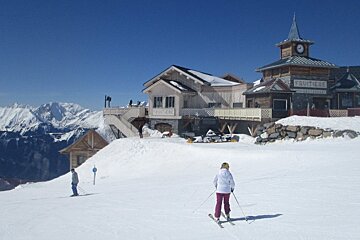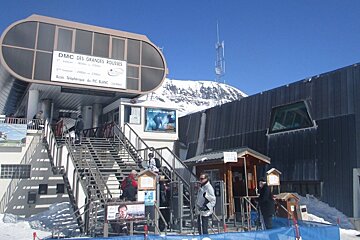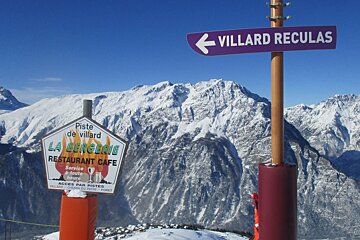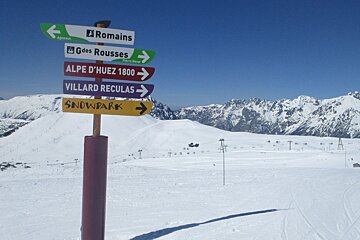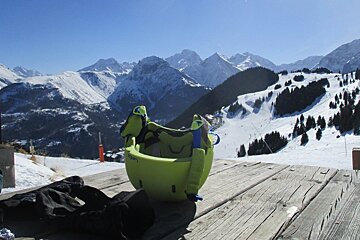 Why Alpe d'Huez is great for beginner skiers
The best advice for novice skiers and snowboarders
A great place for beginners, you'll find so many slopes to explore and enjoy.
Coming to a ski resort for the first time as a beginner skier or snowboarder can be a bit daunting. With a little locals know-how, our tips and tricks will help you make the most of your time here and hopefully leave you desperate for more.
Alpe d'Huez is widely regarded as not only one of Europe's, but the world's leading ski resorts. And it's not all about the legendary Sarenne black run and the mogul-tastic Tunnel, or skiing from the dizzying heights of the Pic Blanc lift at 3,300m. There's a world of beginner areas to explore around the resort and across the whole of the Grand Domaine ski area.
Here are our top tips:
You may not need a full lift pass - beginner slopes are usually low down, easily accessed and some don't require a lift pass at all
Book into ski school, don't let your mates / partner teach you, trust us and hire a professional
Consider your choice of equipment hire shop
Plan your outfit before you arrive
Utilise free public transport
Enjoy the fun zones, they usually have a beginner area
Explore the whole resort, seek out the blue and green slopes away from the beginner zones
Explore the blues and greens of the other resorts included in your pass
Enjoy après-ski - after all you'll have earned your stripes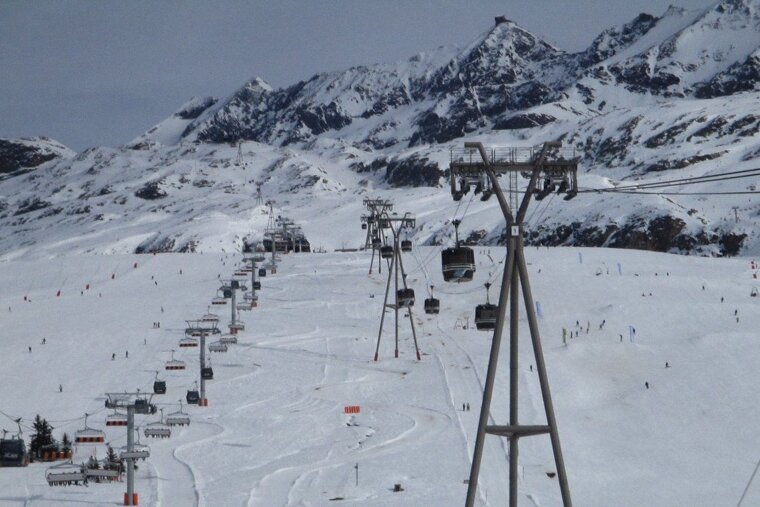 Book online
Whilst it is possible to arrange these things once you're in resort, we wouldn't recommend it - especially lessons. Plan ahead, book what you can, and take the pressure off that first morning.
Lift Pass
If you're a complete beginner and booking into ski school you might not need a full Three Valleys six-day pass. It's worth checking with your ski school before you buy, some schools offer packages that include a lift pass. Buying online couldn't be easier and the pass itself can be recharged / reloaded next time you visit. And rather than opt for them to be mailed to your home address, simply pick them up in resort. It's one less thing to remember to pack.
Lessons
Don't let your friends or partner attempt to teach you to ski or snowboard. Trust us, for the sake of your relationships, put yourself in the hands of the professionals. Luckily there are many ski schools in Alpe d'Huez offering group and private lessons with friendly and knowledgeable English speaking instructors. If you're the only beginner in your group it's definitely worth joining group lessons. You'll learn in a safe and fun environment, and make new friends with rest of your crew over your shared experiences. Lessons are definitely something you should book well in advance to ensure you get your slot - especially if your ski trip is during the school holidays.
Equipment hire
Renting your gear online is often cheaper than in resort, and most shops have beginner ski / snowboard packages on their websites. Also it's worth making sure your pick up point is close to your accommodation, so it's not too far to carry your gear. Some shops offer free locker use near the slopes for customers, delivery services, and may even come to you for fittings on arrival if pre-arranged, especially if there's a group of you. It's worth checking this with the shop before you book.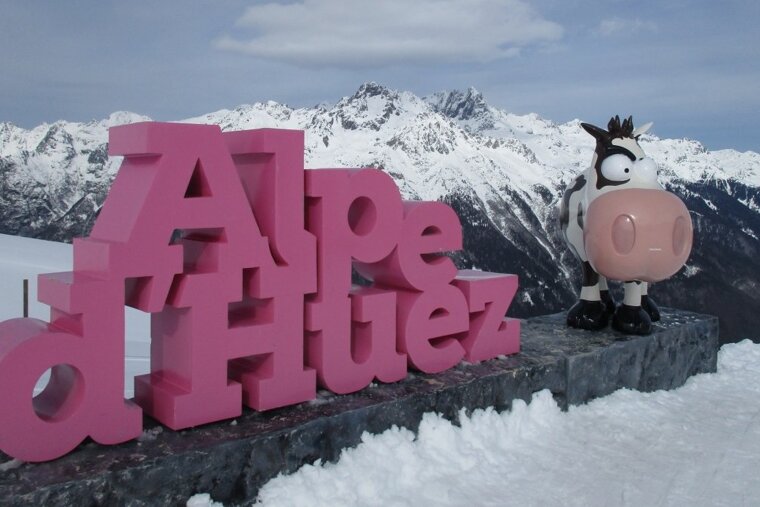 Make the most of your time
All the gear, no idea
For the beginner skier or snowboarder it might seem expensive to lay out for the right apparel before you arrive, and there aren't many places that rent clothing in resort, so borrow what you can, check out the sales and online discounts. At the bare minimum make sure in addition to your trousers and jacket, that you've got a helmet, some goggles, gloves, and technical ski socks. Plus a lightweight back pack is always handy for carrying water, sunscreen and an extra layer.
Get on the bus
Plan your route from your accommodation to the beginner slopes, and use the resort's excellent public transport system to get around until you get the knack of carrying skis and poles like the pros.
The beginner slopes
For the beginner, there really is no better terrain than the slopes that gently surround the DMC and Les Bergers lift systems. From the DMC you can easily hop on the super quick six-man Les Jeux chairlift, which will whisk you up the mid-station of the DMC gondola lift at 2,100m. From here, you have a whole plethora of gently sloping green runs which take you back down to resort level at 1,850m. Jeux, Sagnes and Chardons are all lovely green runs that take you back down the DMC lift centre, whilst the green piste Les Bergers takes you down to the Les Bergers lift station. Any of these runs are ideal for even the most tentative of beginners. Unlike some upside down resorts where all the easy slopes are situated way up in the clouds, virtually all of the green and easy blues are located at the lower altitudes in resort. Whether it be the mid-station of the DMC down or the green runs from Romains and Marmottes1 from Les Bergers, there really is no need to go looking for great beginner trails. This is particularly good for families as little ones can get cold up at higher altitudes.
The fun zones
Marcel's Farm should definitely be on your list of places to ski. From the DMC, all you do is jump on the "chondola" Signal lift (a mix of gondolas and six-man chairs) which takes you up to the top of the Signal slope (2,115m). From here, it's a gentle slide of around 100m to the entrance to the smile-athon that is Marcel's Farm. A wonderfully shaped green piste that features tunnels including the Tina Turn (I kid you not!), a pink cow slalom course, a gentle half pipe called Ralf!, some easy rails, some smooth rollers and a couple of beginner level kickers. Marcel's Farm really is a smile from start to finish.
Explore
It's easy to stick with the tried and tested slopes around Les Bergers and the DMC but, with a little bit of clever thinking, you can easily find some barely used green and blue runs that really are away from the madding crowd. At the far end of the "bowl" is the green run Piste Bob, a cracking little slope that is often deserted. Meanwhile, the blue piste Village runs around the back of the resort and takes you all the way down to the stunning old-fashioned mountain village of Huez. Over in Auris, the runs through the forest down to Maronne offer great skiing through the trees (which can be great in snowy conditions as the trees give some definition) and across in Mont Frais there are loads of easy blues and greens that are often empty.
The Grand Domaine is a truly magnificent ski area that should not daunt the beginner. As a beginner, it's easy to stick to the few slopes on which you have become comfortable, but here in Alpe d'Huez there's a whole world to explore. Jump on the Auris "scare chair" across the Sarenne gorge over the Auris sector, always much quieter and abundant in easy green and blue pistes. The gentle blue run Les Farcis through the forest down to the tiny village of Maronne is a real locals favourite.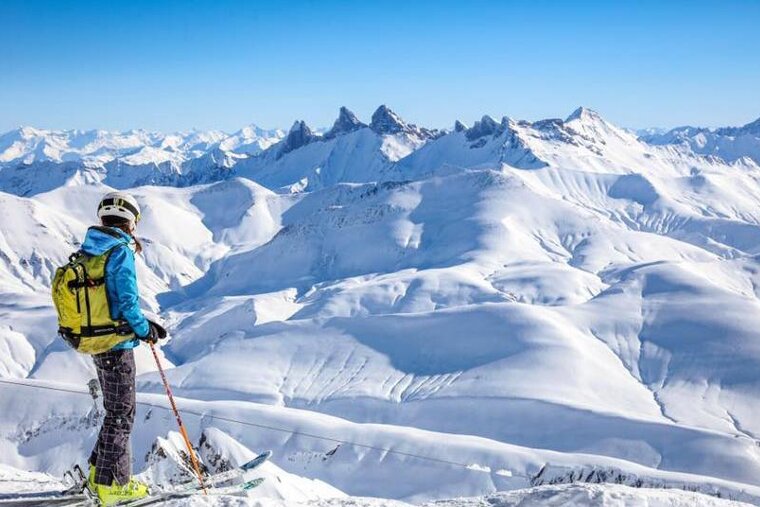 Enjoy après-ski
After all you have earned your stripes (and probably some bruises), now it's time to share your stories from the day with your family and friends, new and old.
Alpe d'Huez is a great place to let off some steam after a day's exertions on the slopes. Whether that's in the local après-ski scene over a beer or two, in a local restaurant, or with a swim and sauna to relax those aching limbs. When buying your lift pass you can opt for the Leisure Plus pass, which for an additional fee gives you access to the resort's outdoor swimming pool, indoor swimming pool, outdoor ice rink and sports centre where you can play mini golf, table tennis and use the gym.
These are great options for a day off the skiing, in the event of poor weather or a great way to spend a few hours after the slopes close.
Families, at the very least, may finally have a shot at exhausting the kids with this option!
More inspiration...
So what are you waiting for? Get yourself out here and have some fun in the snow!