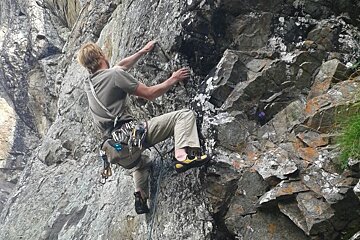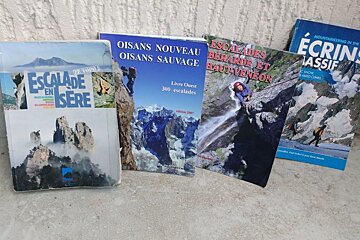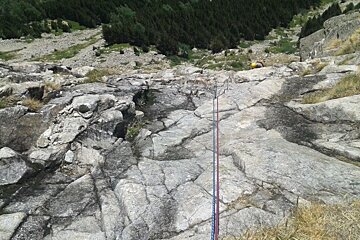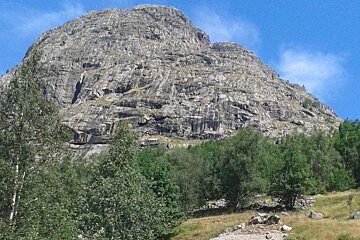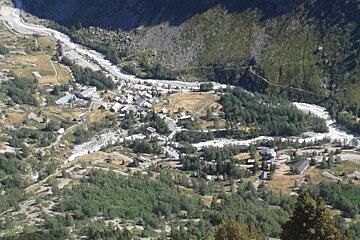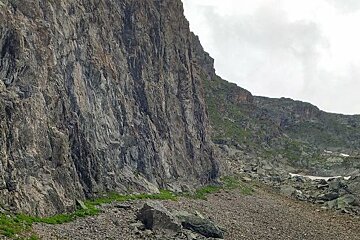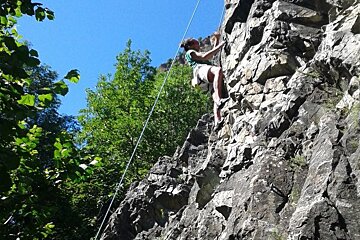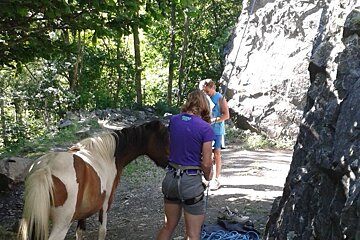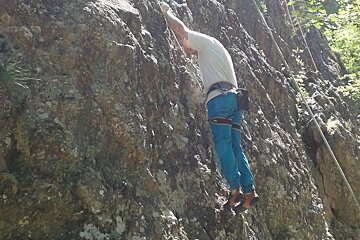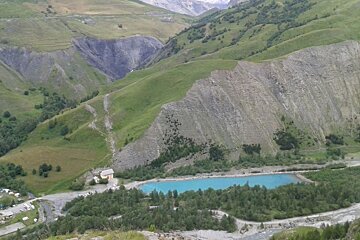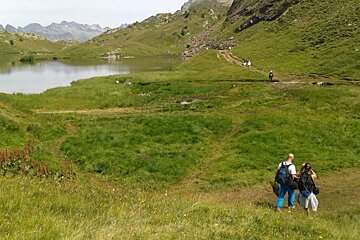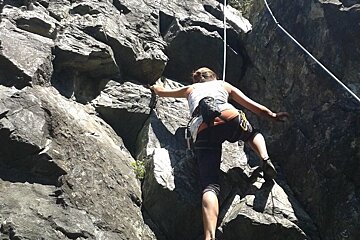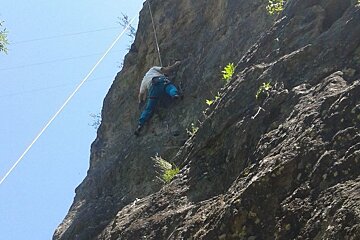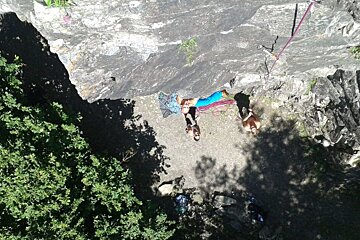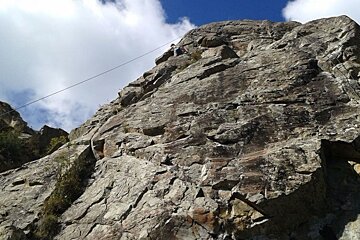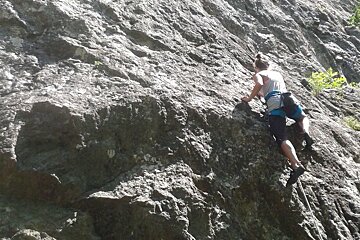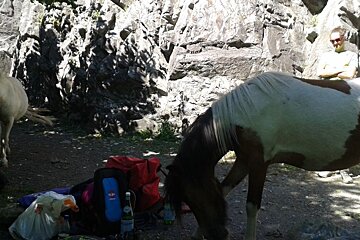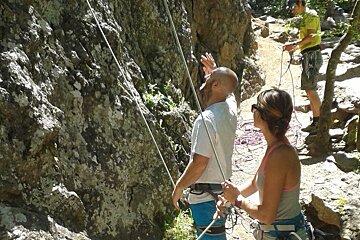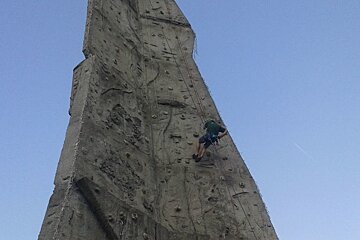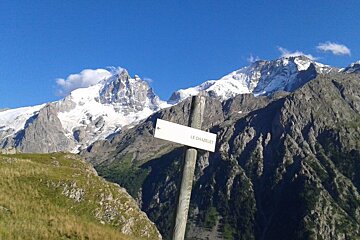 Rock Climbing in & around Alpe d'Huez
The best climbing spots in the region & which guidebooks to buy
The Oisans region is not the best known sport climbing playground in the French Alpes, but there is no shortage of routes, often with spectacular views and a high mountain atmosphere.
Whilst well equipped, maintained and popular with locals, the crags mentioned below are never crowded. You will not queue for routes here like you might at some of the more famous climbing sites in France.
Visitors to either Les Deux Alpes or Alpe D'Huez are able to climb without using a car, but having transport opens up many more options. Most climbers visiting the area will have their own equipment but it is possible to hire harness and shoes in resort. For more choice of equipment (to buy or to hire), the nearest proper climbing shop is La Montagne Sports in Bourg d'Oisans, 20-25 minutes by car from either resort. This is also the easiest place to pick up a guidebook.
This overview is aimed at the experienced climber. For beginners, there is an outdoor climbing wall in Les Deux Alpes and an indoor one in Alpe d'Huez. Mountain guides are available in both resorts for those wanting some instruction or supervision.
Remember, many of these crags are mountain venues, covered in snow and ice in the winter. Freeze-thaw can loosen rock, cause rockfalls and damage fixed equipment. A helmet is recommended, even for belaying. Check the condition of bolts and chains before using them and move with care. Pay attention to the weather – violent thunderstorms can blow up very quickly, and be prepared for wind, rain or cold. Finally, check the length of the routes – some require a 70 or 80 metre rope.
---
Guidebooks
The main crag climbing guidebook for the area is the FFME 'Escalade en Isère' volume 2 (helpfully subtitled 'Ze Topo'). Although written in French, the pictures and diagrams provide most of the information you need. Their website gives up-to-date access information for crags in the area. Proceeds from the book go towards maintaining the fixed equipment at the crags. There are also smaller guidebooks for La Grave, produced by the local guides, and La Berarde, written by Jean-Michel Cambon.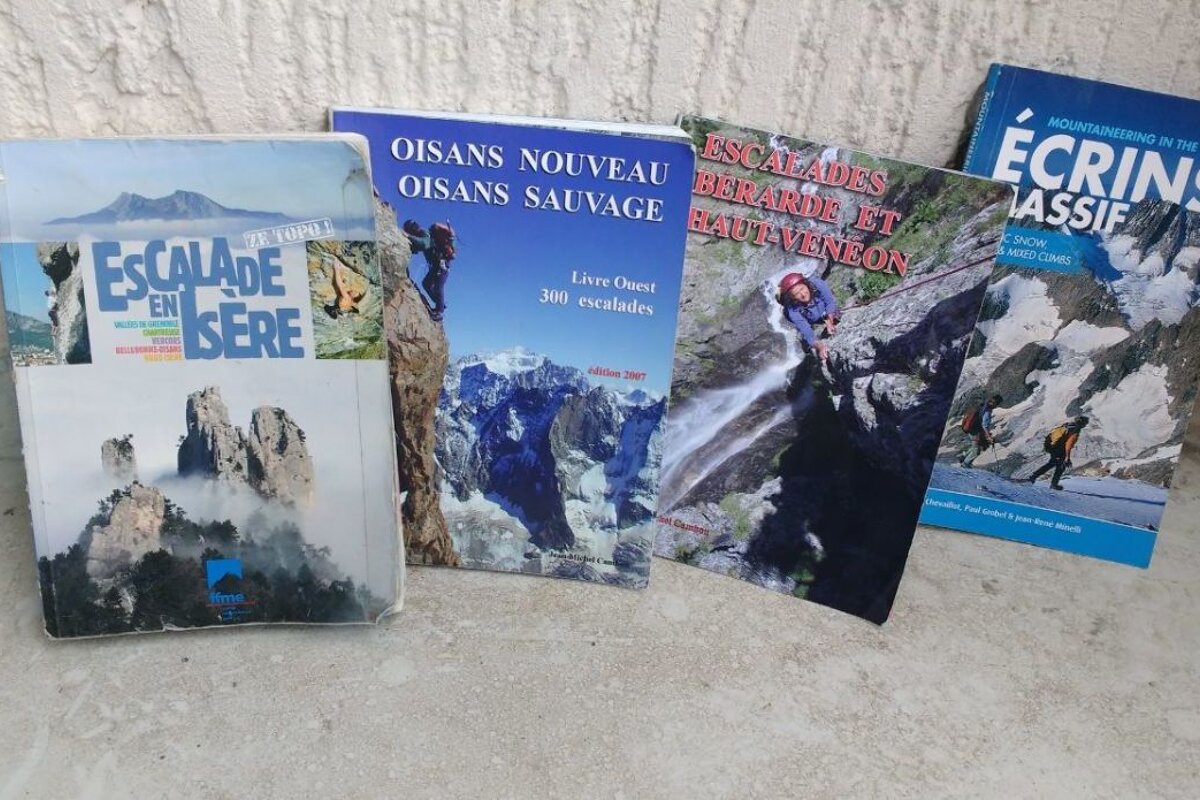 For multi-pitch climbing, the most comprehensive guide available is 'Oisans Nouveau, Oisans Sauvage, Livre Ouest', also by Jean-Michel Cambon. Nouveau (new) refers to bolted routes and Sauvage (wild) to trad ones. It covers everything from 150m roadside routes up to big mountain routes on the Meije, Rateau or Dibona.
---
Alpe d'Huez
In Alpe d'Huez there are two options within walking distance. The west facing Lac Besson crags hold well over 100 routes, mostly in the 5s and 6s. The crags are about forty-five minutes' walk from the Rond Point des pistes (bottom of the Grands Rousses DMC gondola) or a twenty-minute walk from the Lac Besson car park if you have a car. On a hot summer's day these crags can become unbearably hot after the sun hits them around mid-day, but the westerly aspect allows climbing late into the evening when the air temperature starts to drop. This is a wonderful place to watch the sunset. The climbing is spread over eight sections, all overlooking the Lac Besson and the neighbouring lakes. The rock is an attractive, compact gneiss, generally sound on the slabby sections but not always so on the steeper routes. A good starting point is the selection of slabby 5a – 5c routes towards the left of the Symphonie section, but make sure your rope is long enough.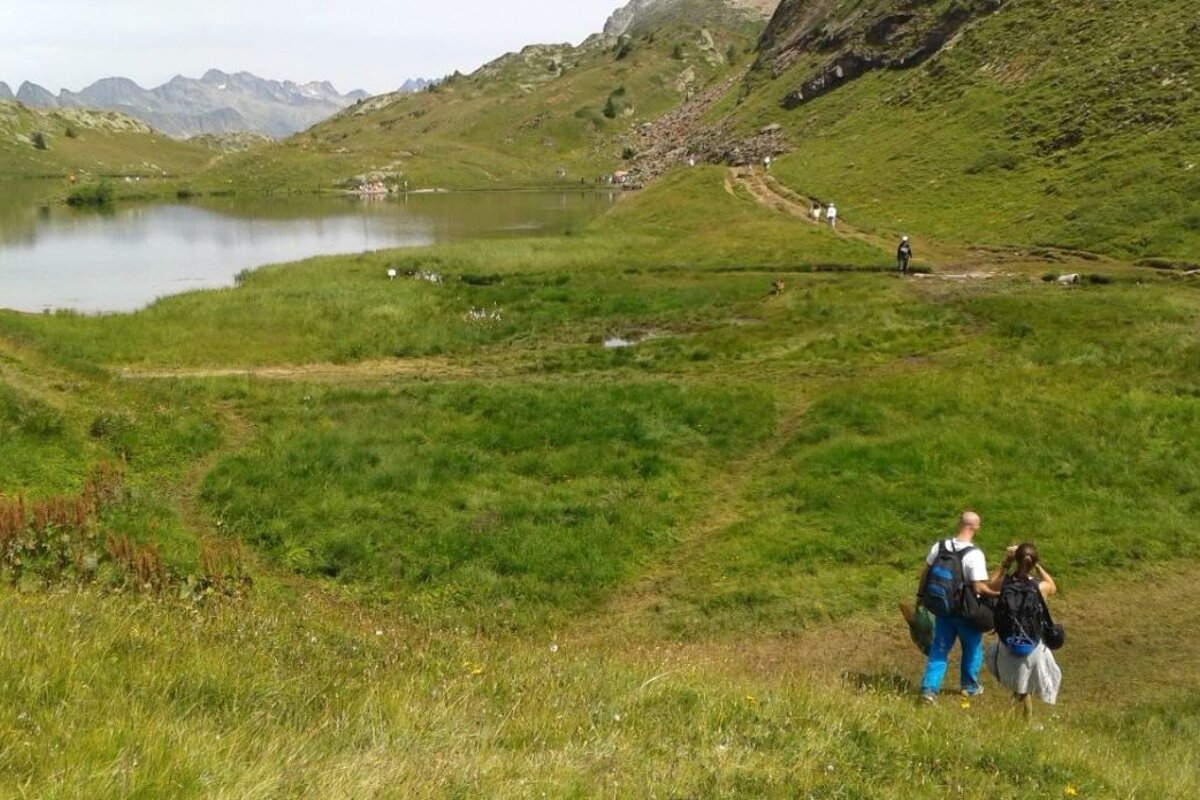 For more of a mountain feel, the Dalle de la Fare is a ninety-minute walk from the Lac Besson car park behind the Refuge de la Fare. Access is also possible from Os or Vaujany via the Alpette or Dome lifts respectively and a forty-five-minute walk. The refuge normally provides refreshments and accommodation, but is shut for summer of 2016 after a rockfall. The crag provides 14 routes in the 5s.
---
Les Deux Alpes
The nearest crag to Les Deux Alpes is Les Etroits, close to Venosc. The crag is a twenty-minute walk from the bottom of the Venosc gondola. It can be reached by following the road but a riverside path makes a more pleasant if slightly longer option. Unfortunately, a rockfall several years ago has rendered the main part of the crag inaccessible, but the left hand section still provides 22 routes, mostly in the 4s and 5s but with a few 6s to the right. The wooded location provides some welcome shade and the leftmost slabs are ideal for beginners. Rubicon (6a), Franc Tireur (5b, spaced protection) and Pince Doigt (5c) are all very good at their grade.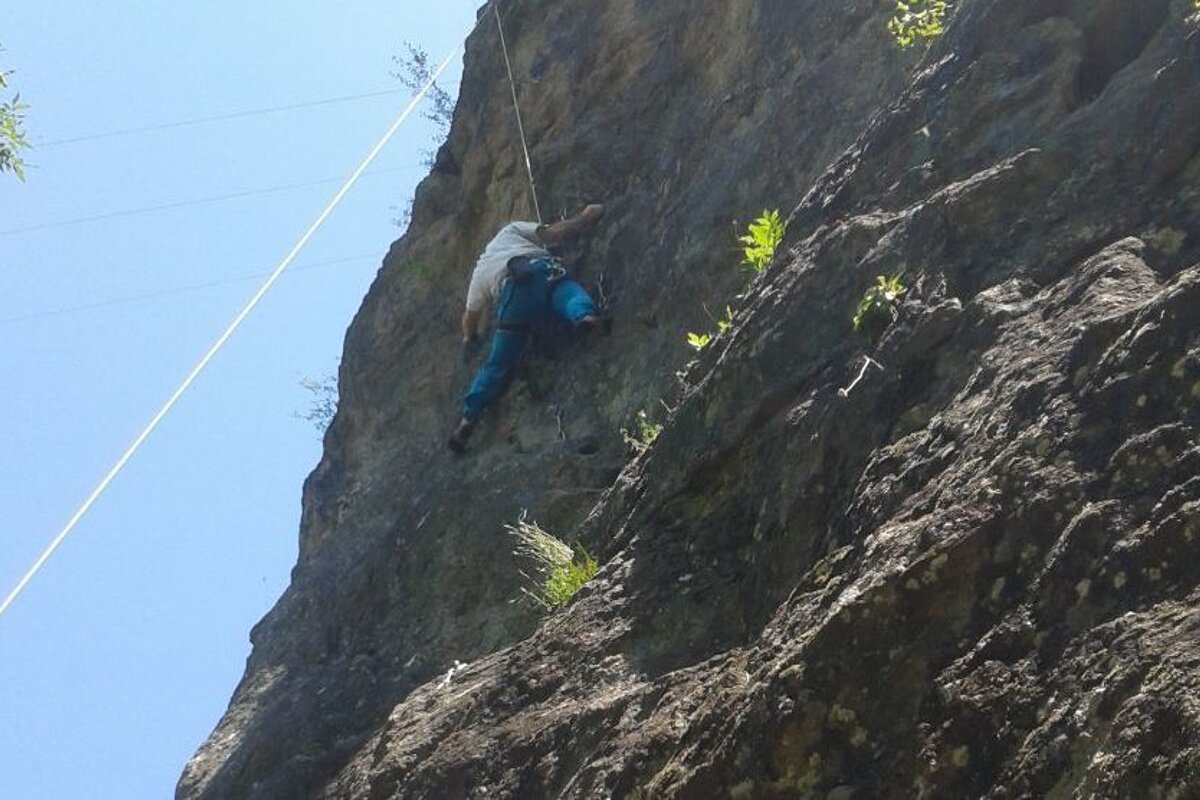 ---
Bourg d'Oisans
Down in the valley between the two resorts, Bourg d'Oisans has two little gems of climbing spots on the edges of the town. Le Vernis, just off the road to Les Deux Alpes, is a sunny spot with a good selection of short easier routes and one or two harder ones. It does get very hot in mid-summer but is climbable almost all year round. Some of the grades are a little inconsistent and the rock (gneiss again) is quite hard to read, so it is a good idea to start with easier routes.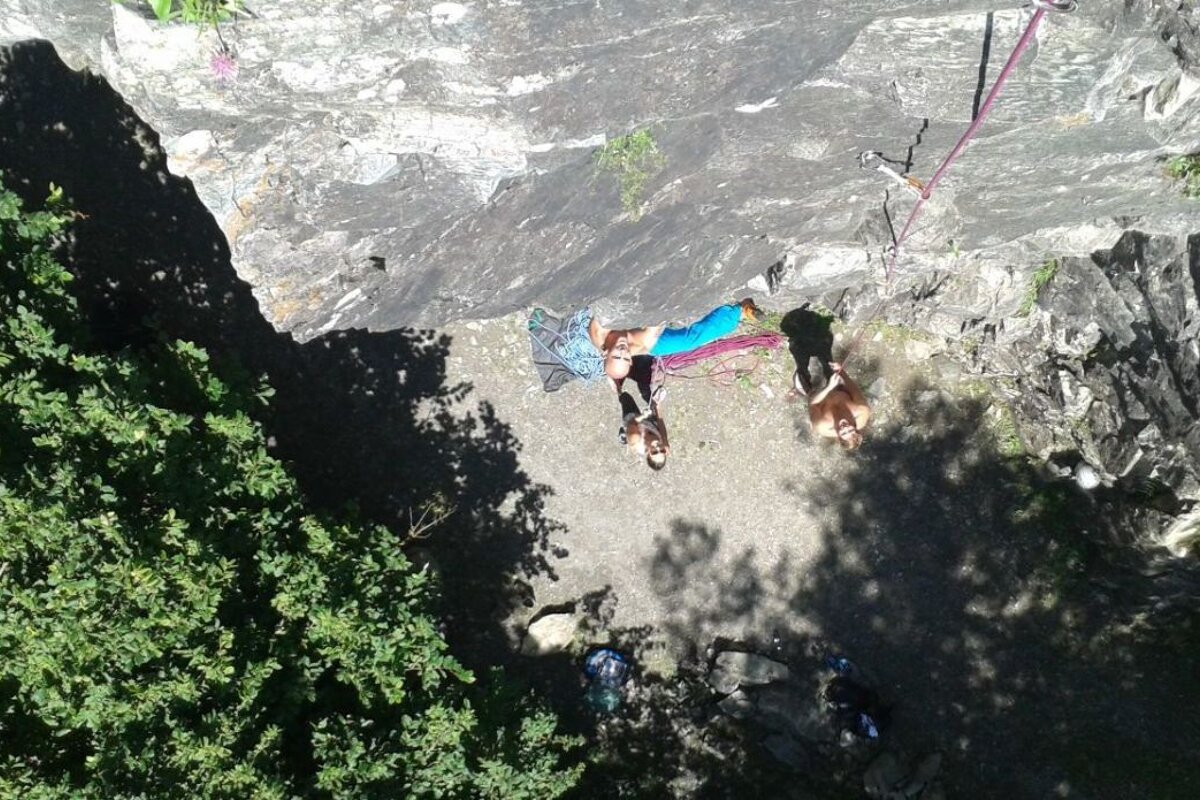 On the other side of Bourg, Le Vert is a well shaded granite crag which is popular with locals. Twenty or so routes, mostly excellent, range from 5c to 7b. The pitches are long – 20-35m, and there is potential for further development. Les Filles, Le Sexe et Les Bretelles (6b), Nini Croft (6b+) and Dur Dedans (5c+) are highly recommended while Mini Muscle pour Maxi Poil is a good first 7a. Access is a little delicate so please take care not to litter or soil the ground and stay close to the base of the crag.
---
La Grave and La Berarde
A little further afield but still within easy driving distance, the Upper Romanche and Veneon valleys host some legendary climbing areas. The former holds La Grave, with a fine selection of climbing sites under the watchful eye of La Meije, whilst the latter leads to La Berarde, from where it was first climbed. Around La Grave, Les Fréaux and Les Ayes (Chazelet) face south and have magnificent views over the Meije and Rateau, whilst the north facing Arsine provides some respite from the sun on a hot day. Over in La Berarde around a dozen crags have been equipped near the village. There are also almost seventy 'grandes voies' across ten sites – most notably the Tête de la Maye with twenty routes ranging from 250 to 400 metres and from 5a to 6c.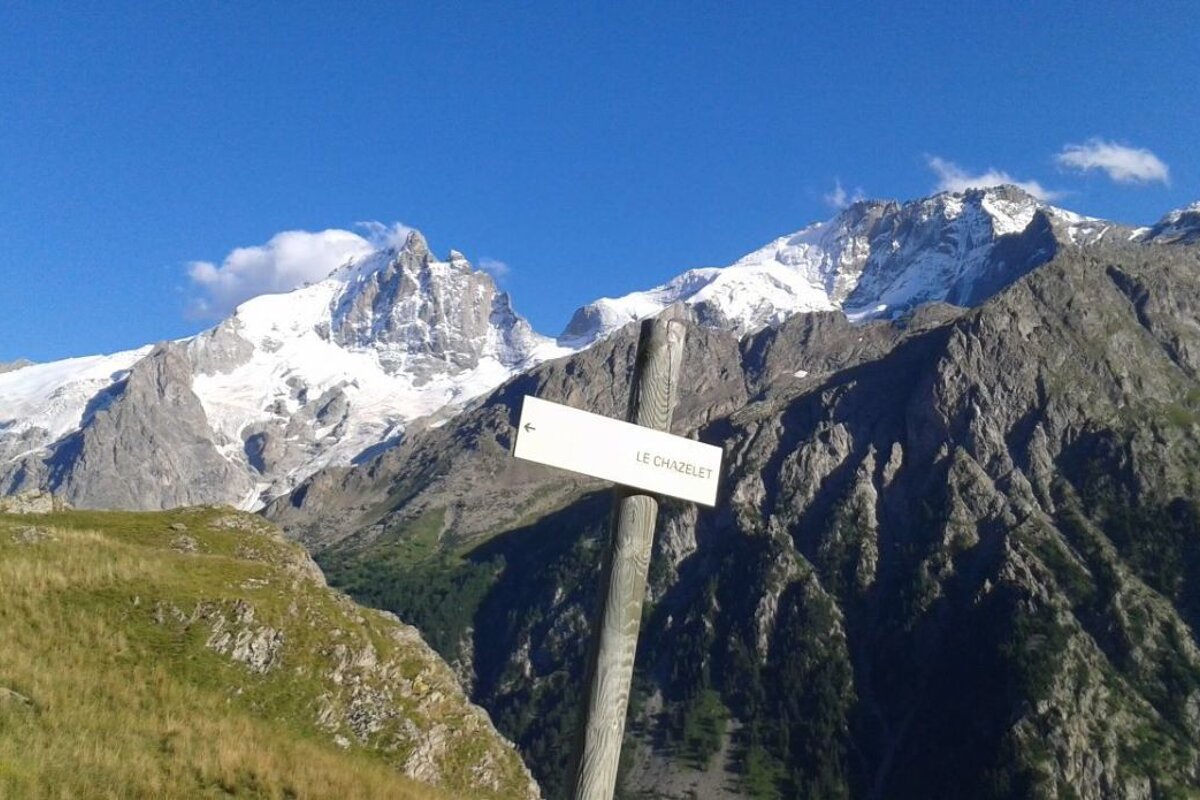 Of course the region also has plenty to offer in terms of big routes and alpinism at all grades, and the classics here are often much less crowded than those around Chamonix or Zermatt for example. 'Mountaineering in the Ecrins Massif' by Frederic Chevaillot, Paul Grobel and Jean-Rene Minelli is a good starting point, and is available in English from Amazon.
Whether you are coming just to climb, or want to climb in your time off from biking or skiing, you won't run out of options here. There are plenty of choices at all levels, a choice of aspects and altitudes to suit the temperature and, almost always, a stunning view.
-
Read more from Ian on his website.
Location