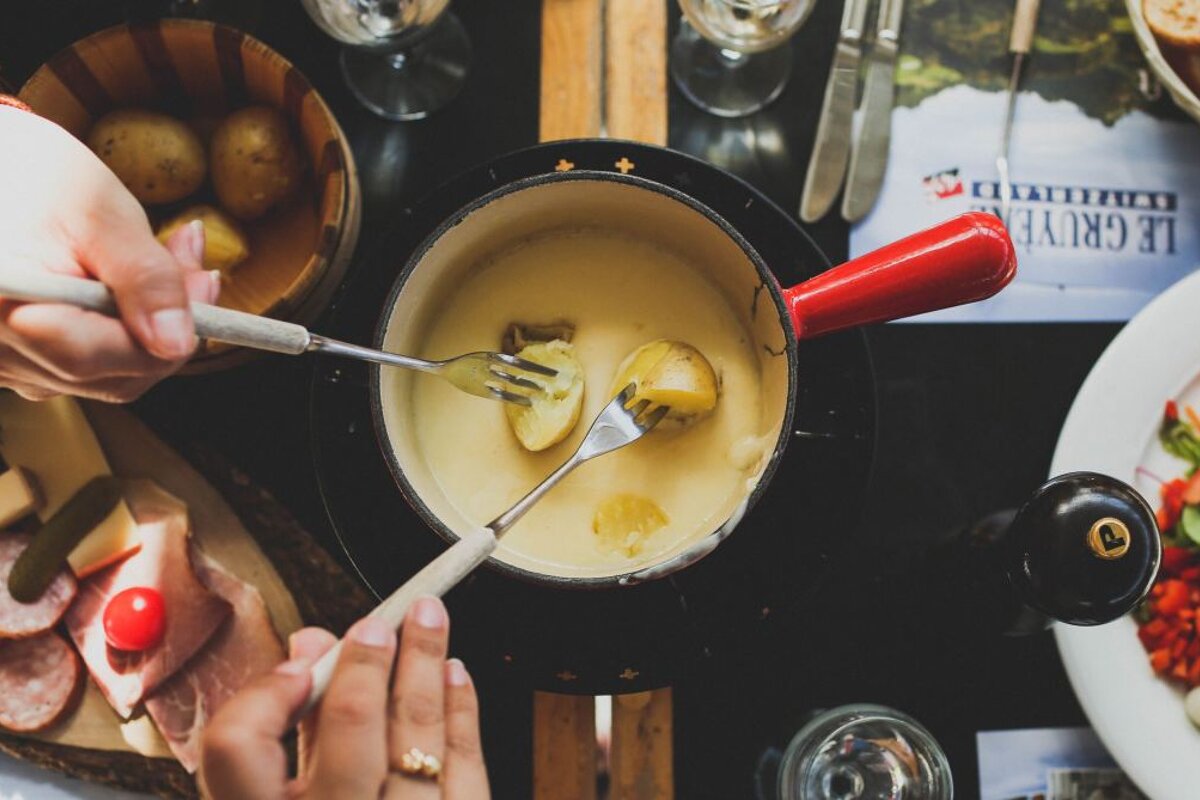 Best fondue in Alpe d'Huez
No holiday to the Alps is complete without a fondue
Fondues may have been all the rage in suburbia in the 1980s (I know as my parents had one!) but in fact, their history is as rich as the cheese in them.
The fondue originated in Switzerland in the 18th century as a way to use aged cheeses and bread to feed families who had limited access to food during the cold Alpine winters. The local villagers found that, if they heated the cheese with wine, garlic and herbs, they could use their stale bread which would soften when dipped into the flavourful cheese mixture – and so the fondue was born.
Although Alpe d'Huez sits in the Isère region, the Savoie region is only a stone's throw away to the east from the top of the Pic Blanc, hence the popularity of the 'Fondue Savoyarde' here. A traditional Fondue Savoyarde is a combination of three main types of cheese – Comte, Emmenthal and Gruyere – normally accompanied with bread and a green salad. However, restaurants specialising in fondue will normally offer several variations on a standard Savoyarde with extras such as dried meats and potatoes. It's worth bearing in mind that fondues are traditionally served for two and prices, whilst 'per person' will usually be subject to a 'minimum of two people' rule.
You are spoilt for choice when going for a cheesy night out in Alpe d'Huez. Here are just a few tips to whet your appetite.
The old town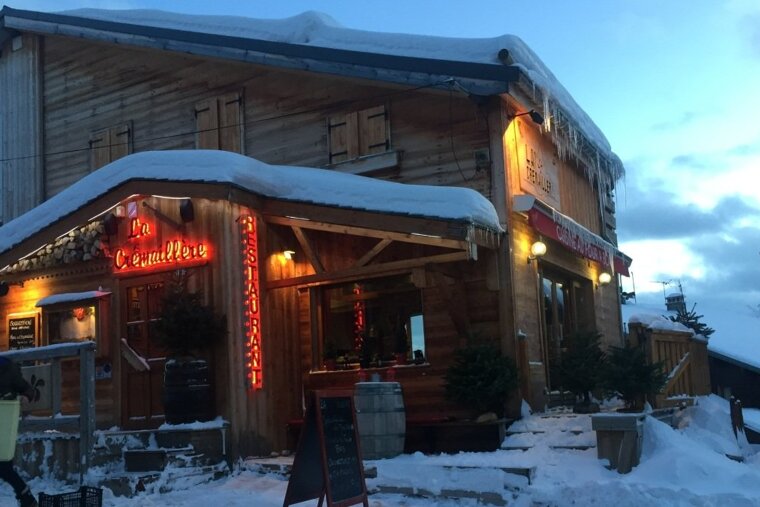 Down in the old town, La Cremaillere offers good fondues and is ideally located if you are staying around the tourist office. It's a lovely timber-clad, typically alpine restaurant with a varied menu. Fondue prices start at €18.50 per person for a Fondue Savoyarde and go up to €23 for the lovely "La Fondue – LA21" a glorious mix of three types of cheese and local beer. Most of the fondues are served with meats but there is also a vegetarian option for €19.50. It's usually busy which is always a good sign.
Tucked away under the "lobster pot" lift, around 50 metres from the tourist office, is the quaint Le Chalet du Per'Sille, a lovely little mountain-chalet style restaurant offering a couple of mouth-watering fondues. The Fondue Alpine de Savoie is a local dish with three kinds of cheese and costs €18.50 per person, whilst the Fondue Charcutiere comes with a selection of meats for €25 per person.
The golden fondue triangle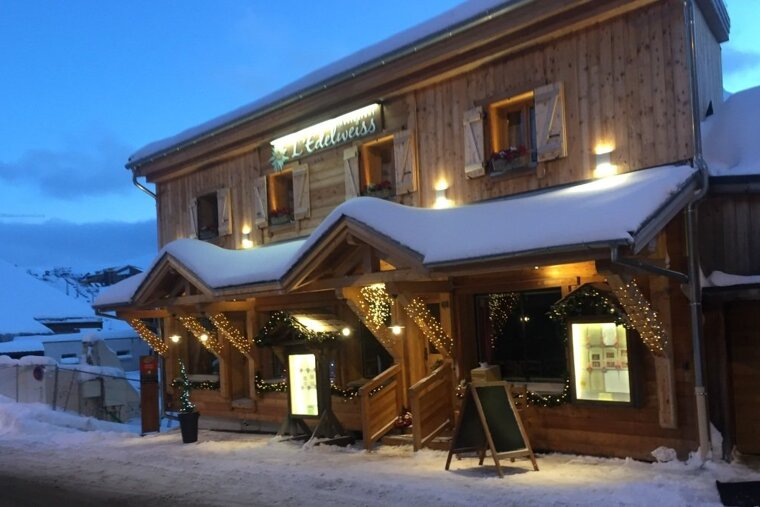 100 metres further up towards the resort centre is a genuine "golden triangle" of fondue restaurants. Set within 20 metres of each other you will find L'Edelweiss, Le Passe Montagne and the equally idyllic Le Caribou. All three of these restaurants are typically alpine in their appearance and all have a wonderful log-fire type ambience that is the perfect setting for a fondue. They are always incredibly busy, be it summer or winter. It really is hard to separate these three restaurants and a visit to any of them won't leave you disappointed.
L'Edelweiss has the most extensive menu with five different types of fondue on offer – from the Savoyarde at €16 per person up to the 'fondue aux morilles' with mushrooms, potatoes and dried meats for €27 per person. Le Passe Montagne has four fondues on the menu ranging between €18 and €27.50 per person for its fondue aux cepe plus – which is a lovely fondue of three types of cheese, mushrooms, dried meats and boiled potatoes. The golden fondue triangle is completed by Le Caribou, the most reasonably priced of the three, ranging from €15 for a Savoyarde to €20 per person for the Savoyarde aux Morilles (with Morille mushrooms). There genuinely is little to choose between these three wonderful establishments; maybe, for me, L'Edelweiss just pips the others for its true "Christmas card" appearance.
The main street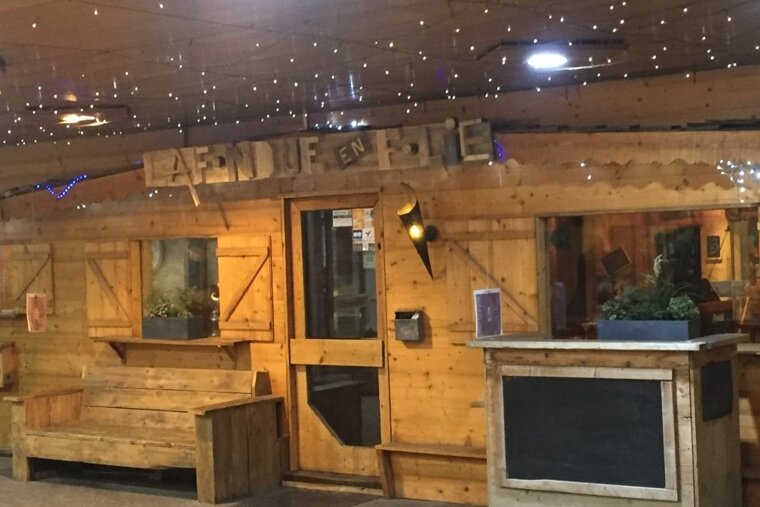 Up in the main street, there is another hot spot of great fondue restaurants. La Pomme de Pin, Au Montagnard, La Bodega, La Fondue en Folie and Le Bato Ivre are all located within 100 metres of the ice rink, right in the middle of resort. La Pomme de Pin has a terrific reputation and, with a five-fondue menu and prices from €20 for a Savoyarde with meats and a salad up to €25 per person for the Royale, it offers plenty of choices and great quality in a lovely setting. Au Montagnard boasts an equally impressive five-fondue menu and slightly cheaper prices between €16.50 and €25.50 but offers a smaller more intimate dining experience. La Bodega offers an unusual and equally lovely Fondue Bourguignonne with slices of beef for €24 per person. The wonderfully timber clad and cosy La Fondue en Folie offers another five-fondue menu with prices between €17 and €25 per person and is another favourite of mine. Finally, Le Bato Ivre which is opposite the ice rink offers a Savoyarde for €16.50, a Morilles for €23.50 and all the fondues come with a green salad.
Any of these restaurants offer fabulous fondue experiences with a truly authentic alpine feel. All are really busy so I would recommend booking in advance to avoid disappointment. Get dipping!
Location
Alpe d'Huez, Alpe d'Huez